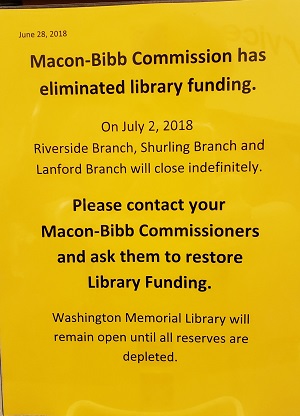 It's been a whirlwind few weeks for Middle Georgia Regional Library System (MGRLS) and its director Jennifer Lautzenheiser.
On August 16, three branches were closed and a fourth in danger of shutting down due to lack of funding. But a few days after county commissioners voted August 21 to approve a spending plan that fully restored funding to all four libraries in Macon-Bibb County, a relieved Lautzenheiser was happy to report that all were open, fully funded, and busily finalizing their fall programming.
AN IMPASSE...
In early July, Lautzenheiser had watched helplessly as county officials reached a budget impasse that forced her to close three of the libraries indefinitely. Weeks later, the fourth branch stood precariously close to a shutdown as well.
On August 14, she appeared at a meeting of the Economic and Community Development Committee for Macon-Bibb County to request emergency funds for the county's four library branches. If that money was not forthcoming, Lautzenheiser told the committee, she had no choice except to ask the regional system's board of trustees to remove Macon-Bibb libraries from the six-county network.
The four Bibb County facilities belong to MGRLS, a network that extends into five more Georgia counties with nine other libraries. These 13 libraries share an important link that left Lautzenheiser confronting another dilemma as the Macon-Bibb budget impasse stretched into August. As Lautzenheiser explained, the regional system's bylaws allow noncompliant counties to be expelled to preserve overall network compliance, as outlined by the Georgia Public Library Service. Without public funding, the four Bibb branches were technically noncompliant. It was Lautzenheiser's duty as regional director, she told LJ, to protect the nine other libraries.
"We just couldn't allow all the residents of the other five counties to lose access," she said. That  included participation in the statewide Public Information Network for Electronic Services (commonly known as PINES), which allows cardholders to check out or return books at any of 300 participating libraries.
"While we are all committed to library service for every person in our state, we are also concerned with the commitment of every county to fairly and adequately support library service," said Georgia State Librarian Julie Walker. "In Georgia, public libraries are primarily a local government responsibility, with state funding allocated for on-behalf services that facilitate resource-sharing and enhanced services and programs. The state works in partnership with our local governments, and it's critical that all parties maintain appropriate funding levels."
Committee members seemed to appreciate the libraries' predicament; they voted that night to recommend an emergency appropriation from the county's general fund.
On August 15, a notice posted at the Washington Memorial Library warned that the facility would be forced to close the next day. But then, with patrons nervously following every twist and turn on social media (lending support on hashtag #savemaconlibraries), the library crisis finally broke, all in a few dizzying days.
...AND A REPRIEVE
On August 16, the Macon-Bibb County Commission approved $238,000 in emergency library funding.
Lautzenheiser walked away from the meeting with a check literally in hand—given to her in full view of local news cameras—that would cover a month's worth of operations for all four libraries. Luckily, there was still time to get to the bank that afternoon, she recalled in an interview with Library Journal.
A few days later, on August 21, there was even better news. The County Commission finally passed its budget for FY19, which started on July 1. The $161.7 million spending plan included $2.87 million for regional library operations, identical to 2018 levels. That amount funds the main Washington Memorial Library facility and the smaller Lanford, Riverside, and Shurling branches.
"We were the only agency to not have any cut to funding," Lautzenheiser said. "Everyone else got a cut of between 10 and 50 percent. We're steady and we're very grateful for that."
The final budget, which amended an interim spending plan pushed through in early July, featured a 3 mill property tax increase for county residents and slashed budgets for the transit authority, parks, health department, and other agencies. The millage rate was set at 20.642 removing a huge roadblock toward a budget agreement.
District 8 Commissioner Virgil Watkins Jr., chair of the Operations and Finance Committee, did not return messages seeking comment. A county spokesman described Watkins as an integral voice toward protecting library funds during the budget process.
The Riverside Library in Macon welcomed patrons back on August 27, the first time in almost two months that all four Macon-Bibb branches were open simultaneously. The Washington Memorial Library, the regional network's central branch, managed to stay in business through the budget crisis by using reserve funds, although that pool was running dry midway through August.
"It's very exciting, isn't it?" Lautzenheiser said. "We really felt like it was quite a victory. Our patrons are thrilled, of course."
"I'm relieved and happy that the Macon-Bibb County commissioners voted to restore library funding," Walker told LJ. "I'm also pleased that the community made their voices heard in response to the possible loss of their well-used and appreciated public libraries. I think the statement was very clear: libraries play a vital and valued role in society and family life in Macon, as they do in every community in Georgia."
Lautzenheiser made it clear she bore no ill will toward the Macon-Bibb County Commissioners. "It really wasn't about the value of the library," she said. "All of the commissioners understood the value of the library. … It was more a discussion of about who was responsible to pay for it. Those kind of things don't always come out in a headline."