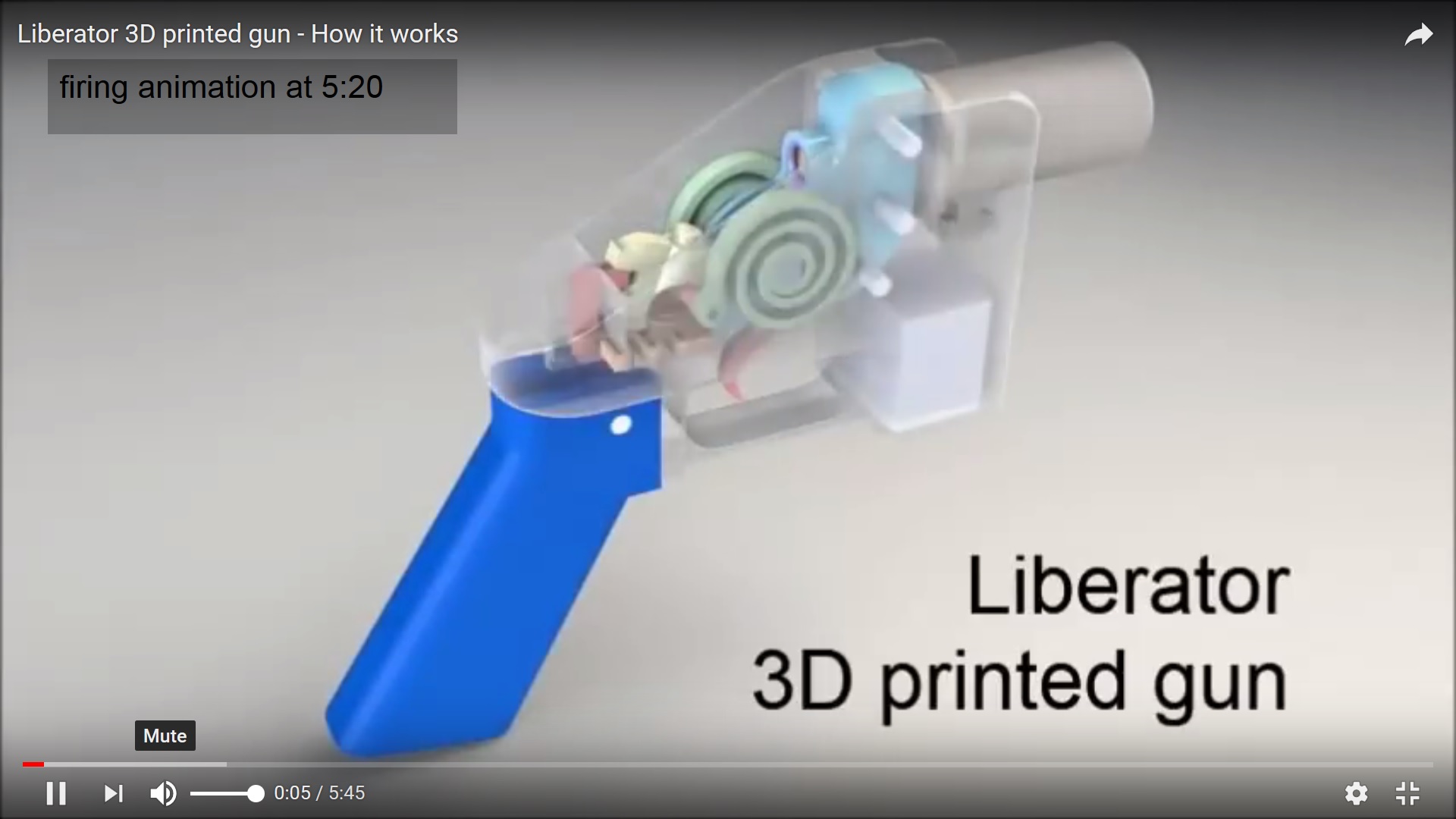 U.S. District Judge Robert Lasnik on Monday extended a ban on the online publication of digital blueprints that can be used to manufacture guns with 3-D printers and computer numerical controlled (CNC) milling machines. The ban will remain in place until a lawsuit filed by 19 states and the District of Columbia against computer aided design (CAD) gun blueprint provider Defense Distributed is resolved.
Since a growing number of U.S. public and academic libraries provide access to 3-D printers and CNC milling machines as part of Maker spaces and fab lab workshops, the case has drawn attention from the library field, raising concerns about how staff should respond to potential requests to use library equipment to create weapons. In Florida, home to a large number of shooting deaths, Broward County Library (BCL) has suspended access to its 3-D printers until it formulates such a policy.
The American Library Association (ALA) has encouraged libraries to establish policies governing the use of 3-D printers and other Maker space equipment since the trend began gaining traction in libraries a few years ago. ALA maintains a recently updated best practices web page, with links to sample policies and resources for policy development.
A public or academic library Maker space is currently a very unlikely place for someone to attempt to manufacture a functioning gun that they plan to use. However, establishing a clear policy for 3-D printers, CNC milling machines, and other Maker space equipment would enable staff to deny such requests quickly and authoritatively, and, if created with the assistance of legal counsel, could help protect the library from gun activist lawsuits.
"While I definitely think libraries need policies, the current excitement about Defense Distributed and 3-D printing guns is…vastly overblown," Jason Griffey, library consultant, affiliate fellow at the Berkman Klein Center for Internet and Society at Harvard University, and author of 3-D Printers for Libraries, 2017 Edition, told LJ . "The likelihood of someone actually using a gun that was printed in a library is infinitesimal...but using the threat of it as a media hook, in order to push other agendas, is very likely."
Griffey pointed to an article posted to Slate.com earlier this month by Andrew Sellars, lecturer and clinical instructor at Boston University (BU) School of Law, and director of the BU/Massachusetts Institute of Technology (MIT) Technology and Cyberlaw Clinic. Sellars explains that even when it comes to the "Liberator" handgun—"the most famous of the designs and the one whose plans have been kicking around the seedier corners of the Internet for a half-decade—the CAD files are much more like an unauthorized sequel to The Anarchist Cookbook than a self-executing firearm producer."
Basically, he explains, creating a usable gun with a 3-D printer is much more complicated than simply downloading the files and running a printer for a few hours. Philip Bump at The Atlantic wrote about trying and failing to create a functioning version of the Liberator handgun in 2013, Sellars notes. In that article, Bump also explains that Defense Distributed itself estimates that the lifespan of a successfully printed Liberator is a single round, due to the internal damage to smaller parts that will likely be sustained by firing the weapon just once. Andy Greenberg at WIRED had more success creating an AR-15 rifle in 2015—using a $1,500 CNC milling machine to create a "lower receiver" out of aluminum and assembling the gun with a lot of separately purchased, unregulated parts and components.
As Sellars states, "a gun that conservatively costs more than $1,000 in capital investment to 3-D print (given that the output has to be of a relatively high quality to actually work) could instead be obtained for a couple hundred dollars lawfully, or even unlawfully at a still-cheaper markup."
However, practicality doesn't appear to be the primary goal for Defense Distributed. At one point the company described its mission as "facilitating global access to, and the collaborative production of, information and knowledge related to the 3-D printing of arms; and to publish and distribute...such information and knowledge in promotion of the public interest." And when the Department of State initially demanded that the organization remove its CAD files from its website in 2013, citing violations of International Traffic in Arms Regulations, founder Cody Wilson responded with a lawsuit on first amendment grounds that he appealed all the way to the U.S. Supreme Court, which declined to hear the case.
In a July interview with WIRED, Wilson explained that Defense Distributed wanted to have a portion of its Austin, TX headquarters designated as a public library, which would potentially give the organization access to the U.S. military's public archive of gun data for inclusion in its Defcad.com design database.
"Ninety percent of the technical data is already out there," Wilson explained. "This is a huge part of our overall digital intake strategy. Hipsters will come [to Defense Distributed's library] and check out movies, independent of its actual purpose, which is a stargate for absorbing ancient army technical materials."
PROACTIVE POLICY
BCL director Kelvin Watson told LJ that the library's 3-D printers almost certainly are not capable of creating a functioning gun. This is likely the case with most models of consumer-grade 3-D printers currently owned and operated by the majority of public library Maker spaces. And no patrons had requested to use BCL's 3-D printers for making guns or gun parts. Still, BCL made national news recently by taking its 3-D printers temporarily offline until the library could craft a policy that would insulate it from such requests.
"We didn't have an adequate policy in place to protect us if someone wanted to do that," Watson said. "Basically, anybody could come in and ask us to print anything they wanted on our 3-D printers…. Without the proper policy in place, you're putting staff in an uncomfortable position" and potentially leaving the library and county exposed to a lawsuit from a gun activist, he said.
After assessing BCL's relevant programs and consulting with an attorney, the library began working on a policy that focuses, in part, on the use of 3-D printers for STEM (science, technology, engineering, mathematics) activities. Watson said this week that the policy will be in place soon, and BCL expects to have its 3-D printers back online in September.
"Our goal is to totally enhance our creation stations and Maker spaces, and offer interactive learning [opportunities] with 3-D printing," he said.
As for Defense Distributed, Gizmodo.com reported yesterday that the company is already exploiting a loophole in the injunction, which states that its CAD files can't be uploaded to the Internet, but can be emailed, mailed, or securely transmitted. So, in exchange for suggested donations of $10, Wilson is mailing plans on thumb drives or emailing the plans to individual addresses.
"I can sell them anywhere I like in the U.S.," he told Gizmodo.