Choo, Yangsze. The Night Tiger. Flatiron: Macmillan. Feb. 2019. 384p. ISBN 9781250175458. $26.99; ebk. ISBN 9781250175441. CD. HISTORICAL FICTION
In 1930s colonial Malaysia, Ji Lin labors by day as an apprentice seamstress and by night as a dancehall girl working to wipe out her mother's mah-jongg debts. Meanwhile, 11-year-old houseboy Ren has 49 days to find his dead master's long-severed finger and bury it with the body, or the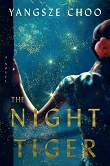 man's soul will wander the earth for all time. When one of Ji Lin's partners leaves behind a stomach-churning artifact, she and Ren work together in a world troubled by inexplicable deaths and rumors of men who become tigers. From the author who debuted with the New York Times best-selling The Ghost Bride.
Doten, Mark. Trump Sky Alpha. Graywolf. Feb. 2019. 192p. ISBN 9781555978280. pap. $16. LITERARY FICTION

Soho Press literary editor Doten debuted with The Infernal, a surreal, brilliantly imagined evocation of war's ugly truths that got him named one of Granta's Best of Young American Novelists. He returns with another mind cruncher featuring a crazed president routinely piloting his luxe airship Trump Sky Alpha among the White House, New York, and Mar-a-Lago while delivering self-reverential YouTube addresses that finally cause nuclear war. A year later, with most of the world's populace dead, a surviving journalist attempts to document those final moments of Internet madness—and finds uncomfortable truths about the Internet itself. Calling all sophisticated readers.
Kimberling, Brian. Goulash. Pantheon. Feb. 2019. 224p. ISBN 9780307908070. $24.95; ebk. ISBN 9780307908087. LITERARY FICTION

A personal favorite, Kimberling's engagingly thoughtful Snapper received NPR Best Book honors plus a scattering of gold stars, so pay attention to this follow-up. Abandoning small-town America for Prague, Elliot teaches English with the local pub as classroom and watches the Czech Republic move from communism to Wild West capitalism. He's even pulled into mad schemes by a charismatic experimental artist. Elliot also meets and falls in love with another English teacher, Amanda, who's from the UK; new life and new love in a strange land initially proves invigorating for them both. But what's going to happen?
Luiselli, Valeria.
Lost Children Archive.
Knopf. Feb. 2019. 416p. ISBN 9780525520610. $27.95; ebk. ISBN 9780525520627. Downloadable LITERARY FICTION
Claimant to two Los Angeles Times Book Prizes, two National Book Critics Circle nominations, and National Book Foundation "5 Under 35" acknowledgment, literary star Luiselli does a road-trip novel, sending a family from New York to Arizona in a used Volvo. The father wants to gather an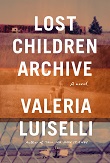 "inventory of echoes" in the legendary land of the Apaches, the mother attends obsessively to radio reports about children at America's southern border trapped in detention centers, the ten-year-old son experiments with his new Polaroid, and all the children sense their parents pulling apart. With illustrations; buzzing already, and a Spanish-language edition is coming soon.

Mathews, Brendan. This Is Not a Love Song. Little, Brown. Feb. 2019. 224p. ISBN 9780316382144. $26; ebk. ISBN 9780316382137. lib. ebk. ISBN 9780316382120. Downloadable. SHORT STORIES
Mathews's richly configured debut saga, The World of Tomorrow, was a BookExpo Buzz Book that won strong reviews. Here he follows up with a collection of short stories that have good credentials; his work has twice appeared in The Best American Short Stories. Among the scenarios: a lion tamer, a trapeze artist, and a strongman enter into a complicated love triangle, a woman dwells on her husband's death during the Bosnian conflict, and a couple obsessively dismantle their house, looking for mold. With a 75,000-copy first printing.

Wang, Esmé Weijun. The Collected Schizophrenias: Essays. Graywolf. Feb. 2019. 224p. ISBN 9781555978273. pap. $16; ebk. ISBN 9781555978761. LITERATURE
Named one of Granta's Best of Young American Novelists, Wang also received the Whiting Award for her nonfiction and the Graywolf Press Nonfiction Prize for this collection of essays, which explores mental illness (also the subject of her novel, The Border of Paradise). Here she tracks being diagnosed with schizoaffective disorder, the consequences in her life, and the problem with labels generally, addressing both members of "the collected schizophrenias" like herself and those seeking understanding.