Berman, Bob. Earth-Shattering: Violent Supernovas, Galactic Explosions, Biological Mayhem, Nuclear Meltdowns, and Other Hazards to Life in Our Universe. Little, Brown. Feb. 2019. 320p. ISBN 9780316511353. $28; ebk. ISBN 9780316511339. lib. ebk. ISBN 9780316511346. Downloadable. SPACE SCIENCE
Longtime "Night Watchman" columnist for Discover and now a columnist for Astronomy, Berman knows the heavens. Here he relates their more violent moments—the exploding galaxies, supernovas and hypernovas, gamma ray bursts and space-and-time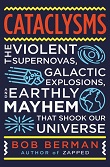 benders that have consequences we don't always realize but sometimes exploit to our own end. With a 30,000-copy first printing.

Harris, Blake J. The History of the Future: How a Bunch of Misfits, Makers, and Mavericks Cracked the Code of Virtual Reality. Dey Street: HarperCollins. Feb. 2019. 320p. ISBN 9780062455963. $28.99; ebk. ISBN 9780062455987. COMPUTERS
Virtual reality: it used to seem so fringe. Then came a young visionary named Palmer Luckey, frustrated with the VR options available to him, who built some effective prototypes, then joined with outsize characters from a videogame legend to a busy entrepreneur to found Oculus VR and make virtual reality something for everyone. From the author of the best-selling Console Wars: Sega, Nintendo and the Battle That Defined a Generation, set to be a feature film.

Huckelbridge, Dane. No Beast So Fierce: The Terrifying True Story of the Champawat Tiger, the Deadliest Animal in History. Morrow. Feb. 2019. 304p. ISBN 9780062678843. $26.99; ebk. ISBN 9780062678874. NATURE
Remember John Vaillant's The Tiger? Here's another burning-bright example of Panthera tigris, billed as the deadliest animal ever; in the first decade of the 1900s, the Champawat Man-Eater killed 436 people. Even the Nepalese army couldn't nab her, but railroad employee Jim Corbett had grown up hunting and tracking game and used detective-like skills to end her reign of terror. Evidently, an old bullet wound to the jaw had kept her from hunting her usual prey; humans are easier pickings. Corbett eventually became a conservationist devoted to saving the Bengal tiger and its habitat. With a 75,000-copy first printing.

Sykes, Bryan. Once a Wolf: The Science Behind Our Dogs' Astonishing Genetic Evolution. Liveright: Norton. Feb. 2019. 320p. ISBN 9781631493799. $27.95. NATURE
Oxford human genetics professor Sykes, best known for Seven Daughters of Eve, has gone to the dogs. Here he tracks the evolutionary journey of Canis lupus to Canis familiaris, which likely started with someone, somewhere adopting some cute pups. Books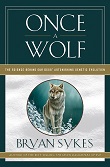 like this aren't just about figuring out Fido's origins; dog evolution is intimately entwined with human evolution, and we wouldn't be the same without them. For genetic enthusiasts as well as dog lovers like me.

Wilson, David Sloan. This View of Life. Pantheon. Feb. 2019. 272p. ISBN 9781101870204. $27.95; ebk. ISBN 9781101870211. Downloadable. LIFE SCIENCES
A scholar of Darwinian evolutionary theory and president of the Evolution Institute, Wilson shoves away the notion that the theory of evolution applies to the life sciences only, here arguing that it's relevant to our social and cultural institutions as well. Long frowned on (remember the damage done by social Darwinism?), this refreshed approach to the social application of evolutionary theory could be good for institutions, our communities, and ourselves. With a six-city tour to Atlanta, Boston, New Haven, New York, Philadelphia, and Washington, DC.