Azad. Long Shot. Atlantic Monthly. Feb. 2019. 412p. ISBN 9780802129079. $26. MEMOIR
Drafted into the Iranian army at age 19, Iranian Kurd Azad deserted rather than fight his fellow Kurds and sought asylum in the UK, where he eventually became a citizen. With the Syrian War, he returned to the Middle East as a social worker, then became one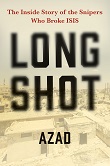 of 17 volunteer marksmen deployed by the Kurdish army when ISIS swarmed the city of Kobani in Rojava, the newly autonomous region of the Kurds. An in-depth look at an important battle and the distinctively egalitarian Rojava.
Bernard, Emily. Black Is the Body: Stories from My Grandmother's Time, My Mother's Time, and Mine. Knopf. Jan. 2019. 240p. ISBN 9780451493026. $25.95; ebk. ISBN 9780451493033. Downloadable. MEMOIR
Distinguished scholar/essayist Bernard presents 12 interwoven pieces exploring the complexities of race in America today, purveying personal memories anchored in her being among six people randomly attacked by a white man in a coffee shop near Yale University. "I was not stabbed because I was black," she writes, "but I have always viewed the violence I survived as a metaphor for the violent encounter that has generally characterized American race relations. There was no connection between us, yet we were suddenly and irreparably bound by a knife, an attachment that cost us both: him, his freedom; me, my wholeness."
Brown, Barrett. My Glorious Defeats: Hacktivist, Narcissist, Anonymous: A Memoir. Sean McDonald: Farrar. Feb. 2019. 256p. ISBN 9780374217013. $26; ebk. ISBN 9780374717605. MEMOIR
Having served four years in prison for his part in leaking intelligence documents and written a National Magazine Award–winning column while there, Brown returns to freedom with a memoir recounting his involvement with the hacktivist group Anonymous, his experiences in prison, and his recommendations for using today's tools of communication to promote the public good. Big promotion.
Fisher, Eva Hagberg. How To Be Loved: A Memoir of Lifesaving Friendship. Houghton Harcourt. Feb. 2017. 240p. ISBN 9780544991156. $24; ebk. ISBN 9780544991163. MEMOIR
Fisher has two architecture titles and a bunch of impressive degrees to her name. But this much more personal book centers on her lifelong sense of disconnectedness, which she attempted to wipe away with sex, drugs, alcohol, and therapy in adolescence but finally confronted at age 30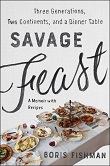 when a mass in her brain ruptured, Facing surgery, she also faced a certain truth: the value of friendship, articulated here. With a 30,000-copy first printing.
Fishman, Boris. Savage Feast: Three Generations, Two Continents, and a Dinner Table (a Memoir with Recipes). Harper. Feb. 2019. 320p. ISBN 9780062867896. $27.99; ebk. ISBN 9780062867919. MEMOIR
Nothing brings a family together like food, and as clarified by novelist Fishman (winner of the ALA's Sophie Brody Medal for A Replacement Life), the dinner table is especially important to immigrants, connecting them to the culture left behind (but not the pain) while building ties to the new. Born in Soviet Belarus, Fishman recalls his grandparents' fierce hunger and black-marketing survival techniques, the dish that brought his parents together, and his exploration of American cuisine. Recipes, too; I'm hoping for borscht.
Frisch, Ian. Magic Is Dead: My Journey into the World's Most Secretive Society of Magicians. Dey Street: HarperCollins. Feb. 2019. 304p. ISBN 9780062839282. $26.99; ebk. ISBN 9780062839305. MEMOIR
Invited into the insular smoke-and-mirrors world of magic, journalist Frisch discovers a revolutionary new group called the52 that is radically remaking magic as we know it. (Their mantra: magic is dead.) Surveying their agenda, he builds friendships, better understands his relationship with his long-dead father, and comes to see magic as a way of seeing the world. With a 50,000-copy first printing.
Mizrahi, Isaac. I.M.: A Memoir. Flatiron: Macmillan. Feb. 2019. 384p. ISBN 9781250074089. $28.99; ebk. ISBN 9781250077813. CD/downloadable. MEMOIR
A celebrated fashion designer who's sung in cabarets, acted in films, and worked as a TV presenter, Mizrahi unfolds a life story that starts with his growing up gay in a sheltered Syrian Jewish Orthodox family and escalates through his work with major designers, the creation of his own fashion lines, and friendship with the likes of Anna Wintour, Mikhail Baryshnikov, and Meryl Streep. Ups and downs here, and I'm not just talking sewing-machine needles.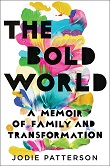 Patterson, Jodie. The Bold World: A Memoir of Family and Transformation. Ballantine. Feb. 2019. 352p. ISBN 9780399179013. $28; ebk. ISBN 9780399179020. Downloadable. MEMOIR
Patterson's beauty companies, Doobop and Georgia by Jodie Patterson, have been recognized by stylish venues like O: The Oprah Magazine and Vogue, but this book concerns something different. Patterson discusses her activism and considers key issues like identity, gender, and race in the context of her African American family's experience with racism and civil rights, her coming of age in 1970s–80s New York City, and her life as mother of five children, including ten-year-old transgender son.

Riskin, Victoria. Fay Wray and Robert Riskin: A Hollywood Memoir. Pantheon. Feb. 2019. 464p. ISBN 9781524747282. $30; ebk. ISBN 9781524747299. Downloadable. MEMOIR
Fay Wray appeared in over 120 movies, with King Kong her most famous costar; Robert Riskin was an Academy Award–winning screenwriter and producer famed for his collaborations with Frank Capra and progenitor of the screwball comedy. Their daughter, a former president of the Writers Guild of America West, turns their life together into its own Hollywood story.

Tsabari, Ayelet. The Art of Leaving: A Memoir. Random. Feb. 2019. 240p. ISBN 9780812988987. $26; ebk. ISBN 9780812988994. Downloadable. MEMOIR
Winner of multiple fiction awards and nominated for the Frank O'Connor International Short Story Award for The Best Place on Earth, Israeli author Tsabari here offers essays-as-memoir covering a life spent searching for a sense of identity and belonging after the death of her father when she was nine years old. Her Yemeni descent, fraught military service, extended travel, experimentation with drugs and alcohol, decision to write in a new language—all are fodder here.

Wilson, Chris with Bret Witter. The Master Plan: My Journey from Life in Prison to a Life of Purpose. Putnam. Feb. 2019. 432p. ISBN 9780735215580. $27; ebk. ISBN 9780735215603. CD. MEMOIR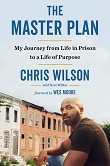 Wilson grew up afraid in a violent Washington, DC, neighborhood and killed a man in self-defense at age 18, for which he received a life sentence. In prison, he began bettering himself through reading, studying languages, and even launching a business, finally committing himself to a Master Plan. His diligence was outstanding enough to win him early release, and today he works as a social entrepreneur, mentor, and public speaker. With a national tour.