Brennert, Alan. Daughter of Moloka'i. St. Martin's. Feb. 2019. 320p. ISBN 9781250137661. $27.99; ebk. ISBN 9781250137685. HISTORICAL
Published in 2003, Brennert's beloved Moloka'i has over 600,000 copies in print, so a sequel seems apt. In Moloka'i, heroine Rachel was confined to a leper colony in Hawaii, where she gave birth to a daughter she was compelled to surrender for the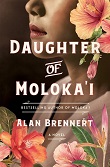 daughter's safety. Here, Ruth is adopted by a Japanese couple, raised in California, and interned at the Manzanar Relocation Camp during World War II. Then a letter arrives from the mother Ruth never knew. Major promotion.
Calvi, Mary. Dear George, Dear Mary. St. Martin's. Feb. 2019. 336p. ISBN 9781250162946. $27.99; ebk. ISBN 9781250162939. CD. HISTORICAL
A nine-time Emmy Award–winning journalist at WCBS-TV and the First Lady of Yonkers, NY, Calvi always wondered about the beautiful manor house in her hometown. That led her to the story of New York heiress Mary Philipse, the richest woman in Colonial America and George Washington's first love. Calvi reimagined their story after poring over letters, witness accounts, and journal entries. So what happened?

Halls, Stacey. The Familiars. MIRA: Harlequin. Feb. 2019. 352p. ISBN 9780778369189. $26.99; ebk. ISBN 9781488035029. HISTORICAL
Pregnant again after three failed attempts at delivering a healthy child, the rather brilliantly named noblewoman Fleetwood Shuttleworth finds a letter from her doctor (hidden by her heir-desperate husband) claiming that she will not survive another pregnancy. She and midwife Alice Grey intend to prove the doctor wrong, but then Alice is accused of witchcraft, and England's notorious 1612 Witch Trials of Pendle Hill fast approach. Acquired in a two-book, six-figure deal in a blast-furnace auction and MIRA's biggest debut of winter 2019.
Harper, Karen. American Duchess: A Novel of Consuelo Vanderbilt . Morrow. Feb. 2019. 368p. ISBN 9780062884299. $26.99; Morrow Paperbacks. pap. ISBN 9780062748331. $16.95; ebk. ISBN 9780062748348. HISTORICAL
Pummeled into marrying the chilly Duke of Marlborough by her ambitious mother, Consuelo Vanderbilt is red-eyed at "the Wedding of the Century," but even as her list of duties at Blenheim wears and her marriage bottoms out, she charms everyone she meets, fights for women's suffrage, and eventually entertains scandal. From New York Times best-selling author Harper; with a 75,000-copy paperback and 25,000-copy hardcover first printing.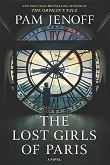 Jenoff, Pam. The Lost Girls of Paris. Park Row: Harlequin. Feb. 2019. 352p. ISBN 9780778308614. $26.99; pap. 384p. ISBN 9780778330271. $16.99; ebk. ISBN 9781460398760. HISTORICAL
Once again, Jenoff crafts fiction inspired by World War II, this time introducing us to war widow Grace Healy, who finds a suitcase filled with photographs of women at New York City's Grand Central Terminal in 1946. Learning that the women were spies deployed out of London during the war and that 12 never returned home, Grace determines to uncover their stories. Jenoff's signature piece, The Orphan's Tale, has sold over 350,000 copies.

Letts, Elizabeth. Finding Dorothy. Ballantine. Feb. 2019. 368p. ISBN 9780525622109. $28; ebk. ISBN 9780525622123. lrg. prnt. CD/downloadable. HISTORICAL
Two stories in one: Maud Gage Baum, widow of the man who wrote The Wonderful Wizard of Oz and its 19 sequels, meets Judy Garland and intervenes to protect her during the high-pressure shooting of the iconic film while also recalling the hand-to-mouth life she and her husband led in South Dakota before Oz whirled away the nation. Letts made No. 1 New York Times best-selling magic with The Eighty-Dollar Champion: Snowman, the Horse That Inspired a Nation and has written fiction as well (e.g., Family Planning).

Quinn, Kate. The Huntress. Morrow. Feb. 2019. 560p. ISBN 9780062884343. $26.99; Morrow Paperbacks. pap. ISBN 9780062740373. $16.99; ebk. ISBN 9780062740380. lrg. prnt. HISTORICAL
Two people are seeking a murderous Nazi called the Huntress: Nina Markova, who flew with the  Night Witches, the Soviet Union's all-female night-bomber regiment, and traumatized British war correspondent–turned–Nazi hunter Ian Graham, who teams with Nina to find his most elusive prey. Then there's Boston teenager Jordan, puzzled by her widowed father's new German wife. With a 200,000-copy paperback and 25,000-copy hardcover first printing; Quinn's The Alice Network was a LibraryReads pick.

Verble, Margaret. Cherokee America. Houghton Harcourt. Feb. 2019. 400p. ISBN 9781328494221. $27; ebk. ISBN 9781328494238. HISTORICAL
In 1875 in the Cherokee Nation West, a baby and a bay horse, a black hired hand and a preacher, a pile of gold and a gun have all gone missing. And that's just the start of troubles for Cherokee America Singer (aka Check), a tough farm woman and mother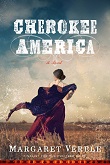 of five boys who will soon widowed and must join with her mixed-raced family and friends to banish one among them for the sake of the community. Verble was a Pulitzer Prize finalist for her debut novel, Maud's Line.