Week ending August 17, 2018
Friedland, Elyssa. The Intermission. Berkley. Jul. 2018. 368p. ISBN 9780399586866. $26; ebk. ISBN 9780399586873. F
Outwardly, Cass and Jonathan Coyne are the perfect couple, with matching Ivy League educations, brilliant careers, good looks, health, and money. But petty annoyances and secrets have driven a wedge between them. Five years into their marriage, on the verge of trying to conceive their first child, Cass suggests a temporary separation—or, as she calls it, drawing on her background in theater marketing, an intermission. Jonathan and Cass go their separate ways, exploring alternative relationships and other futures. In the process, they recall the most painful episodes of their life together and reevaluate their union. The titular metaphor, reinforced throughout, leaves little doubt as to the eventual outcome; the seeming inevitability of reconciliation reduces the stakes for readers. However, the fate of this frequently insufferable couple is incidental to the main purpose of the work: a thoughtful deep dive into a marriage.
VERDICT Convincing in its description of the frustrations of daily life, the small slights and larger failures of communication that cumulatively compromise a relationship, this book club–friendly read will please fans of Friedland's earlier work, Love and Miscommunication.—Lindsay Morton, P.L. of Science, San Francisco
Geni, Abby. The Wildlands. Counterpoint. Sept. 2018. 368p. ISBN 9781619022348. $26; ebk. ISBN 9781619022829. F
In this acute and affecting follow-up to Geni's award-winning debut novel, The Lightkeepers, the McCloud family is devastated when a Category 5 hurricane savages Mercy, OK; the house and farm are flattened and the children orphaned, their father swept away by the winds. (Their mother had already died in childbirth.) Eldest Darlene abandons her college dreams to tend to sisters Jane and Cora and brother Tucker, who is angered by Darlene's desperate ploy to secure financial support and soon deserts his siblings in a rage. Three years later, the sisters are just scraping by when the cosmetics factory outside of town is bombed, releasing the lab animals, and Tucker arrives badly injured at the sisters' trailer. Only nine-year-old Cora is there, and Tucker takes her on a journey that is both a profound education in how animals suffer and an escalatingly violent rampage as he seeks to address the situation, all the while insisting that Cora masquerade as a little boy named Corey. Throughout, Geni enfolds multiple themes: how the well-intentioned can go horribly wrong, how childhood experiences shape us, and what family love really means and how it can vie with principle.
VERDICT Revealing its secrets gradually and dealing gracefully with tough issues, Geni's work will satisfy a wide range of fiction readers.—Barbara Hoffert, Library Journal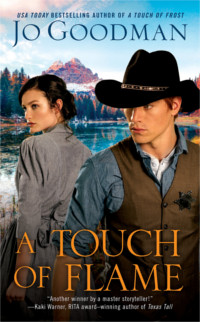 Goodman, Jo. A Touch of Flame. Jove: Berkley. (Cowboys of Colorado, Bk. 2). Jun. 2018. 390p. ISBN 9780399584299. pap. $7.99; ebk. ISBN 9780399584305. HISTORICAL ROMANCE
Dr. E. Ridley Woodhouse will not have an easy time in Frost Falls, CO, as the replacement for the town's longtime physician. Doc Dunlop had returned suddenly to his hometown of Boston and persuaded Ridley, his godchild, to fill the post. When it becomes clear that Dr. Woodhouse is a woman (several locals have commented on just that), even a small town has its share of prejudices and narrow-mindedness. Sheriff Ben Madison took notice as well, but he tries to make the doctor feel comfortable and accepted because Doc Dunlop asked it of him. Ben has only been in his position a scant six weeks after serving as deputy so he can appreciate Ridley's apprehension. Yet with his family a stone's throw away, Ben will have his own challenges keeping anything under his well-worn hat. And what could "E" possibly stand for?
VERDICT Goodman (A Touch of Frost) sets up a host of issues for a female stepping out of her expected role in 1898, but each is handled with as much respect as it is hilarity (it seems everyone wants to cuff our earnest lawman). After producing dozens of books, Goodman might have written her best one yet. Highly recommended.—Bette-Lee Fox, Library Journal
Kelk, Lindsey. One in a Million. HarperCollins. Sept. 2018. 416p. ISBN 9780008239046. pap. $14.99; ebk. ISBN 9780008239053. F
Newly single and trying to love it, struggling small business owner Annie Higgins accepts a challenge from her scornful ad-agency neighbors. If she can make random stranger Dr. Samuel Page, PhD, Instagram-famous in 30 days, she'll win a free month's rent. Unfortunately, awkward, antisocial hippie historian Sam hates social media. Undaunted, Annie gets to work, in the process learning a great deal about herself and her value, while forcing Sam to see the world in a wider circle than the one in which he places himself. Old lovers, a neurotic cat, meddling family, a social media crash-course for Sam, and a well-meaning session of Britney Spears therapy for Annie come together in a whimsical story.
VERDICT Some of the British humor might confuse North American readers, but those who like a love story and quirky characters will enjoy this latest from Kelk ("I Heart…" series; "Tess Brookes About a Girl" series). Well written and entertaining, perfect for readers of Gemma Burgess, Meg Cabot, and Sophie Kinsella.—Sonia Haynes, Brockville, Ont.
Kubica, Mary. When the Lights Go Out. Park Row: Harlequin. Sept. 2018. 336p. ISBN 9780778330783. $26.99; ebk. ISBN 9781488023576. MYS
Her mother's cancer returned when Jessie Sloane was 15, and for the next six years, Jessie cared for her. After Jessie's mother dies, her financial aid application is rejected because her social security number belongs to a dead girl with her name. Jessie needs to find out who she is. She has always longed to know who her father was, so maybe she'll learn his identity as well. Jessie and her mother had lived a severely sequestered life for reasons only her mother knew. Owing to her insomnia, Jessie hasn't slept in days, and she can no longer discern what's real from what isn't. More than 20 years earlier, Eden Sloane had wanted a baby so badly that she would risk anything, do anything to get one. Journal entries relate just how much she sacrificed to achieve that goal.
VERDICT Fans of Kubica (Don't You Cry; The Good Girl) will enjoy this exploration of the timely topic of child identity theft. With the author's trademark alternating story lines, this novel tugs at readers' heartstrings, arouses their ire, and provokes them before the final twist. [See Prepub Alert, 3/26/18.]—Elizabeth Masterson, Mecklenburg Cty. Jail Lib., Charlotte, NC
Mizushima, Margaret. Burning Ridge. Crooked Lane. (Timber Creek K-9, Bk. 4). Sept. 2018. 288p. ISBN 9781683317784. $26.99; ebk. ISBN 9781683317791. MYS
When veterinarian Cole Walker's dog finds a boot with a foot in it, Timber Creek, CO, deputy Mattie Cobb worries that Walker's two daughters, who were on the scene, will be traumatized. As a former foster child, Mattie struggles with trusting people. She does trust her K-9 cop partner Robo though, and the two are able to find the rest of the victim. The names tattooed on the man's body hit home for Mattie. Could it be her missing brother Willie, whom she hasn't seen in 25 years? While Mattie and Robo work the case, they unearth additional clues, but another link to her family forces her to abandon the formal investigation. Someone wants Mattie and Robo taken out permanently, and Cole joins forces with the sheriff's department when Robo is attacked and Mattie vanishes.
VERDICT Mizushima's latest (after Hunting Hour) is an intense mystery that emphasizes the abilities of Robo and his partnership with Mattie. Combining a police procedural with Mattie's personal story creates an anxiety-inducing novel that will remind readers of Nevada Barr's books.—Lesa Holstine, Evansville Vanderburgh P.L., IN
Shin, Kyung-Sook. The Court Dancer. Pegasus. Aug. 2018. 336p. ISBN 9781681777870. $25.95; ebk. ISBN 9781681778426. F
Korean orphan Yi Jin's beauty and exquisite dancing secure her a place at the Joseon court palace. Buffeted by internal power struggles between the empress and regent and external threats from China and Japan, Korea at the end of the 19th century is in turmoil. When a French diplomat falls in love with Jin, the empress allows him to take Jin to France, partly to thwart the emperor's attraction to her. But is the diplomat's desire merely an extension of his passion for collecting Korean treasures? At first Jin, who had learned French from a missionary, enjoys her life in Paris. Yet despite her friendship with Maupassant, her work translating Korean literature, and acquaintance with social elites, Jin always feels like an exotic outsider. Her return to Korea coincides with political and personal disaster. This 2007 novel, the most recent work of the acclaimed Korean author to be translated into English, has a much different setting from her previous titles. Although some explanation of Korea's complex history is included in the narrative, particularly in diplomatic correspondence, much is unfamiliar. While the book's blurb claims the novel is based on a true story, there are no author's or translator's notes to provide details.
VERDICT Despite evocative descriptions and impeccable style, the slow pace and unfamiliar setting may limit the novel's audience to fans of Shin's previous works (The Girl Who Wrote Loneliness) who are curious about her foray into Korea's past.—Kathy Piehl, Minnesota State Univ. Lib., Mankato
Solares, Martin. Don't Send Flowers. Black Cat: Grove. Aug. 2018. 288p. tr. from Spanish by Heather Cleary. ISBN 9780802128157. pap. $16; ebk. ISBN 9780802146205. MYS
Carlos Treviño left the police force in La Eternidad, on the Gulf Coast of Mexico, to escape the corruption brought by the cartels. When the daughter of a wealthy local is kidnapped, an all too common occurrence, he is dragooned into returning and assisting in finding her. He begins his investigation by dodging the cartels, who are battling for control of the city and its routes north, as well as the powerful chief of police, who is eager to remind Treviño why coming back to his city is a bad idea. Since there has been no ransom demand, it is quickly understood that this isn't an ordinary abduction. Risking life and limb, Treviño ultimately locates the girl but at a high cost. The second half of the book follows police chief Margarito Gonzalez, who is being forced to retire as part of a reform campaign. A bloody assassination attempt leaves him wounded and his closest associates in the department dead. As he desperately tries to make his own exit, his trail crosses that of Treviño and the missing girl and those of the inexorable forces shaping modern Mexico.
VERDICT This gritty noir by Solares (The Black Minutes) combines a compelling mystery with political upheaval and will appeal to fans of fast-paced thrillers in grim locales. [See Prepub Alert, 3/26/18.]—Dan Forrest, Western Kentucky Univ. Libs., Bowling Green