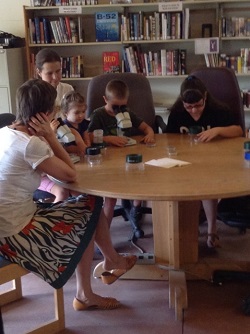 Legislation to be put forward in January, 2019 proposes a $50 million permanent state fund to provide some $50,000 per year for more than 40 rural community libraries across New Mexico.
The legislation, drafted by Northern New Mexico–based artist and activist Shel Neymark, together with Sen. Gerald Ortiz y Pino (D-Bernalillo County), would create a $50 million endowment from New Mexico's general fund that would provide approximately $50,000 annual funding for each library. Most of the state's tiniest nonprofit rural libraries rely on small state and county grants and donations to keep their doors open. It would also include funding to help develop new community libraries.
Neymark has been actively involved with community libraries for more than 25 years. He helped found the Embudo Valley Library (EVL) in Dixon, an unincorporated rural community 40 miles north of Santa Fe, in 1992. After seeing firsthand the struggles that the state's small rural libraries go through to maintain funding from year to year, he decided to take action.
"I've been an artist my whole life, and I've never done a project like this," Neymark told LJ. "It's just something I've had on my mind for a long time."
AN ARTIST HELPS MAKE A LIBRARY
Although Neymark isn't a New Mexico native—he grew up near Chicago and went to Washington University in St. Louis, MO—he has lived there for 44 years and has made his home in Embudo since 1984. A sculptor, muralist, glass artist, and ceramicist, he has a thriving art practice that includes the installation of a number of public art pieces throughout the state.
Neymark and a handful of volunteers opened EVL in an old two-room former barn, with a collection of donated books and a $2,000 budget. On the first day it was open, patrons checked out 50 books.
The library moved in 2014 to a new 3,000 square foot building on 1.5 acres it shares with a community center, an orchard, and a park. The property now houses a food co-op, a radio station, a summer archaeological lecture series, a Maker space for 3-D printing, a pollinator garden, and early childhood and after-school programs. It also offers a place for senior citizens who need assistance with Medicare enrollment and tax forms—as well as a 40-foot ceramic topological map of the Embudo Valley designed by Neymark. He has been a board member on and off, and recently stepped down after a seven-year board presidency.
One of five libraries that make up the Rio Arriba Independent Libraries system (RAIL), EVL currently has 16,000 titles, 1,400 cardholders—the town of Dixon has fewer than 1,000 residents—and boasts 19,000 annual visits. In 2015 it received one of ten annual Institute of Museum and Library Services (IMLS) National Medals honoring its deep community involvement that includes youth education, adult and lifelong learning, and economic development programming.
As a 501(c)3 nonprofit, EVL does not receive much government funding. Rio Arriba is one of the poorest counties in the state, and most years the funding the library receives from the county and New Mexico State Aid makes up less than 15 percent of its operating budget—this past year the county gave no money at all. The rest comes from foundations and local donors. General Obligation bonds, administered by the New Mexico State Library (NMSL), must be used on capital expenses such as computers or books, and cannot go toward staff salaries.
But most of the library's operating funds, Neymark told LJ, rely on sources "from bake sales to foundation grants to pleading with people to give us money. That's been going on for 25 years."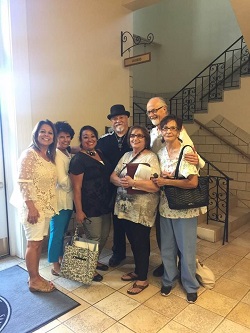 A STATEWIDE ISSUE
Most of the New Mexico's community libraries are in similar straits. While usage has grown exponentially across the state over the past decade, budgets have not; their workforces are made up largely of volunteers, and residents donate time and materials, such as Wi-Fi from Black Mesa Wireless and solar panels donated and installed by Sol Luna Solar in Dixon.
In 2018 alone, Villanueva David F. Cargo Library (DFCL) director Rebecca Salazar said, "We've done so much…. We've had a computer charity in Santa Fe donate computers to us, we traveled 200 [plus] miles just last weekend to Farmington Library and they donated a slew of bookshelves and odds-and-ends furnishing to us. We took a 26-foot U-Haul and we had five volunteers that went out of [their own] pocket. We drove out there and drove the U-Haul back, loaded and unloaded." A recent small donation went to purchase an OPAC (online public access catalog) for the library. Everything depends on gifts and grants, Salazar told LJ—"blood, sweat, and tears for every penny we make."
The need to fundraise anew each budget cycle—usually in low-income communities—uses time and personnel resources that are tight to begin with. The question among these libraries, said Neymark, is always the same: "How do we keep our doors open year after year?"
TWO BILLS, MANY BENEFITS
Neymark's advocacy for SVL earned him a place on the 2017 Santa Fe New Mexican's "10 Who Made a Difference" list, which honors the volunteer work of ten northern New Mexicans each year. Although he had toyed with the idea of developing a state library endowment for years, it was the award that spurred him to action. "That night I started thinking OK, if this endowment idea is going to happen I have to do it, because nobody else is going to," he told LJ.
"I figured if there was a million dollar endowment for each of these libraries, the earnings would be about $50,000 a year—endowments only pay about five percent. Fifty thousand dollars a year would make a huge difference in all of our libraries." Many of the small libraries in rural municipalities scrape by with budgets of $10,000 or $20,000 a year. EVL has done better than many, but the additional money would mean more staff, longer hours, and less time spent fundraising.
Although he had no experience drafting legislation, Neymark dove straight in. He secured a small grant from the Santa Fe Community Foundation to cover the time spent away from his studio, took a lobbying class, and began talking to legislators. Ortiz y Pino doesn't represent the Embudo Valley district but he has a home in town, and Neymark knew he was a strong library supporter. "He sold raffle tickets...for the library," Neymark explained. "And I've seen him at many library events. He gives the legislative update at the library that a lot of people attend. So I decided to talk to him about it, and he was very enthusiastic."
Ortiz y Pino agreed to introduce the legislation, and the state Legislative Council Service—the drafting and legal research agency for the New Mexico Legislature—assigned Tessa Ryan, a staff attorney, to help them craft it.
The rural libraries initiative legislation comprises two bills. The first, which creates a one-time appropriation for the fund, will be introduced as a statute by Ortiz y Pino in the 2019 legislative session that begins in January.
The second calls for a statewide constitutional amendment to disburse the endowment, and would exempt nonprofit libraries from New Mexico's anti-donation clause, which prohibits the state from giving capital expense funds to nonprofits. This would be good news for libraries such as DFCL. "We know where all the leaks are," Salazar told LJ. "It rained yesterday and here we are running around with buckets. To find a grant to support infrastructure and pay for capital improvements is hard."
"Some of these libraries need to fix their roof, improve their heating systems, and a constitutional amendment will legally allow them to do that," said Neymark. If the initial legislation passes in 2019, the amendment will go up before New Mexico voters on a statewide 2020 ballot, and—if passed—go into effect as a permanent endowment in 2021.
Libraries eligible for endowment funds will either be unincorporated themselves or located in an unincorporated municipality, or they will have a legal service area of 3,000 people or fewer. Of the $50 million, $40 million will be directly named for libraries. Another $2 million will pay for an endowed position at NMSL for a rural library specialist who will provide these libraries with technical assistance and manage the endowment's disbursement.
The final $8 million will be set aside to encourage more small towns to start their own libraries. "If people pull [together] a group of citizens in a small, especially unincorporated town… [and] create a board, then we would give a small grant to help them get their 501(c)3," Neymark told LJ. "Then we'd give another grant once they identified a building…to rent it and get shelves and stuff like that." After a series of grants to help them get off the ground, the hope is that these small libraries will officially become public libraries by NMSL's criteria and will then be eligible for the remaining endowments.
"THE LIBRARIES WORK"
This is an opportune time to look for money, Ortiz y Pino told the Santa Fe New Mexican. A statewide boom in oil revenues, which could add up to an additional $1 billion, will bulk up cash reserves and promote increased spending for FY 2019, which began July 1. State workers have seen their first pay raises since 2014, and the court system will be able to increase hours. However, oil and gas markets are unstable by nature, and boom times are subject to change—which is why Neymark and Ortiz y Pino hope that a one-time appropriation will be seen as a sound investment.
Neymark is hoping for bipartisan support. The state already has a land trust set up to support public education, so an endowment like this would look familiar, he said. And because it's a one-time expenditure, Republicans who are averse to new taxes can support it as well. "It's like a savings account," he pointed out.
He plans to raise awareness for the endowment through local and statewide media campaigns, making sure people know what these rural libraries accomplish every day—and the important information they can, in turn, offer elected officials. "I think legislators give a lot of voice to wanting to invest in rural communities, but they don't really have a clue on how to go about doing it," Neymark said. "And grassroots libraries where people know the problems in their communities, and know what their communities need, are in a position to address community issues in a way that legislators don't really have access to."
The nearby Vallecitos Library, for instance, recently conducted a survey asking what town residents needed and discovered that many of them didn't have enough money to put minutes on their phones. So the library brought in a public phone, and patrons can use it for free during open hours. In nearby La Joya, the high school graduation rate skyrocketed after the town's Rio Abajo Community Library opened 15 years ago, which is no coincidence, noted Neymark—students who had to ride the bus an hour and a half each way to school finally had a place to study and do homework.
"That's why I'm so excited about this project. I think it's something that works. In each of these towns, the libraries work."
The 40 libraries that stand to benefit are excited as well, he said; he has reached out to each one.
"Shel just happened to call me when I happened to be in the office that day," recalled Salazar. "He said we're doing this initiative, and it sounded too good to be true. And I said, put my name on the list! Because we've had small grants here and there, and we've received aid from the state, but we never really had an advocate for the library in our rural area. It seems like we fall through the cracks."
She added, "A lot of people are moving out of the rural areas to the bigger cities because there are better jobs. So there's a whole lot involved just in our having our little library established, and having these resources in the middle of an agricultural community. It's very important to sustain the family culture and traditions…. We have generations of history here."
What Neymark loves about these small libraries, he explained, is that they are local efforts. "Most of them, citizens got together just like we did in our town and said, 'We want a library here—how can we do it?' And that to me is really exciting. In bigger towns, the town council puts in the library and yeah, there's ownership of it, but when local citizens are actually the ones who pull it together and figure out how to do it, it's so much more of a personal thing…. I think pulling people together to work at a grassroots level is empowering."
Photographs: (top): Kids get scientific at Embudo Valley Library's "Libraries Rock" summer reading program, held in partnership with the Albuquerque Explora Museum. Photo by Shel Neymark.
(center): Staff and supporters of the Villanueva David F. Cargo Library, ready to present before the San Miguel County Commissioners Board meeting to request additional funding. Photo courtesy of Villanueva David F. Cargo Library.