Despite the delays and complications of the pandemic, many libraries persevered to debut new and renovated buildings this year. Playful, dynamic lighting, relaxed and inviting outdoor spaces, light-filled and visible interiors with embedded technology, and smart, sustainable infrastructure are this year's top trends.

(l.-r.): River Center Branch Library, Baton Rouge, LA; WHLC and Schwartz Silver, architects; Tim Mueller Photography, photo. The Billie Jean King Library, Long Beach, CA; Skidmore, Owings, & Merrill, architect; ©Benny Chan, Fotoworks, photo. The Providence Public Library, RI; designLAB architects, architect; Anton Grassl, photo
New and renovated libraries look beyond the constraints of the current moment to a future full of light, play, and movement inside and out
Despite the delays and complications of the pandemic, many libraries persevered to debut new and renovated buildings this year. Playful, dynamic lighting, relaxed and inviting outdoor spaces, light-filled and visible interiors with embedded technology, and smart, sustainable infrastructure are this year's top trends. Digital screens, kitchens, short-throw projectors, haptic playspaces, and mobile displays join makerspaces and lounges to offer opportunities for synchronous and asynchronous engagement and learning. Creative uses of felted ceiling panels and wall tiles keep sightlines open but ensure sound stays put. And lush fabrics, area rugs, and artwork provide depth, texture, and comfort. Simply put, these libraries are bold, smart, and supple. They celebrate the past and envision the future through thoughtful design.
VIVACIOUS AND VIVID
With bold, backlit signage, translucent "LIBRARY" treatments emblazoned on curtain walls and windows, and color changing LED lighting, this year's libraries show how 21st-century technology can create environmentally efficient but eye-catching spaces that dynamically draw people in. The Melrose Branch Library of the Roanoke Public Libraries in Melrose, VA, for instance, offers neon colors that backlight the metal grate facade and compliment the marquee-style sign.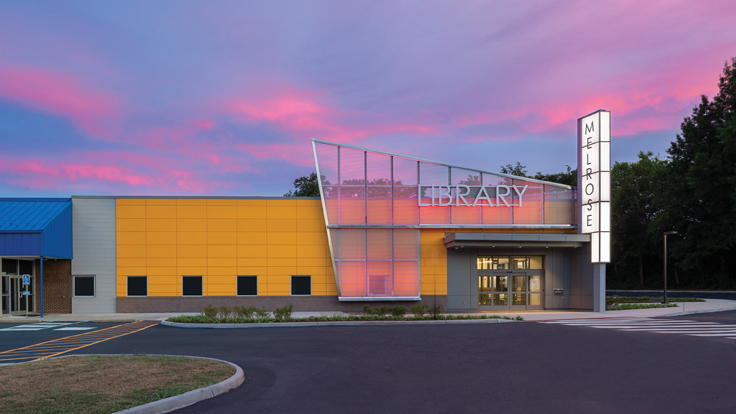 Melrose Library, Roanoake Public Libraries, VA. Enteros Design, PC, architect; Quentin Penn-Hollar, QPH Photo, photo
Public and academic libraries alike are using suspended LED lighting to create bold, eye-catching displays that feature organic or geometric shapes and visually dialog with furniture or other colors within a room. The playful dynamic continues inside the Melrose Branch with arrow-shaped LED suspended lights offset by punchy coral accents, complimenting coral and teal geometric vinyl floors. Squares of LED suspended lighting and layers of drop ceiling treatments offer acoustic balance and delineate spaces.
This kind of visual experience and invitation to delight are no longer reserved for children's areas. Yes, the Northeast Regional Branch of Louisville Free Public Library in Kentucky features a slide and reading nooks with bold red and pink shapes in the children's area. But it also features a "river of books," an all face-out display created from custom millwork, to show off new materials on a gently sloping surface that connects the library's community pavilion to the collection.
Custom millwork and woodwork abound, carrying a cohesive design aesthetic throughout, from graphic motifs to wall and ceiling treatments and displays, desks, and cabinetry. At the Community Library in Ketchum, ID, snowflake-like accents of blond wood on the ceilings and walls carry into the children's area, where custom wooden reading nooks offer picturesque views. A whimsical but functional book ladder serves a floor-to-ceiling bookcase in the lecture hall.
At Ohio's Toledo Lucas County Public Library's main building, the historic art deco Central Court served as design inspiration for the 104,631 square foot renovation. Designers used the art deco motifs and colors in the Court as foundation for new millwork, including displays, service desks, and other cabinetry.
Similarly, a color story provides continuity throughout the 175,656 square foot Richland Main Library's, Columbia, SC, renovation. Felt walls and ceiling coverings soften the original exposed concrete and provide acoustic balance. Rebuilt shelving, capped in ombre, is particularly captivating at night.
The Waunakee Public Library in Wisconsin is organized on an "X" axis, representing the intersection of the library and community hall. The new 40,000 square foot building uses wood-clad ceiling, trim, and shelving and graphics to reinforce continuity across its versatile programming spaces. The playful graphics appear in a custom wall-mounted display and sound panels in the children's areas and as a translucent applique to glassed-in study and meeting rooms.
LIGHT, SOUND, AND SCALE
Both renovations and new buildings continue to find ways to bring light into and through the building, from truss-supported curtain walls, to clerestories, lightwells, and saw-toothed rooftop light monitors.
At the Ankeny Kirkendall Public Library in Iowa crisp white walls and subtle wood accents on stairwells, drop ceiling features, and endcapped shelving join light brown, gray, and cool teal to frame vignettes, like the vibrant children's area. An enclave of sculptural vibrant blue, gray, and green felted ceiling panels hang above a play area with rounded poufs, built-in displays and bookshelves, and playful cutouts.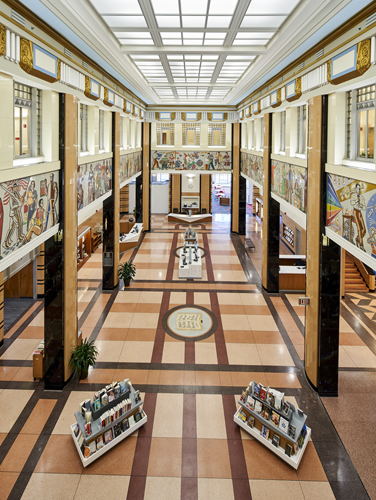 Main Library, Toledo Lucas County Public Library, OH. HBM Architects, architect; Roger Mastroianni, photo
While exposed ducting, lighting, pipes, beams, and electrical spines persist, many of 2020's libraries take advantage of sculptural acoustic panels and drop ceiling panels to control sound and create intimately scaled spaces. At the Billie Jean King Main Library in Long Beach, CA, the wood beam ceiling and metal ductwork are interrupted by an L-shaped white gypsum overhang featuring a built-in bookcase and pelican and seabird sculpture. The overhang shelters soft blue pouf seating and child-sized chairs and tables.
NATURE AND COMMUNITY
Libraries continue to bring the outdoors in and extend event, seating, and other spaces into their surrounding footprint. While these educational outdoor paths, pavilions, plazas, courtyards, and colonnade covered walkways predate the COVID-19 pandemic, they are perfectly suited for a moment in which patrons cannot linger or gather indoors. Just as fireplaces, rocking chairs, and comfortable lounge-style seating have become staples of library design, so are residential elements of outdoor design. String lights, umbrellas, and picnic benches mimic backyard settings.
Meanwhile, biophilic interior design elements such as organic, moss-like carpeting and plush nature-hued fabrics soften and balance geometric and angular features. Many libraries extend building cladding, such as stone or wood, into interior spaces.
Ceiling panels in shades of green cover the length of the children's area at the Carol Stream Public Library, IL, spreading from a green felt-covered pillar reminiscent of a tree. Graphic wall treatments feature mostly black and gray tree trunks while carpeting features purple, yellow and gray panels reminiscent of pebbles or lichen. The renovation also uses masonry walls to bring light into the floor plate and connect the interior to the adjacent wooded area and nature walk. String lights and picnic tables offer a casual seating experience outside.
The Northeast Regional Branch of Louisville Free Public Library in Kentucky features wide polished concrete social staircases with amphitheater-style seating to transition from collections to café. The stairs extend through the glass curtain wall, blending the interior and exterior. The new building features a community pavilion of several interconnected spaces that host a maker/active learning space, a teaching kitchen, green room, sound studio, café, meeting rooms, technology counter, and pre-function space. All connect to a covered outdoor patio and a plaza that in turn links the library to a surrounding park and walking paths.
The new Lake Villa District Library in Lindernhurst, IL, features a cut-stone exterior facade in light shades of clay, gray, and cream. Carpet tiles and wall treatments bring the pattern and color palette of the stone into the interior of the main circulation area, anchored by crisp white walls and cool gray furnishings. Pops of bright green and blue endcapped shelving draw attention to programmed areas within the library, visible through punch out glass walls.
BALANCING ACT
Pavilions enable libraries to pack a programming punch into their offerings for specialized communities and activities such as life skills, early literacy, cultural learning, making, or quiet reading. Renovations and new construction alike organize activities to balance acts of creative collision and calming contemplation. High and low technology meet to offer a variety of experiences tailored to diverse communities.
At the new 44,803-square-foot Fairfield Area Library in Henrico County, VA, lightwells illuminate a dramatic, brightly colored seating area for caregivers in the children's area while organic reading nooks embedded in the walls offer a lush retreat for children. Between the children's and teens area sits a Family Collaboration Zone that connects the two. A Creation Classroom features durable finishes, ceiling-mounted, pull-down electrical outlets, and a kitchenette.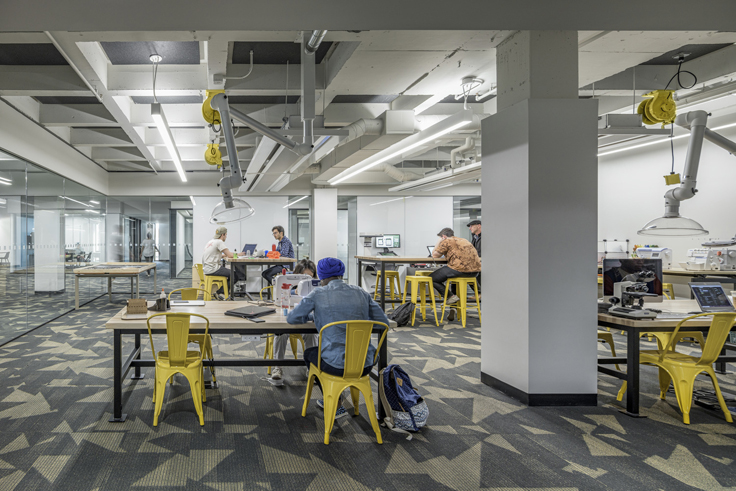 Hayden Library, Arizona State University, Tempe. Ayers Saint Gross, architect; Gabe Border, photo
In Tempe, at Arizona State University, the Hayden Library's "Reinvention" maintained the mid-century modern shell and unique interior features like the wood balustrade with stainless steel inlay on the existing terrazzo central stairs while adding the technology, sustainable infrastructure, and spaces such as collaborative lounges and reading nooks that support 21st century scholarship. The $90,000,000 project uses a shared color palette to reinforce the connection between old and new, and glass paneled interior walls offer views into technology-infused active learning classrooms and book arts and printmaking studios. Native landscaping and additional seating bring the library's footprint further into campus.
Allison and Howard Lutnick Library at Haverford College in Pennsylvania features vaulted ceilings in both original and renovated reading rooms, aligning past, present, and future. The original library had undergone a series of ad hoc renovations in the past, creating a disorienting sequence of spaces. The latest renovation updated and added 32,380 square feet of space, restoring the older "heritage" spaces and combining them with warm, well-lit contemporary learning ones. Plush area rugs and live edge conference tables bring a sense of warmth and liveliness.
In Baltimore, MD, the Enoch Pratt Free Library's 1933 Art Deco building now features a job and career center, a space dedicated to teens, and a Creative Arts Center. Historic elements, rooms, and materials were restored while updating invisible infrastructure. Black steel and glass walls delicately create new spaces in large, open areas and technology-rich rooms rise from floors to just below restored painted support beams.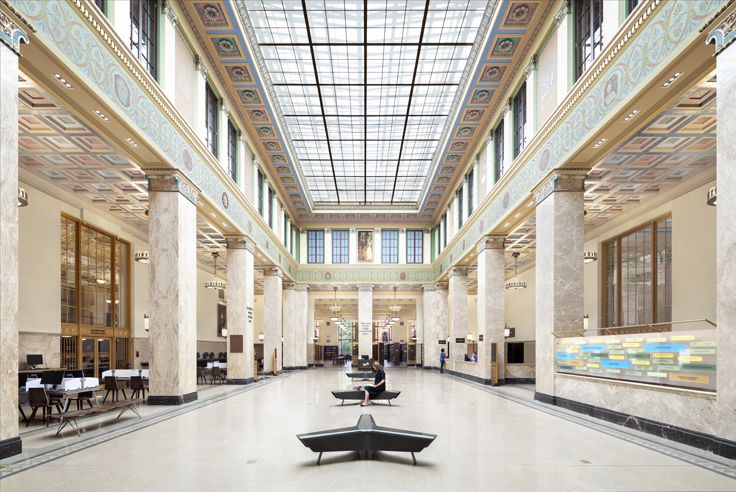 Enoch Pratt Free Library, Baltimore, MD. Beyer Blinder Belle, Ayers Saint Gross, and Sandra Vicchio & Associates, architects; Joseph Romeo Photography, photo
Through color, form, and function, these libraries epitomize joyful expression. The palettes are lush, consistent, and expressive. By creating multifunctional, highly adaptive spaces that can tailor services and activities to distinct communities, these libraries bring a multilayered, sophisticated response to what it means to be "flexible" and "future-focused."