There's much to celebrate about the onset of autumn, from hay rides to apple cider to scary movies. We offer some great DIY concepts for you to adapt as your own.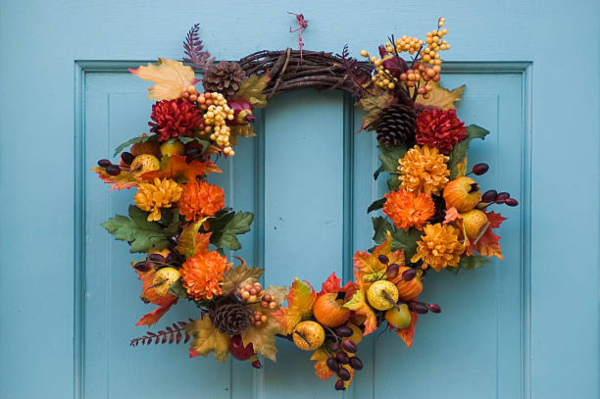 No matter your feelings on the divise Pumpkin Spice Latte, there's much to celebrate about the onset of autumn, from hay rides to apple cider to scary movies. If you've fluffed your leaf-themed pillows and your pumpkin tablecloth has been ironed since July, or if you're simply ready for some new decor, brightening up your home with deep reds, oranges, and browns can induce feelings of coziness and the urge to hold a mug while smiling wistfully. If you're looking for us, we'll have Hocus Pocus on repeat as we hot glue berry branches together.
DOOR DECOR: Are you someone who has a door wreath for each season, switching out with a comforting regularity, or are you someone who would like to glue rhinestone skeletons to some sticks? No matter your crafting ability, door wreaths are a fun way to mix up your seasonal style with relatively small commitment. This kind of craft is what the internet excels at, and you can find tutorials for all types of wreaths, including a Six-Minute Fall Wreath, Fall Wreath with Dried Flowers and Herbs, or a DIY Apple Wreath. If you're so inclined, let Martha Stewart show you how to make a Corn-Husk Wreath (or a Dyed Cornhusk Wreath). We'll be attempting this candy corn lima bean masterpiece this year (yes, you read that right).
HEY, PUMPKIN: P
umpkins and gourds are the best of fall decor: they look great if you just want to stack them up in front of your door (or go big with a stack-o-lantern), place a few on each step, or set a tiny one on every plate. If you'd like to get more involved with your fall crafting, options abound. You can paint them with leaf shapes (or just glue leaves on) so their lewk lasts outside the Halloween season, or carve the insides and use them as a vase—this can work with squash too! (Use floral foam if you need some assistance in keeping stems upright). For the true fall dinner party, wow your guests by serving squash soup in a tiny pumpkin. We'll be over at seven.
TABLE FOR TWO (OR 12): Dressing up your tablescape for fall can also have varying levels of difficulty. Like this leaf-themed table runner, which requires only butcher paper and paint—a fun activity to do with the kids, if you'd like. Or you can aim for a more advanced craft like mini topiary centerpieces. A nice in-between option is to simply use some wildflowers, gourds, or even acorns to welcome fall onto your table.
MANTLE MASTERPIECE: Whether or not you're going to be wiling your nights away in front a roaring fire, your mantle can still be a great spot to add some pops of fall decor without overwhelming the rest of your home (or tiring yourself out). Start with some leafy garland—or dried flowers, or perhaps some berries? You can even DIY if you'd like. Add in some gourds as color, and some other items like a vase, or flowers, for some height. The internet is awash in great concepts for you to adapt as your own.
Happy Fall, y'all!