As library designers, we must meet that challenge by understanding and providing for the needs of the communities the library serves. Main Libraries are often large and centrally located as the hub of the system. Usually located in the population center, often in a major city or town.


About the Author: Caitlin VerKuilen is a Library Design Architect with HBM Architects and is currently working on library projects in Kansas, Maryland, Tennessee, and Ohio.
When a Library System comes to the decision to build, renovate, or expand they have determined that the library isn't meeting the current needs of their community. As library designers, we must meet that challenge by understanding and providing for the needs of the communities the library serves. Main Libraries are often large and centrally located as the hub of the system. Usually located in the population center, often in a major city or town. The location, size, and prominence to the system dictates that a Main Library provide a range of services and programs to serve both their immediate geographical setting and regional area, whether a defined District, City, or County. Whereas branch libraries have the unique opportunity to be to be the hubs of a microcosm providing modern library services to their neighborhoods through bespoke design that addresses the composition of the intimate community.
To arrive at this level of refinement we, as library architects, need to begin with understanding the community which this library serves before we come to engage with the community and library in person. Our goal is to gain understanding and inspiration by diving into the library's vernacular, accessibility, community composition, and population projections. These attributes help lay the groundwork for a tailored design that can meet the needs of its community now and for years to come. Because successful library buildings reflect their community, in this article we will discuss the types of resources helpful to understanding your library users and how that can inform design decisions in form and function.

Understanding Your Library Users

The first question to answer in understanding the community is "who". Who is part of this community, who lives here, what is their cultural make up? Is the community young, established, or aging? In an article entitled "What you can learn about your community from demographics" Dan Veroff states "Demographic data can help provide a basis for understanding communities as they are now, where they've been and where they're headed. It can be a powerful tool for tracking change over time and for uncovering the needs or strengths of a community to guide planning, policy development or decision making." We can use census and community survey data, as well as community data from websites geared to assist with real estate value analysis that tells us a great deal about the community. Race, Diversity and Ethnicity Data can tell if the Library may need to provide resources such as English as a second language, immigration and citizenship assistance, and a larger collection of Foreign Language materials. Additional sources can be your county, city, and local news websites that provide information to help formulate projections. Evidence such as any upcoming local developments, new or closing school buildings, and new, renovated, or relocated park/recreation areas and their composition.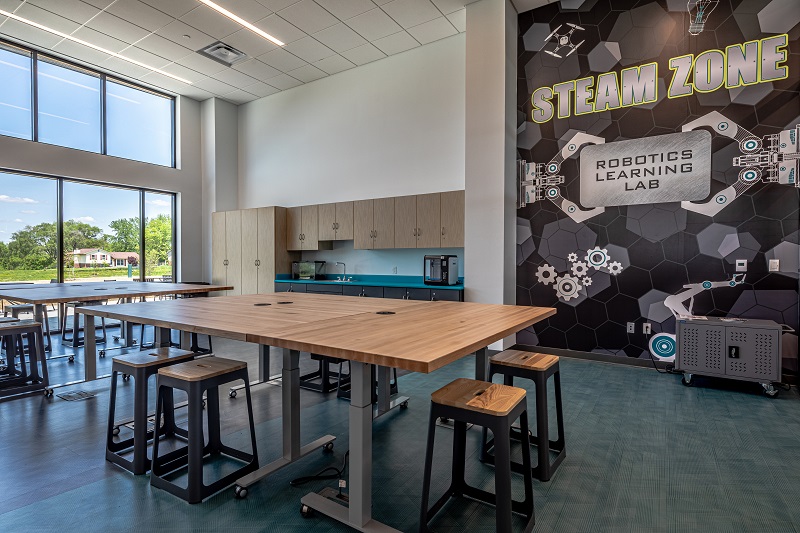 Johnson County Public Library – Clark Pleasant Branch / Designed by HBM Architects / photographer

Megan Ratts

It is also important to consider raw age figures that provide insight into how the local population and user group of the branch have been changing. One example is that if the population has doubled from 10 years ago it is likely that the growth is coming from younger families. In a community that saw growth 20 years ago and has leveled off, providing an engaging space for teens or STEAM programs may be more appropriate. A community that has not experienced significant change might instead require more large print collections, active wellness programs, technology training, and social services geared towards an older population. Libraries that collect cardholder data can also evaluate what they are seeing as indicators of local age demographic shifts during the last 10-20 years.

Library Location & Context

The next question to be answered in understanding the community is "where". Where is the branch physically located in the community? Is the location walkable, accessible through public transit, or reliant on cars? While many communities strive to be increasingly more walkable it is often an unrealistic expectation of a branch, especially in a suburban or rural setting, that the majority of visitors will be on foot. By looking at the site location, adjacencies to main thoroughfares, retail development, city parks etc. we can determine the extent of the immediate community being served. A library along a major public transit route could provide a broader range of services and activities for those who use transit but may not live in the immediate community. A branch located near major commuter routes should consider drive-up and remote access services as the user group is likely to be reliant on motor vehicles.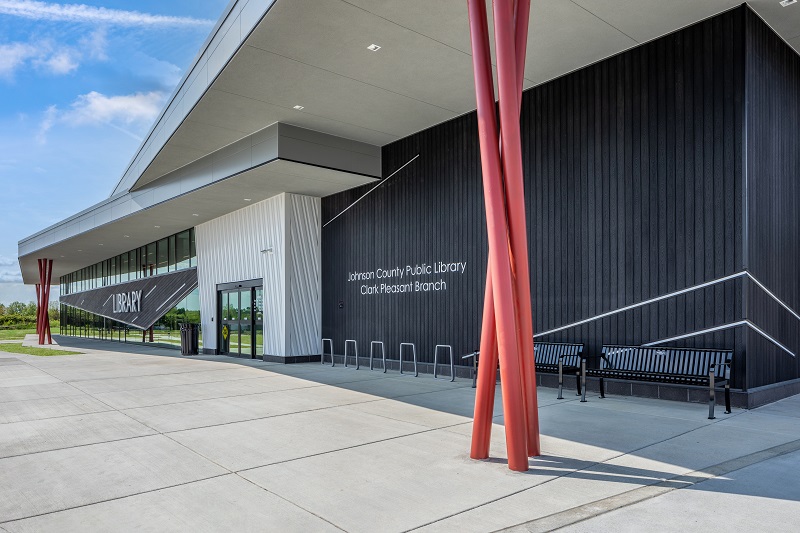 Johnson County Public Library – Clark Pleasant Branch / Designed by HBM Architects / photographer

Megan Ratts

Another important design consideration pertaining to location is aesthetic. If there is an existing streetscape contextual fabric, should the library work within it or does the library want to stand on its own? For a library that will be part of a streetscape, the design of the building will want to draw from the local vernacular especially along the frontage, creating an engaging design that contributes positively to the neighborhood. For a library that stands on its own, the design can be informed by the community, and together create a new architectural vernacular. In an expanding area such as Johnson County, Indiana a modern design aesthetic for the Clark Pleasant Branch was well supported, as a defining architectural style was not already established. Whereas for Cuyahoga County Public Library's Bay Village Branch in Bay Village, Ohio the established population, composed of diverse age groups, deriving inspiration from the historic architecture of the area was important for gaining community support for the project. In determining this aesthetic need, we analyzed both historic properties and recent residential designs and connected with the city's historical society, located within the same community park as the new branch. After conducting a series of community engagement sessions and client meetings the conclusion of our research and design direction was confirmed. The completed Library has quickly become a treasured asset of the community.

Establishing Distinct Characteristics

For the purpose of discussion, we will examine two branches in the same library system. These buildings sit less than five miles apart but serve very different demographics. Let's call them Branch A and Branch B.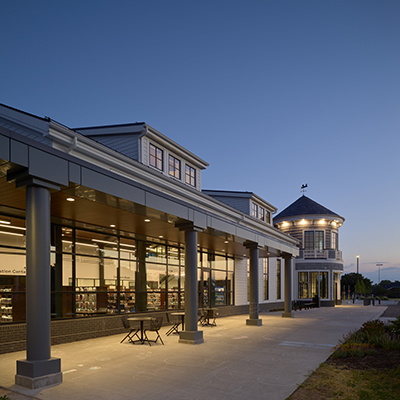 Cuyahoga County Public Library –
Bay Village Branch /Designed by HBM Architects /
photographer Roger Mastroianni
Branch A serves a diverse population of White non-Hispanic and Hispanic residents as well as a range of age groups from older to very young. Additionally, Branch A is located near a major highway, public transit routes, and shopping centers. Before design begins, we can tell that Branch A will require a breadth of services to cater to the community. When engaging the community a pole revealed a top priority was expanding parking, providing teen space, and children's areas. Not far from Branch A, Branch B is in a heavily Hispanic area with an older population. It's located within a city block structure that indicates more pedestrian and local traffic. As was evidenced when polling the community, they did not want to increase parking but instead requested more programs, technology, and books.

Looking to the Future

A final demographic consideration is to look into the future. Is the community continuing to grow? For this we look again to real estate, what are homes selling for in the area around the branch, are they "starter" homes, mid-sized homes, are there apartments nearby or a senior living facility? Beyond real estate figures we look at what is changing in the community. If there are an increased number of housing developments, if a developer just proposed a major shopping center in the area, if there is a major infrastructure project, or a new industry being introduced. Each of these affect neighborhoods in different ways. While industry will bring jobs, housing type may indicate that people working in that industry may not live near your branch, however a senior living facility across the street will have a direct effect. What is proposed for the community's future, does the city have 5, 10, 20-year plans and how can those plans help inform the needs of branch libraries.

Implementation Example

With our depth of projects, we see many examples of how libraries relate to and define the community they are in. At Cleveland Public Library's South Branch, the branch is located along the border of a gentrifying neighborhood and an established Spanish-speaking population. The physical location within the community indicated that most users will be on foot or use public transit. The character of the original Carnegie Library helps to define a community that has changed greatly over the course of the building's life. Therefore, restoring the historic Carnegie and creating a meeting room addition with accessible entry and restrooms help to revitalize and uplift a transitioning neighborhood. This creates a vibrant and inviting place that supports active non-profit groups in the area, summer programming, services related to food insecurity, technology training, etc. Additionally, this small branch provides a recording studio and small meeting room spaces, supporting teens and young professionals.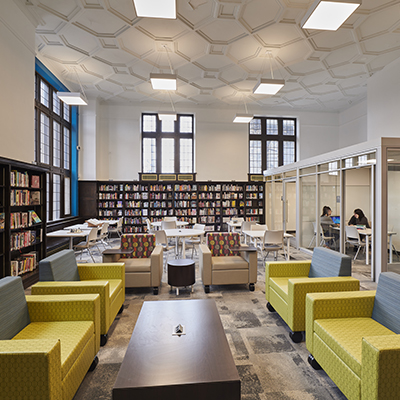 Cleveland Public Library –
South Branch / Designed by HBM Architects /
photographer Roger Mastroianni
In Johnson County Indiana, south of Indianapolis, the population continues to increase, and real estate developments continue to pop up throughout the county. Located along a major highway heading south from Indianapolis, the Library site is easy to find, accessible, and visible. This branch serves a commuter-heavy area with user groups coming from outlying newly constructed residential neighborhoods. A new branch library building was needed here to provide for this growing and previously under-served community. Both the site and building were designed with future growth and additional community amenities in mind. This could mean future expansion, a need for increased parking, larger outdoor programming space, or even the addition of a community park with walking trails.
As libraries continue to re-examine their current buildings, and possible need for new facilities, understanding the community context and user groups relying on that location will help to provide tailored library services through flexible facilities that are lasting and vital community assets.

Sources:
https://leadershipdevelopment.extension.wisc.edu/articles/what-you-can-learn-about-your-community-from-demographics/
https://publicparticipationpartners.com/demographic-analysis-how-to-understand-who-makes-up-your-community/