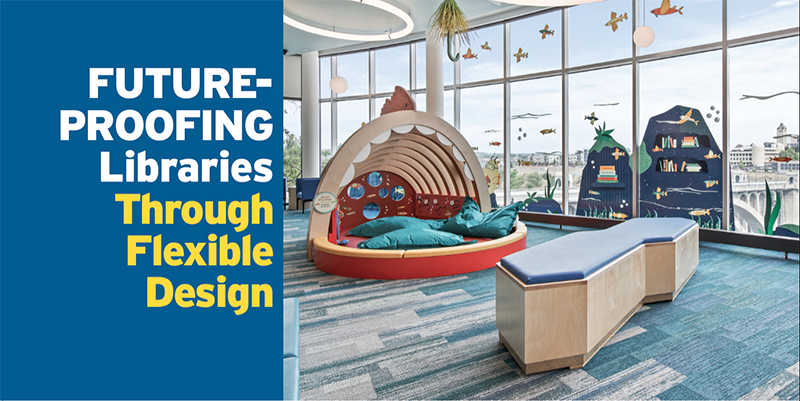 "Today's library is so many things," says Jennifer Charzewski, principal at the Charleston-based architecture firm Liollio. "It's library as gathering place, as museum, as park, as school, as community center." So, library designers are prioritizing flexibility for unforeseen future functions as they embark on both new builds and renovations.
The COVID-19 pandemic, for example, presented a number of new needs—curbside pickup, drive-up windows, outdoor spaces, more indoor space for social distancing—that couldn't have been anticipated. But a flexibly-designed library can adapt.
The Spokane Public Library, which recently refurbished all seven of its branches, including one "bookless library," has reimagined its identity, as not a library of books or media but "of things." Patrons can check out everything from a ukulele to gardening seeds to a podcasting studio. All seven branches have expanded children's areas with play structures and a variety of dedicated spaces for working, meeting, lounging, and socializing. As library services and functions evolve to meet community needs, so must their spaces.
"We have been embracing the idea that libraries will continue to evolve," says Peter Bolek, president and director of design at Cleveland-based HBM Architects. He warns against falling prey to trends. "Trends can be a hurdle in two or three years, once the newness wears off, if you're not flexible enough. But things will always come around that are new, that need to be incorporated into buildings. So, the best thing that you can do as a library designer is design a very flexible and adaptable building."
The firms represented here have created new and inventive ways to ensure that the libraries they have built or refurbished will continue to support their communities now and into the future.

Grimm + Parker Architects
Founded 50 years ago, Grimm and Parker Architects is a firm of 100 with its main office in Calverton, MD. As community architects, G+P's portfolio comprises civic and public architecture. Between standalone libraries and education projects, about 75 percent of the firm's work incorporates library design. "We strive to be good stewards of public funds," says Partner and Director of Design Antonio Rebelo. To do that, G+P aims for durability and sustainability. In fact, all of the firm's projects qualify for at least LEED silver certification.
One recent project, the midcentury Hyattsville Library in Hyattsville, MD, was lacking meeting rooms and restrooms, and was not up to current building codes. A facility assessment determined the building had to go, but the community wasn't happy about it. "It was designed in the era when the United States was going into space, and there was all this hype about space travel," Rebelo says. The library's defining feature was a flying saucer-like canopy entrance, which became a public rallying point. "As we started our community engagement process, we found out it was not really about the building but the canopy and what it represented," Rebelo says.
So, G+P used the saucer as the genesis of the new design. The old building was replaced with a simple one-story structure with an open, flexible floor plan that includes a children's area, a teen zone, a café, and a local history room. A main spine running through the library leads patrons to an outdoor terrace featuring a glass mosaic constellation, planetary public art as seating, and of course, the beloved saucer, serving as a shade pavilion and primary focal point.

Rebelo says co-location is a major trend in library design. "The majority of the libraries we've done recently have been co‑located—sharing a lobby with a senior center, a recreation center, or a daycare," he says, pointing out that multigenerational civic buildings can double door counts. "We did one that is a recreation center, senior center, and library combined. You see entire families going in there. There's a cafe that unifies everything in the lobby."
Exemplifying this trend is another recent Grimm + Parker project, the new Leonardtown Library near Chesapeake Bay. The 45,500-square-foot Leonardtown facility co-locates a 15,000-square-foot active adult center with a 23,000-square-foot library and some shared public space. The Leonardtown design revolves around resource sharing between the library and senior center. "They have this symbiotic relationship. There's one meeting room that opens to the lobby from the library, and they share all kinds of spaces, including outdoor ones. There's synergy that comes with that. There are always challenges, but none that we can't solve through design."
G+P's design prioritized flexibility by locating rooms along one side of the library and keeping the majority of the floor plan adaptable for future needs with modular furnishings, shelving on casters, and light fixtures independent of the stacks. "In a sense, we're future-proofing the library for whatever space rearrangements may be necessary in the future," says Julia Crawford, vice president and director of interior design.

Noll & Tam Architects
Architects Janet Tam and Christopher Noll teamed up in Berkeley, CA, 30 years ago through the pursuit of library projects. "Our very first project was a renovation of a library at UC Berkeley," says Noll, founding principal. "The firm has been focusing on all kinds of public work with this particular specialization in libraries from the beginning."
The firm prides itself on its extensive experience solving library planning issues by helping analyze and identify community-specific needs. "Every library is specifically rooted in its community, and the place, and what people want to do with it," Noll says. One recent project, the Half Moon Bay Library, on the coast south of San Francisco, posed interesting challenges for the firm. Serving a large, diverse coastal community, the library—the only one for 30 miles around—needed to fulfill many different needs. But the community couldn't come to any agreement on size, budget, or function.
"The key thing at the beginning was scale," says Noll. A block off Main Street, the site was surrounded by modest one-story homes. To fit the footprint, the library would need two floors. But the community's one point of consensus was that no one wanted the new structure to stick out in their small beach town. They wanted quaint and cozy, not a modern eyesore.
Noll & Tam's solution was an unobtrusive single-story community space slipped in next to single-family homes. Behind it, at a significant remove from the street, the two-story library rises, making efficient use of space without overwhelming the neighborhood. The second story reading room boasts 22-foot-high ceilings and glass on four sides, affording patrons views of the hills, the Pacific, and the rest of Half Moon Bay.
The agreed-upon size didn't allow for all the specialized spaces desired, but the firm maximized usable space with indoor-outdoor flow incorporating a wind-protected garden and courtyard, and a multifunctional meeting room with removable walls to serve both small and large groups.
The final design used natural materials such as solid cedar wood siding, patinated copper, and black granite stone that would weather attractively in the coastal location with minimal maintenance. Solar panels, radiant heating, thickened walls, drought-resistant landscaping, and a green roof were also utilized for sustainability.
The end product won an AIA/ALA Library Building Award in 2019 and LEED platinum certification. Most impressively, it won over the whole community. "In the end, everybody said, 'this doesn't look like anything else in Half Moon Bay, but it perfectly fits in Half Moon Bay,'" Noll says.

Liollio Architecture
Founded in Charleston, SC, in 1956, Liollio Architecture focuses on work in the public sphere. Libraries are an important part of Liollio's community-focused work, and community engagement is at the heart of each of their projects. "As a civic building, a library should support a community's needs and also represent that community's identity, aspirations, or unique sense of place," says Principal Jennifer Charzewski.
Liollio recently renovated the existing 34,000-square-foot South County Library in Charlotte, NC. Built in 1998, the facility had few windows, a single meeting room, and just two small windowless study rooms that had to be restricted to patrons 18 and older. It wasn't meeting the community's needs at all.
Through community engagement, Liollio determined the library needed more meeting and collaboration spaces, openness, and transparency inside. "The library had a fixed footprint, a fixed budget, and a fixed collection," Charzewski says. "And we had to reorganize within that box to create all the missing collaborative spaces. There were some creative solutions."
Because much of the budget was dedicated to replacing mechanical, electrical, plumbing, fire-protection, technology, and security systems, Liollio capitalized on the existing building's assets. They played up the library's bay window reading nooks with pops of color, raised and opened ceilings to take greater advantage of existing skylights, and replaced interior walls with glass and openings to brighten the space.
Liollio also added a bit of square footage by filling in a double-height entrance vestibule with floor space above for a bonus learning studio. That also solved the library's acoustic problem of noise traveling upstairs from the entryway. Big, underused tables and bulky PC stations were replaced with new, lighter furniture and smaller-footprint technology. "Even just through modern furniture solutions, you can get a lot more bang out of your space," says Charzewski.
The reconfigured floor plan made space for a new children's programming room, a much larger main meeting room, additional second-floor meeting room, plus a teen lounge, computer lab, multiple study rooms, learning studio, café, outdoor program areas, automated materials handling, and drive-up book drop—all without losing any of their cherished books.
"There is a lot of inherent sustainability in working on a renovation versus a new build," Charzewski says. "It's important to give buildings that exist a new life. You can really transform them."

LaptopsAnytime
LaptopsAnytime has been providing libraries with innovative technology-dispensing kiosk systems since 2011. With hundreds of public library and university clients all over the world, libraries make up about two-thirds of the company's client base. The ILS-interfacing kiosks were originally designed to automate the laptop checkout process, so library staff could focus on books. The kiosk system not only dispenses the devices but also collects, recharges, resets, and securely stores them. Using RFID technology, the kiosk can also track each dispensed computer.
While LaptopsAnytime began with laptops, the company's kiosks can now do much more. Vice President and Cofounder Jonathan Ruttenberg says their new products always start with library clients looking for greater flexibility and new ways to serve their patrons. "Libraries are pushing us into these new areas," he says. And flexibility is really the driving force behind Laptops' business.
"With all of our products, everything is 100 percent mobility, 100 percent flexibility. We just say, here are the tools, you can design your library any way you want. In the old days, you had to decide where the desktops went. But with laptop dispensing, patrons check out a laptop and go anywhere they want in the library," says Ruttenberg.

In 2017, portable chargers joined the lineup of laptops, Chromebooks, and tablets being dispensed through the kiosks. Portable chargers can problem-solve for old facility infrastructures without outlets in the quantity or locations needed. Patrons can check out chargers along with their devices and use them anywhere in the library, no outlet necessary.
The "Extend-It Kit" is LaptopAnytime's latest addition to the fleet. The kit includes a 24-inch monitor, keyboard, and mouse that can be checked out for use with one of the kiosk laptops or the patron's own laptop. The kit gives users the desktop experience without a desktop computer.
"Now libraries can redefine and repurpose their library space," says National Sales Manager John Kormanic. "Where they used to have a row or two of desktops, now they might have some lounge chairs, some cubicles in a corner, maybe even a roundtable. It gives them so much more flexibility in what they can do with their space. Most importantly, they can change their space anytime."
By the end of this year, LaptopsAnytime will add yet another product to their offerings—virtual reality headsets, specifically the Oculus Quest 2 headsets. "We are currently in the final design stages of providing a system for VR headsets," Ruttenberg says. Available VR applications are endless, including architecture, fitness, mental health therapy, e-learning, tourism, and live cultural events like concerts, theater, or stand-up comedy shows, to name a few. Democratizing access to the headsets could open a multitude of new opportunities for patrons.
But managing VR systems is even more time-consuming than managing other technology. Libraries that have tried offering them have struggled with it. LaptopsAnytime's kiosks will facilitate that process by charging the headsets and managing the applications on the device via a provided third-party system. "We're taking something that libraries have been doing manually and we're going to automate it," he says.
"A lot of what we do is taking very sophisticated technology and making it easy to use and simple to implement by nontechnical people. You don't have to be a tech expert to use these systems," says Ruttenberg.

Integrus + YGH Architecture
Integrus and YGH, two Pacific Northwest firms, joined forces earlier this year and are now—quite appropriately—headquartered together in a former Andrew Carnegie library in Spokane, WA. With a long history of K–12, higher education, and civic projects, both firms have extensive experience in library design. Mark Dailey, Integrus president and principal in charge of design, estimates that libraries comprise about 15 percent of the firm's projects.
Recently, Integrus collaborated with Group4 Architecture on building, renovating, and restoring seven libraries for the Spokane Public Library System. The firm also served as design lead on perhaps the most innovative of the seven projects. "The Hive," as the project was named, opened in 2021 and was a joint project between Spokane Public Libraries and the Spokane school district.
This bookless library—yes, you read that right!—is split between four artist-in-residence studios and a training center for the school district. Artists can "check out" a studio space for six months at a time in exchange for providing art education for the community by participating in Spokane's First Friday art walks or public workshops.
The Hive is set on a main thoroughfare surrounded by neon signs, pawn shops, body shops, and used car lots. Its design was inspired by its site. "Rather than ignoring the context or creating a context, we said, let's embrace the color and the architecture for 40 miles an hour," Dailey says. The building's 12-foot-tall sign announcing itself in neon yellow not only catches the eye of drivers but also lights the site around the clock for artists, who have 24/7 access to the studios.
Other contextual design choices for The Hive included plywood walls, garage doors, polished concrete floors, and a prominent perforated metal screen to buffer noise from the busy arterial road outside. "It was easy to justify corrugated metal and concrete block and using everyday materials in innovative ways," Dailey says. "It was a really cost-effective building."
Integrus also led the design on the ground-up build of another library within the Spokane system. Liberty Park, designed by the Olmsted Brothers of New York City's Central Park fame, was Spokane's signature park in the early 1900s. But it was in serious need of revival. And the planned new library to serve East Central Spokane needed a site. The underused tennis courts of Liberty Park provided the perfect footprint for the library-to-be.
Like The Hive, the design of the library was all about place and context. Nestled amid mature trees adjacent to a public pool and at the convergence of bike/walking paths,
the structure that Integrus envisioned would enhance the neighborhood's experience of the existing park. "We came up with this idea of giving Liberty Park its very own front porch," Dailey says. "It was inspired by the old picnic shelters where we all had baloney sandwiches when we were kids. They were simple, but there was a lot of structural clarity." The point was to provide shelter from the Pacific Northwest elements—rain, snow, and sun—while taking advantage of the views. The resulting library design is characterized by a dramatic roof overhang and walls of glass that give patrons inside ample light and the sense of sitting among the trees with books.

LLB Architects
Based in Pawtucket, RI, LLB Architects was founded in 1936 and focuses primarily on municipal and higher-education projects. The firm's work runs the gamut from new builds to renovation of existing historic buildings. Principal R. Drayton Fair says he's seen a lot of libraries redesigning individual spaces recently. "When interiors start to show their age, libraries are re-envisioning their interior spaces to accommodate advancing technology and new ways that public libraries are being used," he says.

Recently, the Worcester (MA) Public Library wanted to reorient its entrance from a parking lot to the newly revitalized town common on the building's opposite side. To achieve that, LLB needed to relocate the children's library. In moving the children's area from the first to the third floor of the 140,000-square-foot mid-century modern building, other areas would need to shift too. LLB renovated the entire first floor and much of the third—about 52,000 square feet in total.
LLB added new study rooms, quiet reading rooms, an A/V department, teen area, and makerspace to the first floor. But the new children's library became the building's crown jewel. "It's got a lot of Worcester-centric components," Fair says. "Robert Goddard, the founder of modern rocketry, was from Worcester. So, there's a rocket in the middle that kids can play on. Harvey Ball, who designed the original smiley face, was also from Worcester, so projectors in the ceiling project smiley faces onto the floor. And we reinterpreted different landmarks and Worcester icons."
The children's area also features an LED-lit space-themed ceiling to go with the rocket, a new program room, a computer area, and an interactive video wall.

HBM Architects
HBM Architects' first project, in 1976, was for the Cleveland Public Library System. And in the last five decades, the firm has completed over 700 library projects—from small, interior redesigns, to larger-scale renovations, to ground-up construction. "Our emphasis was always libraries," says Peter Bolek, president and director of design. "But in the last decade, libraries have been 100 percent of our work."
Today, the firm designs libraries nationwide, taking special pride in its interiors. "Even though our architecture is award‑winning," Bolek says, "our interiors are what make a library really function and be that comfortable, treasured element in a community." The firm has six interior designers on staff.
One recent HBM project, the Bay Village Branch of the Cuyahoga County Public Library on the west side of Cleveland, needed to be not only multifunctional like any modern library but also the final piece in the city's plan for a large-scale park "destination." The library was slated to be built right between the big blue slides of a new water park and the red brick Town Hall.
"The city wanted us to recreate the town hall look," Bolek says. "But a library is quite different from a city hall structure. It's a civic building, but we wanted it to be that place that people were familiar with—a destination but also like their home, with a comfortable living-room feel."
The firm researched the history of Bay Village back to the mid-1800s, looking at the vernacular buildings, finding common threads, and gaining an understanding of the visual impact of the buildings in the community. In the end, they designed a white clapboard-sided structure with a pitched roof and a turret entrance—a welcoming edifice not unlike a home. "Even though it is a brand-new building from the ground up, it blends a lot of the attributes of different buildings across the community," Bolek says.
The interior of the Bay Village Branch is also designed to appeal to all ages, from toddlers to teens to adults. It features three fireplaces and many different social-gathering and soft-seating areas to suit the needs of various groups and individuals. There is a dedicated children's area, where kids can read, play, and create; a teen center; a large, flexible meeting room that can be subdivided for smaller groups; and an outdoor terrace that overlooks the park.
"Everybody can find their place in the library," Bolek says.

Group 4 Architects
South San Francisco-based Group 4 Architects (G4) is a public architecture firm comprised of 30 people. "We are all about using design to create social and environmental positive impacts," says Partner David Schnee. "Diversity, equity, and inclusion is in our DNA. The strategic planning, master planning, programming, design, furniture, interiors—all of that is the sandbox we play in to create thriving communities."
With over 500 library projects in 10 states, G4 highlighted this specialty with the launch two years ago of Library Forward, a division focused on library architecture, planning, and interiors.
The firm recently undertook a massive soups-to-nuts project, overhauling the Spokane Public Library's seven-branch system, beginning with the master plan in early 2016. G4 assessed the system's assets and initiated a community-based collaborative process to identify its aspirations and needs. The firm relied heavily on a community advisory committee with representatives from the local school district, Indigenous tribes, the business community, and nonprofits. The existing libraries were primarily spaces for books and administrators; the community wanted were more flexible spaces for patrons that met diverse needs.
The biggest of the seven projects was the gut renovation of the 90,000-square-foot Spokane Central Library, located downtown overlooking Spokane Falls. "It's the most spectacular site," Schnee says. "It probably has the best view of any library in America." But it was poorly designed. "Through the master planning process, one of the things we talked about a lot was how to get more places in the library for people and programs," says Partner Jill Eyres.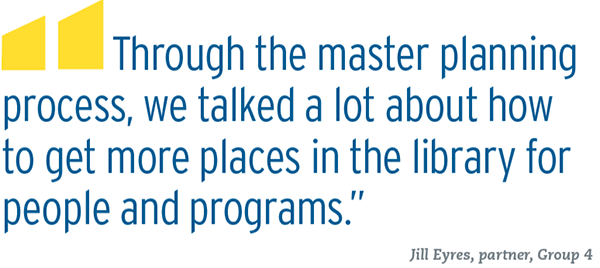 G4 reimagined how to best use all that space and amplify the library's connection with its surroundings. The firm's design devoted the first floor to general services for the greatest number of people, including a nonprofit café and improved plazas spaces on both sides of the building to draw pedestrians from downtown. The second floor now houses the majority of the collections, quiet reading areas, and an expanded children's play space overlooking the falls. "Adults can sit there and watch the view while their kids play," Schnee says. "There's a rubbing of shoulders by all generations here."
The third floor features a community gathering room for up to 300 people, bookended by reservable creation suites and studios for live community theater, radio broadcasting, and video and audio recording space for podcasting. G4 also improved the connection between the three floors of the library by adding a dramatic central atrium, designed to metaphorically mimic the falls. "Instead of water cascading," Schnee says, "it's light cascading down and people cascading up."
A second major undertaking was the expansion of the Shadle Park Library, which doubled the building's size. Set on the edge of a neighborhood park in the north of the city, the original edifice was a small, arc-shaped brick building with just one small meeting room, a small staff room, and a small space for stacks. By mirroring the existing arc, G4 created a voluminous, light-filled central atrium and reoriented the building for improved flow, sightlines, and connection to the park.
The new floorplan made space for two large program spaces—one a studio/classroom/makerspace and the other a traditional community meeting room with a retractable wall—plus an expanded children's play area with a local food theme. All the stacks are on castors, for maximum flexibility.
SPONSORED CONTENT