Presented by: Blue Star Press, Creative Bug, Fox Chapel Publishing, Insight Editions and Library Journal
Event Date: Tuesday, October 25, 2022
Freshen up your lifestyle section this fall! Join Library Journal and publishing insiders from Blue Star Press, Creative Bug, Fox Chapel Publishing, and Insight Editions as they bring you the best new titles in art, crafts, cooking, gardening, and DIY.
Also be on the lookout for the new Life+Style section in the October edition of Library Journal and in this month's online newsletter. Be sure to subscribe if you're not already!
Featured Titles:
Alice in Wonderland: The Official Cookbook
Go down the rabbit hole with Alice, the Mad Hatter, and the other beloved residents of Wonderland with this whimsical cookbook inspired by the animated classic Alice in Wonderland!
Mealtimes keep getting "curiouser and curiouser," with this delightful cookbook featuring over 50 delicious recipes inspired by Alice in Wonderland! Filled with fantastical appetizers, mains, and desserts, this all-ages cookbook includes an exciting range of recipes that fans will love, such as Unbirthday Cake, Curiosi-Tea, and more!
Featuring full-color photography, suggestions for alternate ingredients, and tips and tricks from your favorite characters, Alice in Wonderland: The Official Cookbook is the perfect companion for a mad tea party!
Artober: 31 Days of Inky Monoprints
If you can trace an image, you can make a blotted line monoprint. Artist Extraordinaire Courtney Cerruti has spent years incorporating this technique into her art practice and shows you everything she's learned in this daily practice class series. First made popular by Andy Warhol, this technique utilizes just a few unique materials that create inky outlines that can then be colored in and embellished. In addition to perfecting your monoprinting technique, learn how to make composite images, work on black paper, and paint with metallics. Inkblots and turn-of-the-century ghost signatures round out the month. Whether you color (or paint) in the lines or outside of them, you'll be inspired by Courtney's eclectic influences and thoughtful instruction.
First Words With Cute Crochet Friends
Teach your infant or toddler first words in an engaging and adorable way using this unique and durable board book, created by best-selling amigurumi author, Lauren Espy. Whether you're a crafter who already appreciates adorable amigurumi crochet, or simply a parent looking for a unique and different first words book, First Words with Cute Crochet Friends will provide you and your child with plenty of enjoyment as they learn first words with these one-of-a-kind photos. The book features bright and cute pictures that your child will love looking at for hours, and its padded cover is sturdy and the perfect size for your child's small hands, so it won't dissolve in their mouths.
More info attached.
Seriously Good Chili Cookbook
Much like Brian Baumgartner's role as Kevin Malone in The Office, Brian is a true chili master who is just as serious as his fictional counterpart about making the most perfect pot of chili. Featuring 177 chili recipes stamped with Brian's "seriously good" approval rating, Seriously Good Chili Cookbook contains new ways to spice up chili for all occasions, all year long. Written in the humorous and friendly tone Brian Baumgartner is known and loved for, this engaging cookbook opens with an introduction from Brian about how an infamous 60-second scene from the show transformed him into a chili icon, his passion for chili, and a fascinating account of the history of his all-time favorite comfort food. Each section that follows showcases specific styles of chili – from Texas chili and Cincinnati chili to turkey chili, chili verde, vegetarian, and other regional and international variations. Every mouth-watering recipe has been contributed by renowned chefs, world championship chili cook-off winners, restaurant owners, TV celebrities, social media influencers, Brian himself, and his dedicated fan base. Also included is a foreword by fellow The Office co-star, Oscar Nunez, and a bonus recipe of the official "Kevin's Famous Chili" from The Office! So strap on your apron, grab a spoon, and dig in with Brian Baumgartner as your ultimate chili guide!
Presenters:
Peter Licalzi, Founder, Blue Star Press
Lindsay Wilkes-Edrington, Editorial Director, Blue Star Press
Meghan Haddad-Null, Senior Library Account Manager, Creativebug
Frederick Glasser, Director of Trade Sales, Fox Chapel Publishing
Rachel Barry, VP - Marketing, Publicity and eCommerce, Insight Editions
Lara Starr, Associate Director of Publicity, Insight Editions
Kayla Kohlmeister, Associate Publicity and Marketing Strategist, Insight Editions
Sponsored by: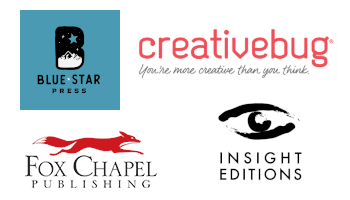 Follow us on Twitter! @LibraryJournal #LJLifeStyle
Need help getting registered? Send us an email describing your problem.