Learn practical steps to ensure your cataloging practices are more equitable with support from library experts.

Course Description
Guest speaker session via Zoom:
Tuesday, November 8, from 12:00 to 4:30 pm ET (recordings available)
Extend your EDI practices from building your collections to implementing equity-centered cataloging systems.
While the current, standard classification systems have their benefits, they also often create unnecessary confusion and barriers to equitable access to resources. During this course, you'll learn how to conduct an equity audit of your cataloging system and learn practical strategies for how to ensure your collections are organized with all people in mind.
This process can be daunting, but you're not alone! This course will provide guidance no matter the type of library you work in or the current cataloging system you use. You'll learn tangible takeaways such as how to make the case for inclusive cataloging to your leadership and how to involve your community. You'll also hear how other libraries have begun their critical cataloging process for Indigenous and Khmer collections. You will leave this one-day intensive with new ideas and strategies for making sustainable change at your library.
Our transformational online courses have given thousands of librarians the tools and vision for meaningful change. The live session is on Tuesday, November 8, 2022 from approximately 12:00-4:00 pm ET (recorded for on-demand viewing). Don't miss this opportunity!


When you sign up early, you'll have immediate access to our Early Access On Demand Resources—a series of webinars from Library Journal and School Library Journal contributors along with rich, supporting materials in the form of readings, activities, and videos—to explore at your own pace.
Learning Outcomes
After you attend this interactive online course and workshop, you'll be able to:
Understand and utilize inclusive metadata practices and initiatives

Possess the tools and plan for a cataloging equity audit

Define your goals and construct the type of equity project you have the capacity to undertake

Strategically plan for short- and long-term inclusive cataloging

Educate your community and patrons on your updated system

Incorporate and streamline your updates with vendors

Have tools and support for the longevity and sustainability of this process
Course Format
This will be a 1-day intensive course and will include:
4.5 hours of live speaker sessions with Q&A

Channels for community building and ongoing networking after the course ends
Who should take this course
Any librarian who wants to address EDI in cataloging needs help strategizing and creating a plan to update your cataloging system, as well as anyone who would like ongoing support and feedback and they endeavor to implement a new system.
Live session is also available on demand
Can't make the live session? All guest speaker sessions are recorded and available on demand following the initial broadcast. Asynchronous workshops allow you to complete assignments and receive feedback from experts.
Certificate of completion provided
For support with online courses, please contact libraryjournal@edmaker.co
Group Rates
Have a team attend and increase your impact!
Discounted registration fees are available for groups of 3 or more.
Send us a request for a quote.
Curriculum Advisors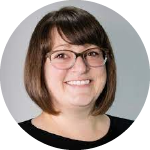 Charissa Brammer
Charissa Brammer is currently a librarian-researcher. Previously, she worked in academic libraries leading cataloging, systems, and electronic resources departments for several institutions. She is interested in how libraries can support members of our communities and the communities as a whole.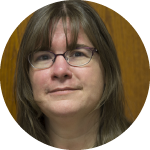 McKinley Sielaff
McKinley Sielaff has worked as librarian in several different capacities and at multiple institutions. Over the years her professional interests have aligned with improving access for library users. To that end, McKinley has presented and published on topics ranging from understanding Open Access, reading programs, applying information fluency concepts, embedding research in course assignments, listening to students reflecting on their research, training library staff, and most recently on DEIJ work involving cataloging and using classification schemes.

McKinley is the Academic Outreach and Research Librarian at Colorado College. Her work in library and campus groups supports and reinforces Colorado College's core value of becoming an antiracist institution.

By registering for this event you confirm that you have read and agree to our Code of Conduct.
For support with online courses, please contact libraryjournal@edmaker.co.

Get the tools and support you need to update your cataloging practices to match your equity efforts.
Tuesday, November 8, 2022
Session 1 | 12:00-12:45 pm ET
The Past and Future of Inclusive Cataloging
Who makes decisions about cataloging? And how can you get involved to make change? This session will provide transparency into cataloging systems and processes and shed light on how those processes have led to current ethical concerns. Learn the positives and challenges of current cataloging systems, as well as the potential for change in this foundational session. You will learn why you should consider revamping the way you catalog your collections through an inclusive and culturally responsive lens. You will also learn tangible strategies for advocating for change to your library leaders as well as tips for getting involved in change at a larger, national level.
Speaker:
| | |
| --- | --- |
| | Violet Fox, (she, her) Cataloging and Metadata Librarian, Galter Health Sciences Library, Northwestern University |
Session 2 | 12:45-1:30 pm ET
User-Centered Cataloging: How to Use Community Education and Input to Update Your Cataloging
This session will be a deep dive into community education and input as it relates to cataloging. You will learn how to promote access to your collections and inform your recataloging decisions based on user behavior and input.
Speaker:
| | |
| --- | --- |
| | Katie Retterath Martin, (she, her) MLIS, Founder and CEO of Raedial |
Break | 1:30-1:40 pm ET
Session 3 | 1:40-2:20 pm ET
Critical Data: Make the Case for Change in Your Library
This session will balance a combination of theory and practical, hands-on skills needed when thinking about critical cataloging. You will learn about research methods involved in the decision making process as well as tangible tips for creating buy-in with your library leadership. You will leave this session knowing how to present your data and show value in starting to implement inclusive cataloging in your library.
Speaker:
| | |
| --- | --- |
| | Rachel K. Fischer, (she, her) Member Services Librarian - Technical Services, Cooperative Computer Services (CCS) |
LJ/SLJ Online Classroom and Program Overview | 2:20-2:30 pm ET
An introduction to the online classroom, where you can connect with peers in this space and access recordings of live sessions, as well as supporting materials. Join this opportunity to ask any questions you have about this course. We'll also share a preview of the spring 2023 course lineup.
We're sorry to report that the previously planned session, Indigenous Cataloging, will not run as planned, due to unforeseen events.
Break | 2:30-3:00 pm ET
Session 4 | 3:00-3:30 pm ET
Critical Cataloging and Community Input: Khmer Collection
This session will showcase Long Beach Public Library's indexes of their Khmer collection and the work they have done to engage their Cambodian community. You will learn the ways that community engagement and critical cataloging are inextricably linked and leave with strategies for simultaneously connecting with new patrons and overhauling antiquated cataloging practices.
Speaker:
| | |
| --- | --- |
| | Jennifer Songster, (she, her) Senior Librarian in Automated Services |
| | |
| --- | --- |
| | Amber Wu, (she, her) Cataloging Librarian at Long Beach Public Library |
Session 5 | 3:30-4:30 pm ET
Tools and Strategies for Auditing and Recataloging Nonfiction
Learn specific and tangible tools for how to audit and recatalog your nonfiction collection in a more equitable way. You'll leave with a model for this process as well as a clear plan of action that you can adapt to your individual needs.
Speaker:
| | |
| --- | --- |
| | Meghan O'Keefe, (she, her) Readers' Services Librarian |