Ethan Joella teaches English and psychology at the University of Delaware and specializes in community writing workshops. His work has appeared in River Teeth, The Cimarron Review, The MacGuffin, Delaware Beach Life , and Third Wednesday. He lives in Rehoboth Beach, Delaware, with his wife and two daughters. A Little Hope is his first novel.

Library Journal Q&A with Ethan Joella about A Little Hope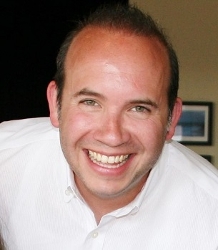 Ethan Joella
Ethan Joella teaches English and psychology at the University of Delaware and specializes in community writing workshops. His work has appeared in River Teeth, The Cimarron Review, The MacGuffin, Delaware Beach Life , and Third Wednesday. He lives in Rehoboth Beach, Delaware, with his wife and two daughters. A Little Hope is his first novel.
In the small city of Wharton, Connecticut, lives are beginning to unravel. A husband betrays his wife. A son struggles with addiction. A widow misses her late spouse. At the heart of these interlinking stories is one couple: Freddie and Greg Tyler. Greg has just been diagnosed with multiple myeloma, a brutal form of cancer. He intends to handle this the way he has faced everything else: through grit and determination. But can Greg successfully overcome his illness? How will Freddie and their daughter cope if he doesn't? How do the other residents of Wharton learn to live with loss, and find happiness again? An emotionally powerful debut that immerses the reader into a community of friends, family, and neighbors, A Little Hope celebrates the importance of small moments of connection and the ways that love, and forgiveness can help us survive even the most difficult of life's challenges.

1. What was the inspiration behind this novel ?
This is the kind of book I've always been interested in as a reader, and these are the types of characters I've always cared about— people trying their best, people getting by. I don't care too much about extraordinary people. I like normal, everyday ones who have small wishes and want simple things. I like to think of someone getting ready for work and taking on a household task and being distracted by a dream or a fear. I love small details, too, and I always include them in my writing: someone's doormat, a basket of mints by a cash register, a grocery list.
I was also greatly affected by losing my mother-in-law in 2016. She was an important part of our lives and died of leukemia shortly before I started writing A Little Hope. I saw things differently during her illness and after her death, and maybe this book was my way of trying to make sense of the way we lose people we aren't ready to lose and, how we all have to carry on.

2. There are multiple interconnected stories in this novel: was that always your intention?
Yes, from the time I started this book, I wanted it to feature linked characters. I had read a lot of these types of works, but I also wanted to come back to some of the characters more than once—something many linked collections don't do. It was a fun challenge to figure out how all the characters connected with each other, and even when I found existing threads, I'd try to add in a few other stray ones to really reinforce that small-town feel. For example, a character like Suzette can be connected to almost every character because of her wedding. It works that way with many of the characters. Growing up in a small town in Pennsylvania, everyone knew everyone, or knew of everyone.

3. This novel is about grief, but it is one of the most hopeful and life affirming books I have ever read. How did you manage that balance between realistically portraying grief and providing such hope to readers?
When my agent first read the book and told me it made her cry, it surprised me. I think I had forgotten how sad it was because I always knew there was something on the other side of that sadness. Mrs. Crowley is devastated that her husband died years ago, but she still hears his voice, she has all these vivid memories of him that guide her. I think that might ultimately be my outlook: that there is always hope. Somedays I feel jaded and cynical, but I still believe in goodness, like I still even believe that infomercial products will do what they claim to do. So I think that radiates through the sad stuff: my genuine belief in decency and happiness and meaning. There is this poem by Susan Ludvigson, "Not Swans," where a woman is driving toward her dying mother, and she sees birds in the sky, and says, "I knew what it meant." I read something like that and forget it's sad because it's so beautiful. Even when we were mourning my mother-in-law's death, I paused and thought, "But wow, what an honor to be missed this much. If you leave such a big hole when you die, that means you did something right." And grief is the price of deep love. It's the cost of it—it's terrible, it's unbearable sometimes, but it means you had something valuable.

4. This book is full of many incredible characters, and they all feel so grounded and real. Is there a character in this book that you relate to the most? Is there a character that you found the most difficult to write for?
I would probably say that every character has a piece of me in them. Freddie's mornings getting away from her are my mornings; I have been like Damon who seems to have everything but still feels lonely sometimes; I have felt meager like Hannah, confused and stunned like Iris. I have that fun-loving spirit Ahmed has.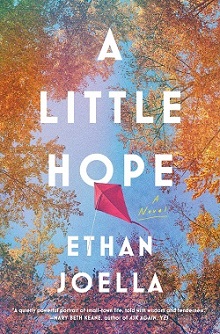 I really cared about each character, and I hope it shows. It sounds strange, but I think I relate to Darcy Crowley and definitely enjoyed writing her the most. I love everything about her—how persnickety she is, how tough, but also that she's self-aware. I could go on and on about Darcy Crowley and put her in five more books. Every time she showed up, I knew the scene would be interesting.
Greg was one of the more difficult characters to write because he is probably the most unlike me. I'm not the guy who wows them in an interview—I'm more of the last resort type. And I would probably have a more defeatist attitude if I battled what he battles. So, I had to use what he and I had in common, this desire to be our best for our families, this determination to get through something difficult, and imagine how I might react differently if I were a more Captain America-type guy like Greg is.

5. I cried so many times reading this book; did your writing process differ for those difficult scenes?
I always want a scene to feel authentic, and when you have something like Greg's early chapter or the chapter with Kay thinking about her son Benny, you really want to make sure the weight of what the character is processing, and their ensuing actions track with readers. So I took a lot of time writing those and then really interrogating all the details: Would they say this? Would they be loud here? Would they swear? Would they push people away or pull them close? I think the challenge is that we don't have a clear standard of how to process difficult news, how to grieve—only the stuff we see on TV and in the movies. In real life, we try to avoid people who are suffering, or we don't let them be complicated with their emotions. We offer up trite phrases. For the hardest scenes, I must have looked at them ten different ways to make sure each character was responding in the way that they would.

6. As I read this book, I became invested in the lives of these characters, and I was so curious to see where everyone ended up. Without giving anything away, did the fate of the characters change during the writing process?
Wow, I love this question. For the most part, no. Most of the characters ended up where they originally were headed in earlier drafts. I think Iris's situation was reworked just a bit, and Suzette was given more time and more layers so the readers could understand her better, but the big endings were always there. I think Darcy Crowley also got some more time in the last chapter, but we can always use more time with her!

7. The setting of this novel is the fictional small city of Wharton, Connecticut. The New England setting of this book added a layer of warmth and comfort to this book that I think is so integral to the hopeful feeling this story evokes. What made you want to set the novel in Wharton?
I have always loved New England (the weather, the style, the history), and it seems that so many novels and movies I've loved have been set in New England. I always wanted to write a book set there. I chose Connecticut because it was a happy compromise in my eyes: it had New England flavor but also had things in common with Pennsylvania (where I'd grown up) and New York, and it was just a quick drive away. But when I wrote A Little Hope, I had never spent one night in Connecticut. I still haven't! Years ago, my wife and I were on our way home from a conference and stopped in Fairfield for lunch, and we just loved the whole vibe. We walked around the downtown and didn't want to leave. I think that influenced me. To write this book, I studied map after map of Connecticut, and looked at pictures of bridges and the coastline and lighthouses and rivers. I was originally going to have it be set in a real place like Waterbury because I wanted a small city, but I started to obsess over the details and worried I would get something wrong. I finally just said, why not invent a new place? I always thought of Edith Wharton when I thought of New England, and I kind of owed her one for putting my first name in a book title (editor's note: Ethan Frome)! Kara Watson, my editor at Scribner, is from Connecticut, so I really started sweating, wondering if she could see I was an imposter! But luckily, she felt I got it right.

8. When I speak to people that have read this book, we all express a similar desire to hug all the characters in this novel. What do you think it is about this story and these characters that feel so personal?
I love when readers have this reaction—it makes me feel grateful because they are all people I would want to be around. It sounds like a cliché, but most fiction writers want their characters to feel drawn from life. And maybe that's what works with these characters. They are like people we've met. They are all pretty humble, too. It doesn't matter your background or age—we have probably met these people in some way. We all know a Kay, a Ginger, an Ahmed, a Greg. And I don't think any of their wants are unreasonable. We all want the same stuff: love, life, recognition, happiness.

9. What do you hope that readers take away from this story?
I hope the book makes readers value the people who are alongside them and look for small moments of happiness and beauty in the everyday.

10. I love the title of this book and feel like it means that in the worst times, we don't have to see the bright side, or be optimistic, we just need to have "a little hope" to make it through. What does this title mean to you?
Yes, I definitely agree. Throughout the book, there are small examples of hope. Greg looks for a little hope (in Addie, in his hair growing back) and signs that he'll be able to survive; Ahmed has hope that he will find love; Hannah, who has had such a hard life, is given hope by Luke. I think having a lot of hope is a tall order—it's one of the most difficult things to have when things look bleak. So just holding a small amount of hope is sometimes all that's necessary.
SPONSORED BY