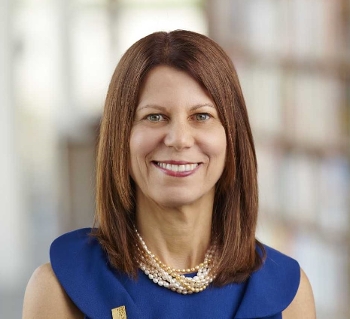 Sari Feldman
Photo courtesy of Cuyahoga County Public Library
Sari Feldman, executive director of Cuyahoga County Public Library (CCPL), OH, since 2003, is retiring effective August 2. Under Feldman's leadership, CCPL was an early adopter of both ebooks and mobile services. She led two key ballot issues, in 2004 and 2008, and a $100 million capital improvement program. Feldman served as president of the Public Library Association from 2009–10 and the American Library Association (ALA) from 2015–16, during which time she initiated the successful "Libraries Transform" public awareness campaign.
LJ caught up with Feldman as she was winding up her tenure at CCPL to find out more about what she's proud and what she's looking forward to next.
LJ: What do you consider your legacy?
Sari Feldman: I want to reinforce and ensure the future of all of our foundational reading and book programs. So that's been part of my legacy here at CCPL, to build this reputation that we're a place for readers and writers. That's been everything from helping people learn to read—both children and adults—to giving our staff the tools and confidence for readers' advisory to building a literary reputation by having authors come in droves. We have about 100-plus authors come every year. Also, it's a place for aspiring and professional writers. During my tenure, we opened the William N. Skirball Writers Center at our South Euclid branch.
About two years ago, CCPL became the second-largest Aspire adult education program in our county. This is a state-funded program where we provide English as a second language, adult basic literacy, and high school equivalency instruction. It actually is now part of the library, with our collaborating partner of Cleveland Public Library. We think that the way libraries provide this service, wrapping around technology training [and] basic job and career skills, really makes sense, and the decentralized model is very effective. So we're working hard with the state of Ohio to think about building some pilots for a deeper workforce engagement as part of the Aspire program.
One of the things that has been my great good fortune is the people who supported me. I've tried to support others in the profession. And I look forward to seeing some of those people that I mentored and sponsored over the years running the place.
What have been some of the highlights?
One thing for sure is our capital program. We replaced ten buildings and renovated 11. We started doing that work in 2012, and I will leave with two projects literally under construction. But it's the right time for a transition, and I'm very proud of that.
I'm also proud of the work that I did in collaboration with our Board of Trustees to stabilize our finances, and we have developed a very strong model that has diversified some of our funding. We still get most of our funding from the remarkable Ohio Public Library Fund, and our ability to go directly to the taxpayers for property tax revenue.
But we also bring in over $2 million in grant-funded projects, and we're making a remarkable amount of money on our passport and passport photo business. We've moved into a monthly six-figure revenue stream. We do passports seven days a week, four nights a week till 8:30 at night, and we align our passport work with our work at English as a second language, citizenship, and travel information. The library is the perfect place to be engaging with passports. In fact, the U.S. Passport Agency recognizes our library system's customer service annually.
We have a series that we do in conjunction with Case Western Reserve University called Writers Center Stage. It's a fundraiser for our library foundation where we bring six nationally known authors to the stage of Case Western Reserve. That series has been in existence for 15 years, and this year four of our six events will be sellouts, with a thousand people in the audience.
Maybe the thing I'm the proudest of is that for the past ten years, we have been a (LJ) Five-Star library. For nine of those years, in our class, we've had the highest point score. We have banners in all of our libraries that acknowledge that great news.
How did you come up with the concept for "Libraries Transform," and what have been some of the highlights and challenges of implementing it?
From the moment I was elected president of ALA, I began to work on what my presidential year would be like. I pulled together an advisory group of probably some of the smartest people in America from our field. And I'm very fortunate that I have a really topnotch team here [at CCPL]. OverDrive, which is in Cuyahoga County, was very excited about the [ALA] presidency as well, and willing to make an investment in my presidential year. So there were a lot of things that came together at the same time. I knew that we desperately, as a profession, needed a campaign that spoke to us—to library professionals and library workers—but even more so, that spoke to a larger community. So Libraries Transform was kind of born out of collective creative energy.
During my presidential year when I traveled around, I was able to talk with libraries across the country about the campaign and how they were going to apply it. When I was in Maine they said Libraries Transform would be their statewide campaign. I was in Nebraska, and people were using the campaign. Our own state of Ohio was using it. Louisiana, when I spoke at the [ALA Annual conference]. Alaska. It was great to know that people were using such a strong universal message, and then making it local. It's what's best about libraries, right? That we have kind of a global set of values and a global mission, but we're at our best when we're very local in delivering on our mission.
How did you pull all of the campaign's visual and marketing materials together?
We worked with a firm called Little Jacket—they're located in Cuyahoga County but they're a national firm. By the time I was inaugurated, we had all the collateral materials ready, all of the divisions and groups, and ALA had been able to give input in a series of webinars. There was a lot of buy-in by the time we launched it, so during the presidential year we could focus on delivering the campaign, rather than planning the campaign.
Because we had funding to create the campaign, we were able to work with a really great marketing and communications firm that had the level of expertise that really can make a difference. So it was homegrown in the sense that it grew out of our profession, but we were able to also bring really a high standard of design skills to the process.
You always seemed to be a little ahead of the curve at Cuyahoga, with ebooks and mobile use—what do you attribute that to?
I work with really extraordinary people—no one person can ever make so many positive changes and so much transformation happen in an organization. Our team goes very deep. The entire staff is really talented. I think also that we all have that kind of insatiable curiosity about what's going on in the rest of the world. We've brought a lot of the best ideas from business and culture outside of the field and then said, "How does this improve customer service? How does this get our customers excited about libraries? How does this improve communications?"
It doesn't hurt that [OverDrive] is here, and when we want to talk about something we only have to take a drive up the road.
What kind of leadership do you feel is needed in libraries today?
We are always in a growth mode in libraries, and I think we need to remember to put our customers first—that really great leaders should be less enamored with their own ideas, and be listening and be reflective on the needs and interests of their communities.
I think also we need leadership that can articulate the story of our profession. We're very successful when we talk to each other, but we need to be equally successful when we're talking to stakeholders, government, funders, and ordinary residents of our communities, to inform them about the value of libraries. We need to really be external in so many ways when we are leaders.
At the same time, we have people who are working in our libraries who have a lot of insight and ideas that they can bring, and we need to be listening to that as well. So: be good listeners, good writers, good speakers.
You've been active in MLIS education. What would you like to see library students and young librarians learn more about?
It's very important for people who want to work in a library to learn communication skills, advocacy skills, because people with an MLIS are going to rise to leadership roles. It's not going to necessarily be the entry point anymore for working in a library—there are other entry points. When you're seeking that MLIS, it should be a management degree. It should be helping people to prepare for leading in some way.
And just as at CCPL, we continue to recognize the role that books and reading play in this broader learning environment that will be increasingly important as the library's identity. I think that schools need to still be reinforcing the piece around books and reading as part of learning.
How would you like to see ALA transform over the next few years?
There will be a new executive director coming in, [who] will bring a vision for the organization. I'm currently very engaged with the Washington Office, and I think that a stronger link between the work of the Washington Office and the work of the larger organization is going to be critical.
The advocacy training, methodology and outcomes could be effectively applied to more local advocacy campaigns. There's a tremendous opportunity to be doing that work at libraries of all types. We think of advocacy as public library or school library work, but there's a need for advocacy on [university] campuses and in community colleges as well to ensure the future of libraries. A closer relationship between those skills of working in government, working with policy, and what the larger organization does will be very important for the future.
I've also been encouraging ALA to recognize that ebooks and digital content, which remain a challenging area for libraries—and the area for which I am the [ALA] senior policy fellow—is part of a larger ecosystem that involves publishers and aggregators and ILS systems. There is a role for a stronger link between ALA and that industry. And that should be recognized in the organization. There's work to be done [for] the mutual success of the business side and the library side.
What issue should libraries be focusing on right now?
Libraries are paying attention to the core values and creating identities that are more local, or translating that into a very local program. I think that issues around privacy, in particular as we look at social media, are critical for us. But it might be a time for a larger national agenda. Whether that's the role of better educating the public or better educating government officials and stakeholders, or advocating for our own protections with our vendors, I don't know exactly what that piece is. But it seems, based on everything that's been happening with organizations like Facebook and Google, it's a pretty critical time for libraries to lead on privacy.
What were your biggest surprises of your career?
When I decided to become a librarian, I did not imagine this kind of larger-than-life career that I would have, the people I would meet, and the places I would get to go. We sometimes don't think of librarianship—because I identify first as a librarian—as giving us a big opportunity and a big stage to really build the career of a lifetime. I've been able to do that. I've traveled around the world. I've met just about any writer I've ever wanted to. I've met well-known people in other fields. I've had amazing opportunities.
Here in Cuyahoga County, the business relationships that I've been able to build, the doors that have opened for us as a library system have been amazing. Once we really clarified our story and started to tell it, people have been so excited about what the library delivers to the community.
I've been a librarian for over 40 years. It's been four amazing decades. I've been an incredible amount of change. I started my career without computers—so that alone tells a big story.
What's next, after you leave CCPL?
I'm committed to, and will continue to do, my work with the Washington Office of ALA. I'm very interested in what we're working on with the publishing industry right now. We're looking at perhaps doing some joint research with the Book Industry Study Group, and we've been trying to develop a concept for that.
I'm a big reader, but I'm going to read even more.