ThrillerFest 2018, the 13th annual convention for thriller writers, readers, and lovers, was held at New York City's Grand Hyatt on July 10-14 this year.
I recently had the pleasure of attending ThrillerFest XIII at the Grand Hyatt in New York City, July 10–14, 2018, hosted by International Thriller Writers (ITW). One might think that thriller luminaries and multi-million dollar sellers such as George R.R. Martin, Steve Berry, Jon Land, Heather Graham, Lee Child, R.L. Stine, Lisa Gardner, James Rollins, Karin Slaughter, and Catherine Coulter (and many others) might keep themselves at arms' length, but that couldn't have been further from the truth. They were warm, kind, and affable—chatting, signing books, and taking pictures with anyone who asked.
ThrillerFest is the perfect conference for all thriller enthusiasts—writers and fans alike—with over 1,000 in attendance this year. ITW geared panels to both writers and readers, discussing the craft of thriller writing while allowing attendees to pick the brains of writers, editors, agents, and public relations professionals. ITW presented CraftFest for authors to sharpen their thriller-writing skills, and PitchFest, where writers pitched their manuscripts to more than 50 agents, editors, and publishers in a "speed-dating" format. The true spirit of ITW manifested in the "no pitch" zone, where thriller authors, agents, and editors met with writers to give critiques on sharpening their query letters and first few pages of their manuscripts.
Author Megan Abbott (Give Me Your Hand, released July 17) was the 2018 ThrillerFest Spotlight Guest, interviewed by Lee Child ("Jack Reacher" series). Abbott specializes in crime stories, her books almost mimicking pulp fiction. USA Network picked her novel Dare Me as a television series for which she is writing the screenplay. Abbott quipped that the screenplay keeps coming back to her for revision, "like an ex who moves back and won't get off the couch until you resolve all your issues."
ITW's support for its member authors was evident with the Debut Authors Program and breakfast at ThrillerFest. ITW director and author Steve Berry ("Cotton Malone" series) told the group, "The only thing harder than getting your first book published is getting your second book published," calling the condition "second-book-itis." He said the four ways to avoid the affliction is to 1) write what you love, 2) keep it simple, 3) read your genre, and 4) take a breath, another breath, and love what you do.
Featured debut novels and novelists included J. R. Backlund's "Rachel Carver" mystery, Among the Dead; Jessica Bayliss's YA, Broken Chords; A.F. Brady's psychological suspense, The Blind; L.A. Chandlar's "Art Deco" mystery, The Silver Gun; Ellison Cooper's serial killer thriller, Caged; John Copenhaver's historical mystery, Dodging and Burning; Jeremy Finley's sf suspense, The Darkest Time of Night; Clarissa Goenawan's magical realism-tinged Rainbirds; Matt Goldman's P.I. murder mystery, Gone to Dust; Paddy Hirsch's historical crime drama, The Devil's Half Mile; Roger Johns's "Wallace Hartman" mystery, Dark River Rising, Lissa Marie Redmond's "Cold Case Investigation," A Cold Day in Hell; Cheryl Reed's political thriller, Poison Girls; Joseph Reid's "Seth Walker" thriller,Takeoff; Joanna Schaffhausen's police procedural, The Vanishing Season; Charles Soule's psychic thriller, The Oracle Year; Diana Muñoz Steward's romantic suspense, I Am Justice; and James Tucker's first "Buddy Lock" thriller, Next of Kin.
The event concluded with an awards banquet held on Saturday night. The Grand Hyatt ballroom buzzed with excitement as ITW Mistress of Ceremonies Kathleen Antrim (Capital Offense) thanked sponsors and "Executioner Chairs," aka the volunteers, Liz Berry (ITW Executive Director and "face of ITW"); the Chair of ThrillerFest, Kim Howe (The Freedom Broker and Skyjack); and introduced the board of directors. She also gave special thanks to ITW Co-Founders David Morrell (First Blood) and Gayle Lynds (The Assassins).
Publishers Robert and Patricia Gussin received the 2018 Thriller Legend award in celebration of their extraordinary contributions. The Gussins created Oceanview Publishing, which has published over 200 titles, to help authors "publish and grow in the thriller world."
Two special fans, Tom and Marie O'Day, were also celebrated, receiving the inaugural 2018 ThrillerFan award.
The winners of the 2018 Thriller Short Story and Novel awards were:
Best Young Adult Novel: The Rains by Gregg Hurwitz (TOR Teen)
"[it is] especially meaningful to me to have my Bridezilla moment," quipped Hurwitz.
Best E-Book Original: Second Chance by Sean Black (Sean Black)
Best Short Story: "Charcoal and Cherry" by Zoë Z. Dean (Ellery Queen Mystery Magazine)
Best Paperback Original: Grievance by Christine Bell (Lake Union)
"One of the things I like about writing is that it's not public speaking," said Bell.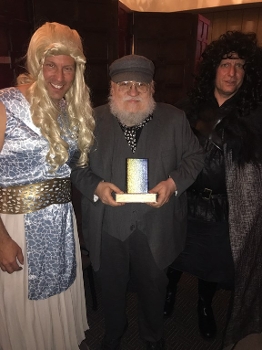 Best First Novel: The Freedom Broker by K.J. Howe (Quercus)
"Thank you to the judges for believing in a female superhero with Type 1 diabetes, " said Howe.
Best Hardcover Novel: Final Girls by Riley Sager (Dutton)
"Other than a bowling trophy in seventh grade, I've literally never won anything in my life, " revealed Sager.
2017 award recipient Lisa Gardner presented the 2018 Silver Bullet Award to James Rollins ("Sigma Force" series and "Jack Coulson" novels) for his outstanding philanthropic work. Rollins has volunteered many hours to U.S. for Warriors, a nonprofit group benefiting veterans and their families, and Veterans Publishing, Inc. (VPI), which helps veterans tell their stories. Rollins thanked Tony Robbins, whose late-night infomercial spurred Rollins to become a writer. He added, "I totally support the veterans but don't deserve this award."
As last year's ThrillerMaster, Lee Child introduced George R.R. Martin as the 2018 ThrillerMaster award recipient for his outstanding contributions to the genre. Child admitted that, "...for 364 days I've been paralyzed by imposter syndrome." As a prequel to the 2018 ThrillerMaster award presentation, medical thriller writer Daniel Palmer and author Brad Parks (Closer than You Know) continued their tradition of enacting a parody for the winner. Dressed as Jon Snow (Palmer) and Daenerys Targaryen (Parks in drag), they performed "Ode to George"—original lyrics sung to melodies from The Wizard of Oz, such as "We're off to see George Martin, the wonderful maker of us."
Martin took the stage next, joking, "This conference seems strange since no one is dressed as slave Leia." He thanked everyone, especially his "minions" (as he calls them) for doing his administrative and social media work so he has time to write. He also wished his wife Paris could have attended. "She would have laughed her ass off at that song," he said about the Palmer/Parks tribute. Martin also thanked his longtime friend, sf author and editor Gardner Dozois, who passed away this past May.
In closing, Martin paraphrased part of William Faulkner's 1950 Nobel Prize acceptance speech, saying, "The only thing worth writing about is the human heart in conflict with itself." Martin also reminded the audience that "regardless of what genre a book is written in, we should all just enjoy reading."
The 2019 ThrillerFest will be held in New York City from July 8–13, with author John Sandford serving as the ThrillerMaster.
Photo caption: Brad Parks (left), George R.R. Martin (middle), and Daniel Palmer (right). Photo credit: Megan O'Hearn.
K.L. Romo is an LJ reviewer and the author of Life Before, an edgy time-warping tale of reincarnation, social justice, and forgiveness. K.L. can be found at KLRomo.com or @klromo.