Affecting memories of the Holocaust, Japanase American soldiers in the Pacific theater, the women who helped create the CIA, and more.
Click here for additional new Prepub Alert columns
Frank, Michael (text) & Maira Kalma (illus.). One Hundred Saturdays: In Search of a Lost World. Avid Reader: S. & S. Sept. 2022. 240p. ISBN 9781982167226. $28. HISTORY
Friedman, Tova & Malcolm Brabant. The Daughter of Auschwitz: A Memoir. Hanover Square: Harlequin.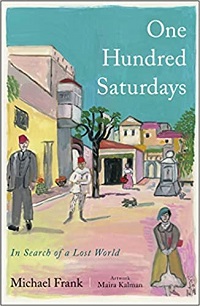 Sept. 2022. 320p. ISBN 9781335449306. pap. $16.99. MEMOIR
Henderson, Bruce. Bridge to the Sun: The Secret Role of the Japanese Americans Who Fought in the Pacific in World War II. Knopf. Sept. 2022. 480p. ISBN 9780525655817. $35. HISTORY
Holt, Nathalia. Wise Gals: The Spies Who Built the CIA and Changed the Future of Espionage. Putnam. Sept. 2022. 400p. ISBN 9780593328484. $28. HISTORY
Macintyre, Ben. Prisoners of the Castle: An Epic Story of Survival and Escape from Colditz, the Nazis' Fortress Prison. Crown. Sept. 2022. 368p. ISBN 9780593136331. $28. lrg. prnt. CD. HISTORY
Scott, James M. Black Snow: Curtis LeMay, the Firebombing of Tokyo, and the Road to the Atomic Bomb. Norton. Sept. 2022. 448p. ISBN 9781324002994. $35. HISTORY
After meeting 99-year-old Stella Levi at her Greenwich Village apartment to discuss the Juderia, the 500-year-old Jewish neighborhood in Rhodes where she lived until Germans deported the entire community to Auschwitz, the JQ Wingate Prize–winning Frank ended up spending One Hundred Saturdays visiting Levi to discuss her community and her resilience in the face of the Holocaust (125,000-copy first printing). Among the youngest survivors of Auschwitz still alive, 83-year-old Friedman, a retired therapist who actively campaigns against anti-Semitism, recounts her Holocaust experiences and the unerring instinct for survival that kept her alive inThe Daughter of Auschwitz. In Bridge to the Sun, the New York Times best-selling Henderson (Sons and Soldiers) lays bare the plight of Japanese American U.S. Army soldiers who fought in the Pacific theater even as their families back home faced racial hatred and imprisonment in concentration camps. Directly after World War II, four tough-minded Wise Gals—Adelaide Hawkins, Mary Hutchison, Eloise Page, and Elizabeth Sudmeier—were instrumental in forging the CIA, and the New York Times best-selling Holt (Rise of the Rocket Girls) finally tells their story. Author of theNew York Times best-selling, multi-best-booked Agent Sonya, Macintyre relies on declassified archives, private papers, and previously unseen photos to introduce readers to the Prisoners of the Castle, that is, Colditz Castle, the high-security POW camp run by the Wehrmacht during World War II and, says Macintyre, organized according to its own officer-class structure. In Black Snow, Pulitzer Prize finalist Scott ( Target Tokyo) chronicles the March 9, 1945, firebombing of Tokyo by nearly 300 U.S. B-29s, which left 16 square miles in ruins and 100,000 residents dead.