Washington State has made great strides in helping its citizens exercise their right to vote, but gaps in service and information remain. Public libraries have stepped in to ensure that all voters have access to the ballot box on Election Day.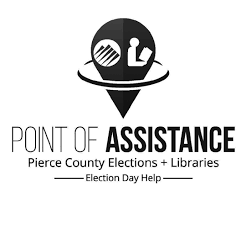 Washington State has made great strides in helping its citizens exercise their right to vote, but gaps in service and information remain. Public libraries have stepped in to ensure that all voters have access to the ballot box on Election Day.
Since 2011, all voting in Washington has taken place by mail. Registered voters receive their ballot in the mail at least 18 days before each election, and ballots must be postmarked or dropped in a ballot box by Election Day. In July 2019, a new policy went into effect to allow same-day voter registration. Because of the need to verify the voter's identity, same-day registration had to take place in person at the local county's elections office.
Georgia Lomax, director of the Pierce County Library System (PCLS), reached out to Pierce County Auditor Julie Anderson earlier this year after learning of the new same-day voter registration law. Both Lomax and Anderson recognized that, while this policy was a major win for voter rights, the impact would be limited if the only place to register to vote was the Pierce County elections office in Tacoma,with its staff of 13 and a voter base of over 500,000 people. Anderson was eager to collaborate with the public libraries in the county.
LOWERING BALLOT BARRIERS
Led by Lomax, the three public library systems of Pierce County—PCLS, Tacoma Public Library, and Puyallup Public Library—collaborated with the county Auditor's Office to develop a program called Points of Assistance that would help voters register, print a replacement ballot (at no cost), or securely deposit their ballot at their local library on Election Day. Between the PCLS's 20 branches, Tacoma's eight branches, and Puyallup's single branch, every public library in the county was represented in the program, which simplified communication around this initiative.
For Lomax, "The real goal and intention was to ensure that every voter who wanted to vote had the opportunity to have their voice heard and to participate in the democratic process." Puyallup Library Director Patty Ross agreed that while it's "in our nature as librarians to be pretty neutral on things...we are pro getting people to vote." Tacoma Public Library Director Kate Larsen also expressed the importance of reaching disenfranchised voters in the underserved communities of Tacoma.
"Washington State has just about eliminated every barrier possible to voters with new election laws and technology, but the one remaining barrier is, as always, poverty," said Anderson. By enabling voters to walk or take a bus to their local library on Election Day, instead of journeying to the only election office in the county, Anderson hoped that "stranded voters" would have the opportunity to fully participate in the election process.
PRIMARY PILOT
The recent primary election on August 6 was intentionally chosen as the pilot for the new Points of Assistance program because of anticipated low turnout. The goal was to test the logistics and identify any major issues to prepare for larger elections, including a general election this November and the presidential election in 2020. Kyle Haugh, Pierce County election specialist, reported that about 50 people visited a Point of Assistance to print a replacement ballot and cast their vote, and another ten both registered and cast their vote on Election Day at their local library.
One benefit of partnering with the Auditor's Office was the low impact on the libraries' budgets. Due to complicated rules and regulations surrounding elections, largely based on concerns of ballot security and integrity, the Auditor's Office took the lead on the logistics of the program to ensure legal compliance. In addition to meeting with each of the library partners, Auditor's Office staff provided a training video and other materials like flowcharts to help librarians navigate Election Day processes. Relatively minor costs, like waiving printing charges or scheduling one extra staff member to work on Election Day, made up the entire financial buy-in from the libraries.
Despite the value of same-day voter registration, the libraries and the Auditor's Office did not want to encourage this practice as the norm but rather as an "emergency safety net for voters," according to Lomax. Anderson clarified that while they served as "conduits between voters and the election center," the libraries were not administering elections and the branches were not polling sites. One drawback of this framing of the service was that the libraries could not widely publicize it. Larsen said that although the Points of Assistance program was prominently featured in the county's local voters' pamphlet, the libraries could not start promoting the initiative on social media until the weekend before Election Day.
On the whole, the libraries were pleased with the outcome of this pilot program. PCLS Customer Experience Director Jaime Prothro reported that the technological aspects were well-planned and staff felt prepared to handle the logistics on Election Day. Ross commended the Auditor's Office for taking the time to learn about the different library systems' needs and making appropriate accommodations to help all voters across Pierce County. Larsen said that while everything went smoothly, some communication issues could be resolved before the next election.
While this was the first major collaboration among the Pierce County public libraries, all involved say it won't be the last. Ross said she was "really proud to take three different library systems and work together," and Larsen said that "this is a perfect example to show that municipal and county libraries can partner together to have a greater impact." The three library systems have already partnered on the Tacoma Reads 2019 initiative, and Anderson has expressed an interest in continuing to collaborate with the public libraries outside of Election Day, particularly in promoting year-round programs to keep people engaged with their voter registration status.