We offer a selection of noteworthy and inspirational gardens to get that green thumb back into shape, or to simply enjoy some armchair travel.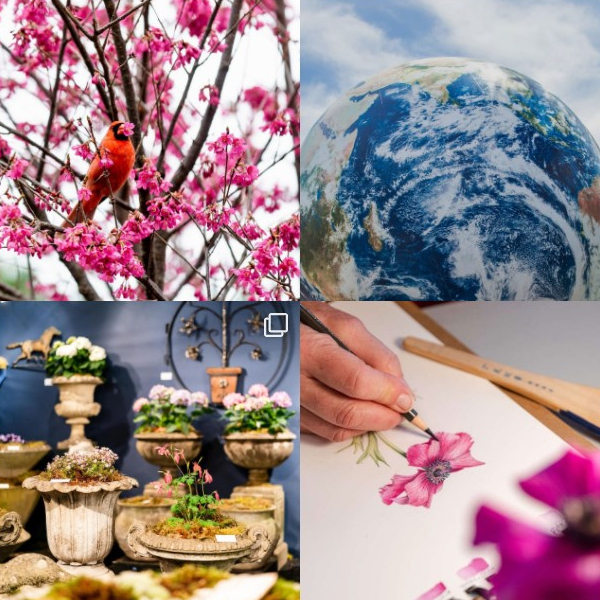 New York Botanical Garden
After a long, cold winter, who doesn't thrill to the sight of green shoots coming up through the soil, or emerging buds on trees and shrubs bursting forth? For gardeners and those who love gardens, this time of year is usually rich with options for touring famous or local gardens and attending garden shows for inspiration. Sadly, because of the pandemic these options still are out of the question for a lot of us, but we can walk down virtual pea-gravel paths lined with blossoms. Here is a selection of noteworthy and inspirational gardens to get that green thumb back into shape.
Who wouldn't want to land in the middle of one of Claude Monet's iconic garden paintings? By taking a tour of Giverny in Normandy, France, you can do just that. In this wonderful intersection of art and gardening, Royal Academy curator Ann Dumas and head gardener James Priest provide useful commentary on one of the world's most iconic gardens. And of course, there are water lilies.
Keukenhof, which is Dutch for Kitchen Garden, is located in the municipality of Lisse in the Netherlands and bills itself as the "most beautiful spring garden in the world." This would not be considered a boastful statement on any level. Located on the site of 15th century hunting grounds, this is one of the most popular attractions in Holland, attracting over 26,000 daily visitors during peak viewing season. Over seven million donated flowering bulbs are planted annually over the 79 acres by 40 gardeners. Happily for us, its website is full of spectacular and breathtaking video tours.
Sissinghurst
Donated to the British National Trust in 1962 is Sissinghurst, the garden in Kent, England, that took Vita Sackville-West and her husband Harold Nicolson 30 years to create. Instead of gardening beds, Sackville-West and Nicolson utilized the idea of garden "rooms" that open off an axial path. Among the famous rooms are the Rose Garden, which features one of the finest collections in the world with over 200 varieties, and the White Garden, which uses nothing but white flowers and foliage. The National Trust has created two virtual tours of this influential space: The Rose Garden and Courtyard.
Prince Charles and Camilla, Duchess of Cornwall have opened the doors to their garden at Highgrove for us all to take a peek. Sustainability, organic gardening methods, and a respect for garden design that mimics nature at its most perfect are the themes. While the ideas are serious and worthy for the health of our planet, each garden has a delightful dose of whimsy that inspires even the tender of the smallest patch of land. Included in the tour are the Cottage Garden, Thyme Walk, Lily Pond Garden, and the Sundial Garden.
In the United States, the New York Botanical Garden has reopened to limited crowds, but the facility's virtual offerings are rich and varied with something for everyone. Some tours are as simple as a walk-through a certain collection, such as a virtual tour of the Evergreens, while others are narrated by experts. Be sure to drink in the beauty of the annual Orchid Show.