Star mystery writers from Cara Black to Donna Leon to Jacqueline Winspear.
Click here for additional new Prepub Alert columns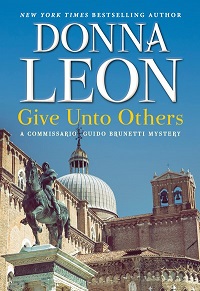 Black, Cara. Murder at the Porte de Versailles. Soho Crime. (Aimée Leduc Investigation, Bk. 20). Mar. 2022. 360p. ISBN 9781641290432. $27.95. MYSTERY
One-of-a-kind Parisian investigator Aimée Leduc returns, and, as always, New York Times best-selling author Black invests the task at hand with political/historical urgency. Paris is already on edge post–9/11 when a bomb explodes at the police laboratory, leaving Boris Viard—the partner of Aimée's friend Michou—unconscious amid the rubble. Boris's fingerprints are found on the remaining bomb shards, but Aimée is convinced of his innocence, and soon the French Secret Service hires her to follow up a lead regarding an Iranian Revolutionary Guard and fugitive 1980s radicals.
Bowen, Rhys & Clare Broyles. Wild Irish Rose. Minotaur: St. Martin's. (Molly Murphy Mystery, Bk. 18). Mar. 2022. 320p. ISBN 9781250808059. $26.99. MYSTERY/HISTORICAL
Anthony and Agatha honoree Bowen joins forces with her musician/teacher daughter on the next Molly Murphy mystery, which finds our protagonist home in 1907 New York and no longer in the detective game. But her skills are still required when she goes to Ellis Island with friends to help distribute clothing to those in need; later, her policeman husband reports that a murder on the island seems to have been committed by someone looking exactly like Molly. With a 60,000-copy first printing.
Brown, Rita Mae. Thrill of the Hunt. Ballantine. ("Sister" Jane, Bk. 14). Mar. 2022. 336p. ISBN 9780593357606. $28. MYSTERY/COZY
No word on the plot of this next "Sister" Jane novel from the New York Times best-selling Brown, but it's no mystery that horses and hounds will be on the hunt, splashing all over Brown's popular Crozet, VA, setting.
Deveraux, Jude. A Relative Murder. Mira: Harlequin. Mar. 2022. 384p. ISBN 9780778311836. $27.99. MYSTERY
After the events featured in A Forgotten Murder, mystery writer Sarah Medlar has returned from the UK with her niece Kate and their good buddy Jack to face new challenges. A stranger's corpse is found on a friend's property, and Sarah must confess to Kate that her father is not dead but has been in prison for years and is about to be released. Romance queen Deveraux's newish murder mystery series has drawn praise, so let's see how this fourth book pans out. With a 100,000-copy first printing.
Evanovich, Janet. The Recovery Agent. Atria. Mar. 2022. 320p. ISBN 9781982154912. $28.99. MYSTERY
Initially seen in 2020's Fortune and Glory, another Stephanie Plum escapade, Gabriella Rose gets to do her own thing in the first new series Evanovich has launched on her own in a while. Stephanie's adversary in the last book, Gabriella is a designer-clad supercook and recovery agent from Miami's Little Havana, and she's starting out big; there's a 500,000-copy first printing. Originally scheduled for June 2021.
James, Miranda. Hiss Me Deadly. Berkley. (Cat in the Stacks Mystery, Bk. 15). Mar. 2022. 304p. ISBN 9780593199497. $26. MYSTERY/COZY
A troubled soul in high school who dropped out to become a major music star, Wilfred "Wil" Threadgill has returned to town to work with students in the college music department. His band is there, too, and he's getting threats that lead to a band member's death, which sets librarian Charlie Harris into action; friend Melba still harbors feelings for Wil, and he worries that she is in danger. Of course, bewhiskered kitty Diesel will help investigate. Next in a New York Times best-selling cozy series.
Leon, Donna. Give Unto Others. Atlantic Monthly. Mar. 2022. NAp. ISBN 9780802159403. $27. MYSTERY/POLICE PROCEDURAL
Celebrated Commissario Guido Brunetti is conducting a private investigation in this latest from celebrated mystery writer Leon. The daughter of one of his mother's close friends needs help; her son-in-law has confided that his family might be in danger because of his business, which seems to involve uncontroversial clients like an optician to a restaurateur. Then a scary act of vandalism prompts Brunetti's colleagues to join in the investigation.
Margolin, Phillip. The Darkest Place. Minotaur: St. Martin's. (Robin Lockwood, Bk. 5). Mar. 2022. 304p. ISBN 9781250258441. $27.99. CD. MYSTERY
Attorney Robin Lockwood is left completely undone by a difficult case she's taken on as a favor to a judge, so she leaves Portland, OR, for her small hometown of Elk Grove to recover. But there's no rest for the weary; she's soon drawn into a case involving a surrogate, now living under a false identity, who is accused of spiriting away the baby she carried for a couple and of assaulting them. From New York Times best-selling Margolin.
Rosenfelt, David. Citizen K-9. Minotaur: St. Martin's. (K Team, Bk. 3). Mar. 2022. 304p. ISBN 9781250828934. $27.99. CD. MYSTERY/PRIVATE INVESTIGATORS
Hounds, humor, and homicide: sounds like another mystery from the best-selling Rosenfelt. K Team members Corey Douglas and Laurie Collins get help from German shepherd Simon Garfunkel when the Paterson Police Department forms a cold case division and hires them to investigate a case that hits home. Two of Laurie's friends vanished mysteriously at the time of Laurie's tenth high school reunion, and it's time to find out what happened. With a 60,000-copy first printing.
Walker, Martin. Bruno's Challenge: And Other Stories of the French Countryside. Knopf. Mar. 2022. 256p. ISBN 9780593534229. $27. MYSTERY/SHORT STORIES
A man breaks parole to see his son for the holidays. Small-town merchants challenge a Senegalese competitor whose coffee outstrips theirs at the market. The local tour bus business is sabotaged, local families are incensed about a romance that began over the fruit-and-veggie stall, and stolen oysters could lead to renewed romance. It's all in a day's work for Bruno, chief of police in the Dordogne village of St. Denis. A first collection from the popular Walker.
Winspear, Jacqueline. A Sunlit Weapon. Harper. (Maisie Dobbs, Bk. 17). Mar. 2022. 352p. ISBN 9780063142268. $27.99. lrg. prnt. CD. MYSTERY
In September 1942, British ferry pilot Jo Hardy is delivering a Spitfire to Biggin Hill Aerodrome when gunfire whistles her way. She later learns that another ferry pilot has also died flying the same route, and her fiancé was killed in the area a year previously. When she discovers coded material in a nearby barn, she heads straight to Maisie Dobbs, who faces a hard truth: these events may have compromised First Lady Eleanor Roosevelt's upcoming diplomatic mission to the U K. With a 100,000 copy first printing.