Investment strategies and a view of the Fed.
Click here for additional new Prepub Alert columns
Bernanke, Ben S. 21st Century Monetary Policy: The Federal Reserve from the Great Inflation to COVID-19. Norton. May 2022. 512p. ISBN 9781324020462. $35. ECONOMICS
Everything has changed in times of COVID-19, including the tools now being used by the U.S. Federal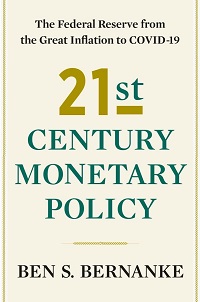 Reserve to maintain the economy, which might have raised eyebrows not so long ago. Chair of the Federal Reserve from 2006 to 2014 and currently distinguished senior fellow at the Brookings Institution, Bernanke not only explains how these new tools work but looks back at the FED over a half-century to present evidence that it has always changed with the times to address immediate needs.
Edelman, Ric. The Truth About Crypto: Your Investing Guide to Understanding Blockchain, Bitcoin, and Other Digital Assets. S. & S. May 2022. 400p. ISBN 9781668002322. $30. ECONOMICS
Crypto as investment strategy: even as it shakes up the world—the Bank of England claims it could "transform the global financial system"—many investors fail to understand its potential or even how it works. But not to worry. Thrice ranked by Barron's as the No. 1 independent financial adviser in the United States, Edelman is here to demystify this new phenomenon.
Seessel, Adam. Where the Money Is: Value Investing in the Digital Age. Avid Reader: S. & S. May 2022. 320p. ISBN 9781982185145. $30. ECONOMICS
A Polk Award–winning journalist who migrated to Wall Street and eventually started his own firm, Gravity Capital Management, Seessel here argues that tech stocks are "where the money is" today. He learned the hard way, having watched his traditional portfolio stall, which prompted him to devise a new investment strategy which recognizes that technology has reshaped the economy. Here he helps other investors by offering a new understanding of what makes a business valuable and explaining how the digital economy works. With a 100,000-copy first printing.