Click here for additional new Prepub Alert columns
Gaylin, Alison. Robert B. Parker's Bad Influence. Putnam. (Sunny Randall, Bk. 11). Jun. 2023. 368p. ISBN 9780593540527. $29. CD. THRILLER
Johansen, Iris. The Survivor. Grand Central. (Eve Duncan). Jun. 2023. 432p. ISBN 9781538726372. $29. lrg. prnt.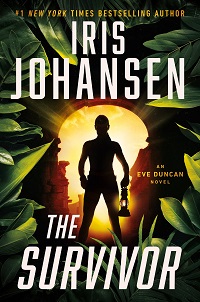 CD/downloadable. THRILLER
Offutt, Chris. Code of the Hills. Grove. (Mick Hardin, Bk. 3). Jun. 2023. 288p. ISBN 9780802161918. $27. THRILLER
Patterson, James & Adam Hamdy. Private Moscow. (Private, Bk. 14). Grand Central. Jun. 2023. 336p. ISBN 9781538752647. $32; pap. ISBN 9781538752661. $18.99. lrg. prnt. THRILLER
Patterson, James & Brendan DuBois. Cross Down: An Alex Cross and John Sampson Thriller. Little, Brown. (Alex Cross). Jun. 2023. 448p. ISBN 9780316404594. $30. lrg. prnt. CD/downloadable. THRILLER
Petrie, Nick. The Heavy Lift. (Peter Ash, Bk. 8). Putnam. Jun. 2023. 400p. ISBN 9780593540558. $28. THRILLER
Rollins, James. Tides of Fire. Morrow. (Sigma Force, Bk. 23). Jun. 2023. 448p. ISBN 9780062893079. $32. lrg. prnt. CD. THRILLER
Woods, Stuart. Near Miss. (Stone Barrington, Bk. 64). Putnam. Jun. 2023. 320p. ISBN 9780593540060. $29. lrg. prnt. CD. THRILLER
With Robert B. Parker's Bad Influence, the Edgar and Shamus Award–winning Gaylin becomes the first female author to enter the legendary Parker's universe, with Parker's only female series protagonist, PI Sunny Randall, acting as bodyguard to an Instagram influencer. In Johansen's The Survivor, forensic sculptor Eve Duncan and archaeologist Riley Smith trek through the jungles of Laos, intent on finding (and saving) a rare animal threatened with extinction (100,000-copy first printing). Passing through Kentucky in Offutt's Code of the Hills, Mick Hardin has every intention of heading on to France but instead gets caught up in helping sheriff sister Linda investigate the murder of a popular mechanic at the local racetrack. Jack Morgan of the investigation agency Private is standing in the New York Stock Exchange with a former U.S. Marine buddy when his buddy is shot to death, leaving Jack to follow clues to Russia; Patterson and Hamdy's Private Moscow is the first "Private" thriller since 2018. With Alex Cross Down owing to serious injury, John Sampson is left alone to deal with a series of ferocious, seemingly unrelated military-style attacks; Patterson and DuBois reunite. In Petrie's The Heavy Lift, veteran Peter Ash is helping loyal friend Lewis get beyond the criminal life by tracking down an associate, but all they find is a burnt-down cabin—with notebooks that could incriminate Lewis now unaccounted for. In Rollins's Tides of Fire, a military submarine's disappearance off Australia's coast leads to warfare in a dead sea recently found to be rich with bioluminescent coral, and the subsequent geological disaster destabilizes an entire region (250,000-copy first printing). From the late Woods, Near Miss is another—and maybe final?—Stone Barrington title.