Essential new titles, spanning fiction, nonfiction, and media
MYSTERY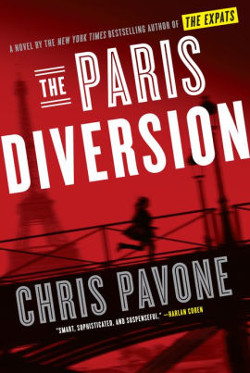 Berry, Steve. The Malta Exchange. Minotaur: St. Martin's.
Fredericks, Mariah. Death of a New American. Minotaur: St. Martin's.
Gates, Eva. Something Read, Something Dead. Crooked Lane.
Leon, Donna. Unto Us a Son Is Given. Grove Atlantic.
McPherson, Catriona. Scot & Soda. Midnight Ink.
Pavone, Chris. The Paris Diversion. Crown Archetype.
Perkins, S.C. Murder Once Removed. Minotaur: St. Martin's.
Shelton, Paige. The Loch Ness Papers. Minotaur: St. Martin's.
Winspear, Jacqueline. The American Agent. Harper.

SF/FANTASY
Banker, Ashok K. Upon a Burning Throne. Houghton Harcourt.
Doctorow, Cory. Radicalized. Tor.
Fried, Seth. The Municipalists. Penguin.
McGuire, Seanan. That Ain't Witchcraft. DAW.
Reynolds, Alastair. Permafrost. Tor.

SELF-HELP
The Moth Presents Occasional Magic. Crown Archetype.
Yager, Jan. Help Yourself Now. Skyhorse.

EROTICA
Reisz, Tiffany. The Rose. Mira: Harlequin.
Simone, Sierra. Misadventures of a Curvy Girl. Waterhouse.
Van Dyken, Rachel. Risky Play. Skyscape: Amazon.

FICTION
Aramburu, Fernando. Homeland. Pantheon.
Collins, Bridget. The Binding. Harper.
Fernández Mallo, Agustín. The Nocilla Trilogy. Farrar.
Grjasnowa, Olga. City of Jasmine. Oneworld.
Harrison, Nicola. Montauk. St. Martin's.
Hinger, Charlotte. The Healer's Daughter. Gale Cengage.
Kerangal, Maylis de. The Cook. Farrar.
Kim, Angie. Miracle Creek. Farrar.
Landvik, Lorna. Chronicles of a Radical Hag (with Recipes). Univ. of Minnesota.
Owuor, Yvonne Adhiambo. The Dragonfly Sea. Knopf.
Patrick, Phaedra. The Library of Lost and Found. Park Row: Harlequin.
Savas, Aysegül. Walking on the Ceiling. Penguin.
Vuong, Ocean. On Earth We're Briefly Gorgeous. Penguin Pr.
Biespiel, David. Republic Cafe. Univ. of Washington.
Bolina, Jaswinder. The 44th of July. Omnidawn.
Brown, Jericho. The Tradition. Copper Canyon.
Gordon, Lyndall. Outsiders: Five Women Writers Who Changed the World. Johns Hopkins.
Sol, Adam. How a Poem Moves. ECW.
What My Mother and I Don't Talk About. S. & S.
Where We Find Ourselves: The Photographs of Hugh Mangum, 1897–1922. Univ. of North Carolina.

SOCIAL SCIENCE
Brown, Jenny. Birth Strike: The Hidden Fight over Women's Work. PM Pr.
Cullen, Dave. Parkland: Birth of a Movement. Harper.
Favors, Jelani M. Shelter in a Time of Storm: How Black Colleges Fostered Generations of Leadership and Activism. Univ. of North Carolina.
Glaser, Melissa. Healing a Community: Lessons for Recovery After Large-Scale Trauma. Central Recovery.
Goldman, Judy. Together: A Memoir of a Marriage and a Medical Mishap. Nan A. Talese: Doubleday.
Hunt, Will. Underground: A Human History of the Worlds Beneath Our Feet. Spiegel & Grau.
Isenberg, Nancy & Andrew Burstein. The Problem of Democracy. Viking.
Lee, Heath Hardage. The League of Wives: The Untold Story of the Women Who Took on the U.S. Government To Bring Their Husbands Home. St. Martin's.
Lockley, Thomas & Geoffrey Girard. African Samurai. Hanover Square: Harlequin.
Miller, Douglas K. Indians on the Move: Native American Mobility and Urbanization in the Twentieth Century. Univ. of North Carolina.
O'Connell, Robert L.Revolutionary: George Washington at War. Random.
Perry, Gina. The Lost Boys: Inside Muzafer Sherif's Robbers Cave Experiment. Scribe.
Thomas, Gordon & Greg Lewis. Defying Hitler. Penguin.
Thompson, Christina. Sea People: The Puzzle of Polynesia. Harper.
Tuten, Frederic. My Young Life. S. & S.
The Women's Suffrage Movement. Penguin.
Wood, Levison. An Arabian Journey. Grove Atlantic.

SCIENCE & TECHNOLOGY
Bittman, Mark. Dinner for Everyone. Clarkson Potter: Crown.
Brown, Kate. Manual for Survival: A Chernobyl Guide to the Future. Norton.
Moffett, Mark W. The Human Swarm. Basic.
Encyclopedia of Women in World Religions. ABC-CLIO.
The Handbook of Research on Black Males. Michigan State Univ.
Taylor, Marianne. Bats: An Illustrated Guide to All Species. Smithsonian.
Setterfield, Diane. Once Upon a River. S. & S. Audio.
Harry Potter: A History of Magic. Jude Ho, dist. by BBC Studios c/o BBC Worldwide.
Love, Gilda. Lisa D'Apolito, dist. by Magnolia Home Entertainment.
Our Man in Tehran. 240 min. Roel van Broekhoven, dist. by Frontline c/o PBS.

---
A starred review from LJ denotes an exceptional title that is an essential purchase for most libraries.