A New York Times best-selling author aned TED talker on a Marshal Plan for mothers.
Click here for additional new Prepub Alert columns
Saujani, Reshma. Pay Up: The Future of Women and Work (and Why It's Different Than You Think). One Signal: Atria. Mar. 2022. 224p. ISBN 9781982191573. $27. SOCIAL SCIENCE
In the pandemic's first year, women worldwide lost $800 billion in wages, with unemployment among them rising from 3.1 percent to nearly 15 percent. Mothers in particular have reported encroaching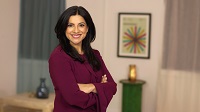 anxiety, with almost 70 percent experiencing health problems owing to pandemic-induced stress. Saujani found herself stressed, too—and angered by the ongoing absence of support for mothers. Here she follows up her New York Times best-selling Girls Who Code and Brave, Not Perfect to propose The Marshall Plan for Moms, arguing for structural changes like government payments and workplace and cultural rethinking to help working women. With a 150,000-copy first printing.
Credit: Salon Media Group