Next from the Nobel Prize winner.
Click here for additional new Prepub Alert columns
Tokarczuk, Olga. The Books of Jacob. Riverhead. Feb. 2022. 992p. tr. from Polish by Jennifer Croft. ISBN 9780593087480. $32. LITERARY
Given how she balances fact and fiction on a knife's edge, one can expect blazingly original Nobel Prize winner Tokarczuk (Flights) to do justice to enigmatic 18th-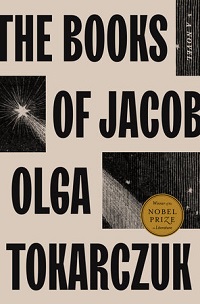 century Polish religious leader Jacob Frank in this fictionalized portrait. Frank first appeared in a Polish village as a young Jew who seemed to come out of nowhere, went on to enthrall crowds as he traveled the Hapsburg and Ottoman empires, converted to Islam and then Catholicism, and was both loved and hated, worshipped and condemned. What a saga—and, not surprisingly, it runs nearly 1,000 pages.