Keanon Lowe's remarkable life.
Click here for additional new Prepub Alert columns
Lowe, Keanon & Justin Spizman. Hometown Victory: A Coach's Story of Football, Fate, and Coming Home. Flatiron: Macmillan. May 2022. 240p. ISBN 9781250807632. $28.99. CD. MEMOIR
Lowe was working as an offensive analyst for the San Francisco 49ers when a childhood friend and former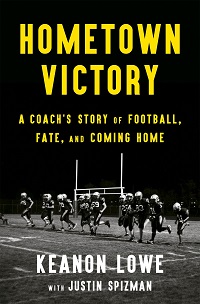 high school teammate died of an opioid overdose. He decided to do something different with his life, giving up his golden NFL job and returning to his hometown to coach high school football. When he took over, the Parkrose High School team was stuck in a 23-game losing streak, but in a story that's been much reported, within two years he had led them to a conference championship. Along the way, he disarmed a school shooter, embracing him until the police arrived, and he has been noted throughout his career for his keen mentorship. Look for the forthcoming movie starring Dwayne Johnson; with a 200,000-copy first printing.