The next mind bender from the award-winning Mandel.
Click here for additional new Prepub Alert columns
Mandel, Emily St. John. Sea of Tranquility. Knopf. Apr. 2022. 272p. ISBN 9780593321447. $24. lrg. prnt. CD/downloadable. LITERARY
After breaking out with the National Book Award finalist Station Eleven and following up with the multi-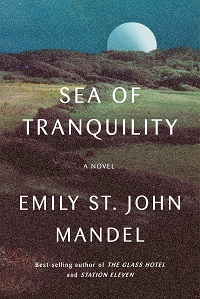 best-booked The Glass Hotel, Mandel returns with another fantastical work that links stories over the centuries as it contemplates the passage of time (and its disruption), the value of art (with music and literature figuring here), and the endless mystery of life (with mystery and speculative tropes both contributing to the narrative). Tossed out of polite society after all too boldly revealing outré opinions at a dinner party, young son-of-an-earl Edwin St. Andrew crosses the ocean by steamship in the early 1900s and lands in the stunning Canadian wilderness, where he hears the notes of a violin in (surprisingly) an airship terminal. Two centuries later, a violinist playing in a forest-shadowed air terminal appears in a best-selling pandemic novel written by famed author Olive Llewellyn, who's on a book tour of Earth though her home is the second moon colony. Finally, Gaspery-Jacques Roberts, a detective in the Night City, is tasked with investigating strange events—an aristocrat gone mad, an author trapped on Earth by pandemic—even as he and a childhood friend recognize that they might be able to rearrange the timeline of the universe. Sounds stunning to me, and with both Station Eleven and The Glass Hotel having sold 1.2 million copies so far and heading to the silver screen, you can bet this title will be big.