The U.S. self-help book category has nearly doubled in size since 2013, according to publishing market tracker NPD Bookscan. The number of unique ISBNs almost tripled from 30,897 in 2013 to 85,253 in 2019. More broadly, the self-improvement industry—of which Self-Help books are a significant part—will rake in a staggering $13 billion by 2022.

In a time of global anxiety, self-help publishers are meeting increased demand for guidance and practical advice. Their growing catalogues feature authors with an ever-widening range of professional and personal experiences. There is truly something for everyone in this season's exceptional set of self-help titles.

"As editors and publishers, we think about what's going on in the culture and what we can do to help," said Georgia Hughes, editorial director of New World Library in California. "Librarians are a big part of this cultural moment. We ask ourselves: Where are we going? How can we direct the conversation to benefit us as human beings?"

This year's self-help titles offer a wide array of expertise from ancient wisdom to the latest scientific research. Authors address topics including gender transition, racial justice, environmental stewardship, and teenage anxiety.

New Harbinger Publications

For almost 50 years, New Harbinger Publications has specialized in evidence-based self-help books and pioneering workbooks, offering step-by-step procedures to handle mental health challenges. Their professional resources support mental health clinicians and provide new tools to better serve their clients.

"Our mission is to reduce human suffering," said Margo Beren, sales manager. To this end, New Harbinger is committed to publishing scientific, clinically proven modalities by authors who are credentialed in their fields. The company has become the go-to publisher for books on Acceptance and Commitment Therapy (ACT), Dialectical Behavioral Therapy (DBT), and Cognitive Behavioral Therapy (CBT).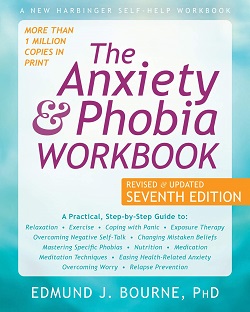 New Harbinger spearheaded the workbook-style self-help book and turned it into a top-selling, highly effective tool. Readers follow guided exercises, record personal data, and complete journaling assignments. One such title is The Anxiety and Phobia Workbook by Edmund J. Bourne, May 2020, ISBN 9781684034833. This classic workbook—which has already sold 1.1 million copies of previous editions—showcases the latest step-by-step treatment strategies for panic, agoraphobia, GAD, and OCD, and has added new chapters on overcoming worry, relapse prevention, and safety behaviors.

Readers will discover transformative approaches to fear and unhealthy rumination in The Anxiety Skills Workbook by Stefan G. Hoffman, April 2020. ISBN 9781684034529. Developed at the Center for Anxiety & Related Disorders at Boston University, this research based treatment model brings new approaches and third-wave therapies. Evidence-based breakthroughs offer tools like cognitive reframing and journaling, plus mindfulness techniques for the treatment of
anxiety and worry patterns.

New Harbinger addresses the African-American mental health crisis in The Unapologetic Guide to Black Mental Health, by psychologist and African-American mental health expert Rheeda Walker, May 2020, ISBN 9781684034147. This groundbreaking book explores the forces that undermine mental health progress of African-Americans and looks at ways to heal psychological distress, find community, and undo years of stigma and marginalization. Walker gives concrete advice on how to spot mental illness, practice emotional wellness, and how to get the best care possible in a biased system.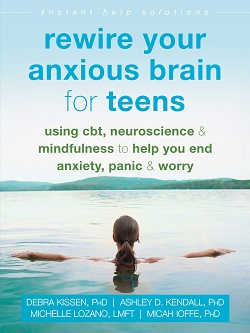 New Harbinger is also addressing the growing mental health crisis amongst teens through their imprints Reveal Press and Instant Help Books. Writing in a voice that speaks to teens, New Harbinger is releasing Rewire Your Anxious Brain for Teens by Debra Kissen, Ashley D. Kendall, Michelle Lozano, and Micah Ioffe, April 2020, ISBN 9781684033768. These four anxiety specialists give teens essential skills using Cognitive Behavior Therapy, mindfulness, and neuroscience. This guide maps out meditative exercises to help teens manage their anxiety. Teen readers will find tactics for handling anxiety-provoking situations and exercises to help train the brain to operate more effectively.

To achieve acceptance and understanding, individuals can learn new ways to think through proven mental exercises. "We have so many thoughts all the time," Beren explained. "You can't control these thoughts, but you can achieve distance. You can rewire your brain. You can change."

Llewellyn Publishing

When Llewellyn George founded his publishing company in 1901, he focused exclusively on astrology books and annuals. His fi rst bestseller, The Llewellyn Moon Sign Book and Gardening Guide, has been published continuously since its debut in 1906. In 1961, Llewellyn was purchased by Carl L. Weschcke, the founding father of American mindbody-spirit publishers. Llewellyn publishes upwards of 150 titles annually, with approximately 15 percent focused on self-help, health, and wellness. Llewellyn's catalogue includes books on holistic living, aromatherapy, chakras and energy work, crystals and gems, herbalism, meditation, Feng Shui, self-hypnosis,and many other self-help topics.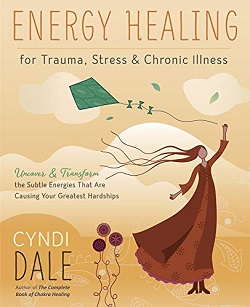 This summer, Llewellyn will release Energy Healing for Trauma, Stress & Chronic Illness, by renowned spiritual healer and bestselling author Cyndi Dale, June 2020, IBSN 9780738761046. Using a holistic approach to recovery, Dale brings together mainstream science, psychology, and subtle healing modalities to address painful physical and spiritual issues. Readers learn to locate inner wounds and treat them using psychoneuroimmunology, epigenetics, and chakra work. Having conducted over 65,000 client sessions, Dale shares her deep understanding of the physical processes affected by emotional trauma.

Internal wellness not only affects how we feel, but also how we look. New York-based dermatologist Dr. Debbie Palmer and Valeria Latona help readers become their most beautiful selves in Mindful Beauty: Holistic Habits to Feel and Look Your Best, April 2020, ISBN 9780738761862. With 19 years of experience, Dr. Palmer reveals how she teaches patients to improve their outer radiance by cultivating inner peace. Dr. Palmer offers specific, concrete lifestyle advice about sleep, diet, and stress reduction techniques. This practical guide to looking and feeling better also provides simple self-care tips using essential oils, crystals, chakras, and targeted nutrition.

In addition to hosting her weekly All About Healing show on the Healthy Life Radio, wellness master Emily A. Francis teaches readers to take an active role in healing themselves in Whole Body Healing: Create Your Own Path to Physical, Emotional, Energetic & Spiritual Wellness, Spring 2020, ISBN 9780738762180. Utilizing her experience as a physical trainer, Francis demonstrates how we can let go of the physical and emotional pain held in our muscles. This comprehensive guide features dozens of hands-on practices, including breath work, cognitive therapy, Traditional Chinese Medicine, Ayurveda, homeopathy, fl ower remedies, and Eye Movement Desensitization and Reprocessing (EMDR).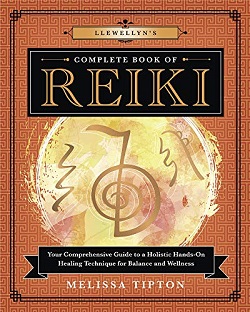 Llewellyn's Complete Book of Reiki by Melissa Tipton, March 2020, ISBN 9780738761831, contains over 650 pages of encyclopedic detail for Reiki practitioners and students alike. Tipton, a certifi ed structural integrator and Reiki master, shows readers how to improve spiritual vitality, emotional balance, and physical health through Reiki.

This thorough reference book features dozens of exercises and over 100 illustrations showing hand positions, self-practice techniques, and traditional symbols.

Librarians have embraced the entire 13-volume Complete Book series, which offers introductions to Llewellyn's comprehensive catalogue of modalities, from astrology to lucid dreaming to past life regression. "We publish to our audience," Sales Director Tom Lund explained. "We can't lose that thread of Llewellyn going through our books. If we venture too far outside of our yard, we lose our core and we hear about it."

Parallax Press

World-renowned spiritual leader Thich Nhat Hanh taught Engaged Buddhism around the world to promote nonviolent solutions to international confl ict. In 1967, Martin Luther King Jr. nominated Hanh for the Nobel Peace Prize. The 93-yearoldHanh wrote over 100 books to help create a more just and joyful world. In 1986, Hanh established Parallax Press to teach mindfulness, alleviate suffering, and preserve his teachings for future generations.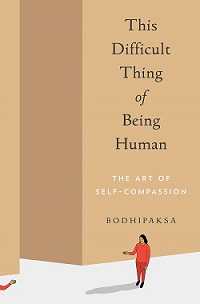 "Mindfulness is now a buzzword," said Katie Eberle, creative director. "But, people are discovering that it works to reduce anxiety, relieve stress, and find clarity." Last fall, Parallax released This Difficult Thing of Being Human: The Art of Self-Compassion by Bodhipaksa, November 2019, ISBN 9781946764515, to teach self-care using mindfulness and meditation. By paying attention to thoughts, habits, and self-talk, readers learn to guide their thinking to achieve better emotional and physical health. Bodhipaksa uses both contemporary psychology and ancient wisdom, to help people develop emotional resilience.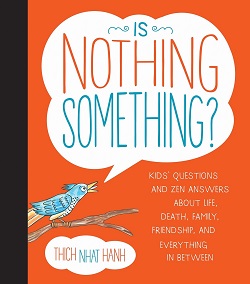 Nonviolent social activism is the subject of Healing Resistance by Kazu Haga, January 2020, ISBN 9781946764430. Haga, a leading nonviolence trainer, writes from a mindfulness perspective as he offers workable, step-by-step advice for social justice advocates, faith leaders, and community organizers. Haga presents civil resistance strategies for creating equity and negotiating peace. Haga offers a radically different approach to harm with the practices of restorative justice, which focuses on rehabilitation of offenders through reconciliation with victims and communities at large.

Parallax Press also publishes mindfulness content for children under the Plum Blossom Press imprint. Young readers can start their spiritual journey with picture books and even board books for babies. Thich Nhat Hahn answers heartfelt, difficult, and funny questions from children of all ages in Is Nothing Something?: Kids' Questions and Zen Answers About Life, Death, Family, Friendship, and Everything In Between, March 20, 2014, ISBN 9781937006655.

New World Library

New World Library was established in 1977 by authors Marc Allen and Shakti Gawain under the name Whatever Publishing. Gawain's 1978 bestseller, Creative Visualization, sold over six million copies and launched the company as a premier source for self-help readers.

Since then, their mission has evolved to include a wide range of authors and their unique perspectives. "We look for a compelling, underlying personal story and authors who are realistic, thoughtful, and kind," explained Georgia Hughes, editorial director of New World Library. "Authority comes from the experience. It's not just about a credential anymore."

"We look for [authors with] a compelling, underlying personal story.
Authority comes from experience. It's not just about a credential anymore."
—Georgia Hughes, editorial director, New World Library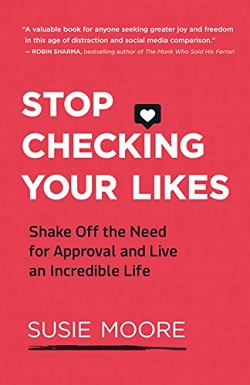 New World Library publishes books to challenge readers to improve their own lives and the world. The company pursues "personal and planetary transformation" by awakening individual consciousness through inspirational and practical books. "Self-help is a big part of what we do," said Hughes. "We look for writers who have worked through something powerful in their own lives. These writers can guide the reader and offer good direction for life."


Arriving this spring, powerhouselife coach Susie Moore empowers readers with Stop Checking Your Likes: Shake Off the Need for Approval and Live an Incredible Life, April 2020, ISBN 9781608686735. Living life with an omnipresent cyber-audience can hinder a person's ability to fi nd their true path. Moore shares motivational tips for getting past the "approval trap" and living authentically, without second-guessing one's every decision. To find freedom, Moore helps readers get their eyes off their smartphone screens and out into a world of limitless possibilities.

Speaking about Firefighter Zen by Hersch Wilson, May 2020, ISBN 9781608686889, Hughes said. "When we saw it [the book], we fell in love. It has beautiful insight and is completely grounded in a dirty, challenging, diffi cult job." New Mexico-based Wilson has served as a volunteer firefighter since 1986. In this inspirational guide, Wilson shares what he learned as a firefighter, including how he stayed calm and in-the-moment during dangerous emergencies. Then, Wilson shows readers how he uses those lessons in other areas of his life to improve serenity, creativity, and outlook.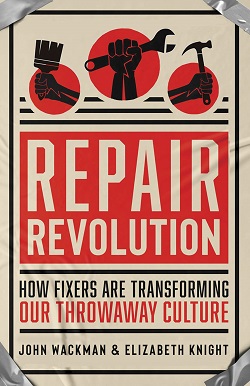 Authors John Wackman and Elizabeth Knight take on wasteful consumerism in Repair Revolution: How Fixers Are Transforming Our Throw-Away Culture, June 2020, ISBN 9781608686605. This practical handbook charts the rise of repair cafes, volunteer organizations devoted to repairing household items for free. With 40 repair cafes near their Hudson Valley home, Wackman and Knight draw on community wisdom to share easy fixes for common product malfunctions. Repair Revolution teaches new skills and a new way of seeing our everyday possessions. Instead of just buying new stuff, readers will learn to care for their old things and protect the planet.

This fall, New World Library will release Found in Transition: A Mother's Evolution During Her Child's Gender Change by Dr. Paria Hassouri, M.D., September 2020, ISBN 9781608687084. Dr. Hassouri chronicles her journey through her 14-year-old child's transition from male to female. Despite her experience advising other parents as a pediatrician, Hassouri must confront her own reactions of shock, anger, and denial when it's her child. Hassouri navigates this minefield of feelings, discovering her capacity for acceptance and unconditional love and a response that is supportive of her child.
---
Conclusion

"Anxiety is skyrocketing all over the world," said Beren of New Harbinger. "People need all the mental health resources they can get, and publishers face more competition now than ever before." To contend with increased stress and uncertainty, readers can explore a vast variety of approaches to self-care and spiritual wellness in this year's self-help offerings. And, librarians can guide them to the best advice from leading self-help publishers.
SPONSORED CONTENT