Thriller authors to watch.
Click here for additional new Prepub Alert columns
Bamford, Emma. Deep Water. Gallery: Scout: S. & S. May 2022. 320p. ISBN 9781982170363. $28. THRILLER
A yacht adrift in the Indian Ocean? Capt. Danial Tengku orders his U.S. Navy vessel to draw near and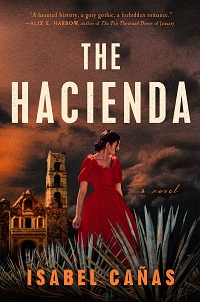 discovers badly injured Jake and stammering Virginie, a British couple who had thought it would be fun to sail the seven seas. They ended up on a gorgeous little gem of an island they'd heard of that, alas, was inhabited by a bunch of unruly expat sailors. Their account of what happens next is horrific, but can Capt. Tengku believe them? From freelance journalist Bamford, a debut author; with a 125,000-copy first printing.
Cañas, Isabel. The Hacienda. Berkley. May 2022. 352p. ISBN 9780593436691. $27. Downloadable. THRILLER/GOTHIC
During the Mexican War of Independence, Beatriz's father was executed and her home burnt to the ground, so she's relieved to have found some measure of safety by marrying Don Rodolfo Solórzano. But his home, Hacienda San Isidro, evokes terror; the cook burns copal to ward off demons, Don Rodolfo's sister won't visit at night, awful visions taint Beatriz's dreams, and soon Beatriz is wondering what happened to the first Doña Solórzano. Can young priest Padre Andrés help her survive? Debut gothic thrills appropriately billed for fans of Silvia Moreno-Garcia'sMexican Gothic and Oyinkan Braithwaite's My Sister, the Serial Killer.
Day, Elizabeth. Magpie. S. & S. May 2022. 336p. ISBN 9781982187606. $26. SUSPENSE
Marisa and Jake are delighted to find Kate, seemingly the perfect boarder, whose rent payment will help pay the bills and facilitate their having a child. But as fertility treatments and failed attempts unspool, Kate becomes overly familiar with Jake, and her knowing a whole lot more about Marisa and Jake than she ever let on creates the kind of suspense that would seem to merit the 75,000-copy first printing. British author of the well-received The Party and host of the award-winning podcast How To Fail.
Murphy, Nora. The Favor. Minotaur: St. Martin's. May 2022. 288p. ISBN 9781250822420.$27.99. SUSPENSE
Leah and McKenna have never met, though their lives run on parallel tracks; they're both wealthy and successful women. But as Leah drives past McKenna's house one night, she immediately understands that McKenna has the same problem she has—they're both trapped in marriages with husbands who aren't as they seem. Eventually, Leah will intervene in McKenna's life with explosive results. A debut with a 100,000-copy first printing.
Tallo, Katie. Poison Lilies. Harper. May 2022. 368p. ISBN 9780063247888. $26.99; pap. ISBN 9780063211742. $16.99. THRILLERS/PSYCHOLOGICAL
In this follow-up to the successful Dark August, August (Gus) Monet thinks she's settled comfortably in her hometown after solving her mother's murder. Then she makes a terrible mistake that compels her to leave town, settling in a shabby art deco apartment building in Ottawa with the aim of starting over. She's happy to meet reclusive Poppy Honeywell, a not-quite-there older woman boasting a distinguished lineage, but what does Poppy have to do with the dead body found in the chilly waters of a nearby pond? With a 60,000-copy paperback and 25,000-copy hardcover first printing.