Four authors purveying suspense and one offering military chills.
Click here for additional new Prepub Alert columns
Dahl, Julia. The Missing Hours. Minotaur: St. Martin's. Sept. 2021. 288p. ISBN 9781250083722. $25.99. SUSPENSE
With hordes of Instagram followers and a coveted spot in the first-year class at NYU,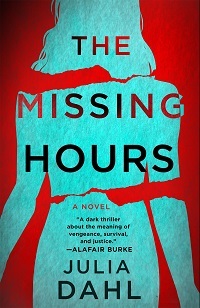 trust-funded Claudia Castro would seem to have it all. But her parents are divorcing, her sister's life is a mess, and she herself has been subject to unwelcome attention in the media. And it gets worse: she's left reeling after a drunken party by a sexual assault she barely remembers, and despite her efforts to find support, Claudia goes missing. From the author of Invisible City, an Edgar finalist for Best First Novel; with a 75,000-copy first printing.
Dang, Catherine. Nice Girls. Morrow. Sept. 2021. 320p. ISBN 9780063027558. $27.99. SUSPENSE
Ecstatic to receive an Ivy League scholarship and escape small-town Minnesota, socially maladroit Mary is thrown out of Cornell for reasons she won't disclose and returns home to sort out her life while working at the grocery store. When beloved Olivia Willand goes missing, the town is in an uproar, with only Mary seeming to understand that Olivia has always been coldly manipulative beneath the surface. Meanwhile, everyone overlooks the disappearance of 19-year-old DeMaria Jackson, though Mary senses a connection. A highly touted debut; with a 75,000-copy first printing.
Faulkner, Katherine. Greenwich Park. Gallery: S. & S. Sept. 2021. 384p. ISBN 9780063027558. $27. THRILLERS/DOMESTIC
Blessed with a picture-perfect life and finally pregnant, posh Helen happily befriends wildcard single-mother-to-be Rachel at her first prenatal class. Friends and family have their doubts about this relationship, and they're right. Soon, it's clear that Rachel knows about a crime long buried by Helen's immediate circle, and she's ready to share it with the world. From the former joint Head of News at the Times (London); with a 75,000-copy first printing.
Kurian, Vera. Never Saw Me Coming. Park Row: Harlequin. Sept. 2021. 352p. ISBN 9780778311553. $27. THRILLERS/DOMESTIC
In another big debut novel, an unexpected group of students roams a leafy, DC-based campus; they're all psychopaths, including Chloe Sevre, a first-year honors student who practices yogalates and is plotting to kill a childhood friend she thinks treated her shabbily. They're being studied by a famed psychologist and are required to wear smart watches that track their moods and movements, but that doesn't prevent one of them from getting murdered. Now Chloe is focused not on killing but surviving—and trying to discover who's running about the college with blood-stained hands. A Pushcart Prize nominee, psychologist Kurian should know her stuff; with a 100,000-copy first printing.
Parnell, Sean. Left for Dead. Morrow. Sept. 2021. 400p. ISBN 9780062986610. $27.99. THRILLERS/MILITARY
In China, Doctor Ai Liang is having a crisis of conscience, convinced that she must destroy the bioweapon she has just created, a coronavirus that's much more deadly than COVID-19; it can kill in 20 minutes. But before she can put the virus to rest, a fanatical Chinese imperialist group rushes in to steal it. Now Special Operative Eric Steele, fresh from One True Patriot, has more to deal with than conventional attack from China. From the author of the best-selling memoir, Outlaw Platoon; with a 200,000-copy first printing.
Click here for additional new Prepub Alert columns