From early days to contemporary times.
Click here for additional new Prepub Alert columns
Burns, Ken. Our America: A Photographic History. Knopf. Oct. 2022. 352p. ISBN 9780385353014. $60. HISTORY
Famed documentarian Burns offers some of his favorite photographs of the United States, while MoMA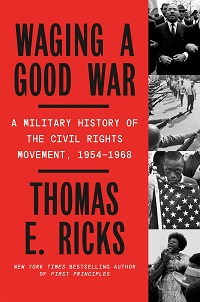 photography curator Sarah Hermanson Meister offers context. With 251 four-color images by lens masters both known and unknown.
Delmont, Matthew F. Half American: The Epic Story of African Americans Fighting World War II at Home and Abroad. Viking. Oct. 2022. 400p. ISBN 9781984880390. $30. HISTORY
Dartmouth historian Delmont (Black Quotidian) revisits the bitter irony of Black Americans fighting fascism during World War II while facing racism, with portraits of some of the million-plus men and women who served and of others like war correspondent Langston Hughes and civil rights leader Ella Baker.
Farrell, John A. Ted Kennedy: A Life. Penguin Pr. Oct. 2022. 752p. ISBN 9780525558071. $40. CD. HISTORY
Author of the Pulitzer Prize finalist Richard Nixon and Los Angeles Times Book Prize winner Clarence Darrow, Farrell has closely watched Ted Kennedy for years and here offers a hefty biography.
Freedland, Jonathan. The Escape Artist: The Man Who Broke Out of Auschwitz to Warn the World. Harper. Oct. 2022. 400p. ISBN 9780063112339. $28.99. CD. HISTORY
An Orwell Prize–winning columnist for the Guardian, Freedland tells the story of 19-year-old Rudolf Vrba, who escaped from Auschwitz in 1944 with fellow inmate Fred Wetzler to warn other Jews of the mass murder transpiring there. With a 100,000-copy first printing.
Greenidge, Kerri K. The Grimkes: The Legacy of Slavery in an American Family. Liveright: Norton. Oct. 2022. 416p. ISBN 9781324090847. $28.99. CD. HISTORY
Sisters Sarah and Angelina Grimke famously left South Carolina to preach abolition in the North. But as highlighted by award-winning historian Greenidge (Black Radical), their brother remained on the family plantation and sired several children with an enslaved woman, Nancy Weston. Limning the contributions of the Black Grimke women and the U.S. tendency to mythologize.
Hastings, Max. The Abyss: Nuclear Crisis Cuba 1962. Harper. Oct. 2022. 480p. ISBN 9780062980137. $35. CD. HISTORY
In his account of the Cuban Missile Crisis, celebrated journalist/military historian Hastings shifts his focus to the attitudes of Soviet, Cuban, and U.S. participants, explaining as much as describing their actions. With a 75,000-copy first printing.
Meacham, Jon. And There Was Light: Abraham Lincoln and the American Struggle. Random. Oct. 2022. 720p. ISBN 9780553393965. $40. lrg. prnt. CD. HISTORY
A Pulitzer Prize–winning, No. 1 New York Times best-selling biographer (American Lion), Meacham retells the life of Abraham Lincoln to show what his confrontation with enslavement and secession can teach an embattled and polarized country today.
Paul, Joel Richard. Indivisible: Daniel Webster and the Birth of American Nationalism. Riverhead. Oct. 2022. 448p. ISBN 9780593189047. $30. HISTORY Downloadable.
Early U.S. residents still tended to think of themselves as New Yorkers or Virginians rather than members of one nation. Eventually, explains Paul (Without Precedent), they had to choose between the state-focused, racist-rooted approach of Thomas Jefferson and Andrew Jackson and the single-nation precept that Daniel Webster espoused.
Poole, W. Scott. Dark Carnivals: Modern Horror and the Origins of American Empire. Counterpoint. Oct. 2022. 448p. ISBN 9781640094369. $28. HISTORY
A history professor at the College of Charleston and Bram Stoker nominee for his biography of H.P. Lovecraft, Poole pools his talents to show how the horror genre, both fiction and film, has reflected U.S. dominance in the world even as it seems to deflect readers/viewers from its consequences.
Ricks, Thomas E. Waging a Good War: A Military History of the Civil Rights Movement, 1954–1968. Farrar. Oct. 2022. 464p. ISBN 9780374605162. $30. CD. HISTORY
Specializing in military strategy, the Pulitzer Prize–winning, No. 1 New York Times best-selling Ricks (Fiasco) examines the Civil Rights movement in its light, arguing that the successes of the past century were won not only by idealists like Martin Luther King Jr. but by the kind of recruiting, training, and organization that characterizes every triumphant military campaign. With a 200,000-copy first printing.
Shetterly, Aran Robert. Morningside: A Survivor's Story of the Greensboro Massacre. Amistad: HarperCollins. Oct. 2022. 336p. ISBN 9780062858214. $28.99. CD. HISTORY
In November 1979, Ku Klux Klan and American Nazi Party members fired on an anti-Klan rally near Morningside Homes in Greensboro, NC, killing five people. After the killers' acquittal, Rev. Nelson Johnson, who had helped assemble marchers, sought to make the city face its responsibility for the tragedy with methods based on Nelson Mandela's Truth and Reconciliation Commission and Martin Luther King Jr's concept of Beloved Community. Greensboro finally issued an apology in 2020. With a 40,000-copy first printing.
Tamkin, Emily. Bad Jews: A History of American Jewish Politics and Identities. Harper. Oct. 2022. 320p. ISBN 9780063074019. $28.99. CD. HISTORY
Senior editor, US, of the New Statesman, Tamkin (The Influence of Soros) surveys 100 years of Jewish history and culture in the United States to show how varied and fluid Jewish identity really is. With a 30,000-copy first printing.