With television shows and films becoming accessible to a wider audience, more of us are embracing our favorite genres in a variety of languages and finding something to watch for our every mood.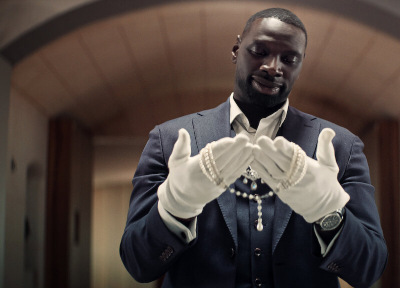 Lupin on Netflix
As we continue to spend more time at home and explore options on streaming services, we may be looking for new shows to watch. Television shows with subtitles are not only an accessible way to immerse yourself in another culture, they also allow you to truly focus on what's in front of you and notice the finer details. Over the past decade, shows with subtitles have become more mainstream and many of us are embracing our favorite genres in a variety of languages—and finding something to watch for our every mood. Here are a few of our recent favorites.
Lupin (Netflix). French. 1 season. This buzzworthy heist series centers on a son avenging his father while also figuring out how to be a father himself. As a child, Assane Diop remembers his father being arrested for theft of a necklace from his wealthy employer. The one remaining possession Diop has is a book about thief Arsène Lupin, which becomes an inspiration. He turns himself into Lupin as he sets out to determine the truth about his father, thwarting investigators at every turn.
Occupied (Netflix). Norwegian. 3 seasons. This near-future political thriller, based on an original idea by Scandinavian novelist Jo Nesbo, revolves around the Russian occupation of Norway, after Prime Minister has stopped the country's oil and gas production. The show works on multiple levels, especially as an internal political drama with plenty of intrigue. The twists and turns happen so smoothly that you hardly realize what is happening until it is too late.
Ingobernable (Netflix). Spanish. 2 seasons. Someone has murdered President Diego Nava and his wife, First Lady Emilia Urquiza, is a prime suspect. Of course, nothing is as simple as it seems, especially when it comes to family affairs and military conflict. With the First Lady on the run, there is also a group of rebels helping her, somewhat against their will, try and get the truth out. You''ll be kept in suspense, trying to figure out the who, what, and where.
Queen Sono (Netflix). English and more. 2 seasons. This South African spy series, featuring 12 languages, including Afrikaans, Xhosa, and Swahili, revolves around the life of Queen Sono as she tries to unravel the mysterious death of her mother, Safiya. You'll be dazzled by the scenery and rooting for her to solve the crime while also hoping a truly devious villain gets what coming to them. This is a fantastic romp in a well-known genre with a brand-new face.
El Ministerio del Tiempo (Prime Video and/or Sling). 4 seasons. Spanish. Fans of time travel narratives will be drawn to the inner workings of The Ministry of Time, a secret government agency trying to protect history from people wanting to change it for their benefit. Most importantly, the heart of the show—the camaraderie between characters—doesn't get lost in translation. This historical fantasy series has been earning praise for its cast and appealing costumes.
Floodland (Prime Video). 1 season. Dutch. This fast-paced police procedural takes place in a remote border area between the Netherlands and Belgium. A Black detective from Rotterdam is sent to a smaller town with a web of secrets. She teams up with a psychiatrist as they try and help an African girl, found bloody and alone, floating on a boat. The show has multiple storylines that seem disparate, but all come together quite nicely to reveal a conspiracy going back generations.