Belgian author Barbara Abel's first English translation, the basis of a big forthcoming film, and more debuts.
Click here for additional new Prepub Alert columns
Abel, Barbara. Mothers' Instinct. HarperVia. May 2023. 352p. tr. from French by Susan Pickford. ISBN 9780063306318. pap. $17.99. THRILLER/DOMESTIC
David and Laetitia Brunelle and Sylvain and Tiphaine Geniot are the closest of couples, their sons—Milo and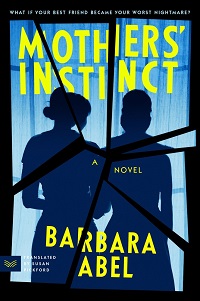 Maxime, respectively—like brothers. But when Maxime is killed in an accident, the Brunelles feel so awkward around the grieving Genoits that the couples pull apart. Then freakish little accidents plague Milo, and Laetitia suspects her former friends. Belgian author Abel makes her U.S. debut with a 75,000-copy first printing; look for the forthcoming film starring Anne Hathaway and Jessica Chastain.
Murphy, Nora. The New Mother. Minotaur: St. Martin's. May 2023. 304p. ISBN 9781250822444. $28. CD/downloadable. SUSPENSE
When her husband returns to work after the birth of their son, Oliver, Natalia is left alone in a new house and a new neighborhood with a fussy baby who won't sleep. Neighbor Paul proves a godsend, managing Oliver in the way his own father can't, but unfortunately Paul wants something in return. A debut novel with a 75,000-copy first printing.
Rosenblum, Emma. Bad Summer People. Flatiron: Macmillan. May 2023. 272p. ISBN 9781250887009. $28.99. THRILLER
During the summer, Jen Weinstein and Lauren Parker dominate the town of Salcombe, on fashionable Fire Island off Long Island's southern shore, where their husbands have summered together since childhood. It looks like another fun sun-and-salt season until a dead body appears on the boardwalk. Rosenblum debuts with a 200,000-copy first printing.
Walters, Vanessa. The Nigerwife. Atria. May 2023. 320p. ISBN 9781668011089. $27.99. THRILLER
One of the Nigerwives—foreign women married to rich Nigerian men—Nicole Oruwari left drizzly London behind to lead a life of luxury in Lagos. When she disappears, her estranged auntie Claudine boards a plane for Lagos and starts investigating, discovering things about Nicole that an aunt would never want to know about a niece. From London-born, Brooklyn-based debuter Walters.