From evacuating the treasures of China's Forbidden City in the 1930s to the Nazi conspiracy to assassinate Roosevelt, Churchill, and Stalin in 1943.
Click here for additional new Prepub Alert columns
Brookes, Adam. Fragile Cargo: The World War II Race To Save the Treasures of China's Forbidden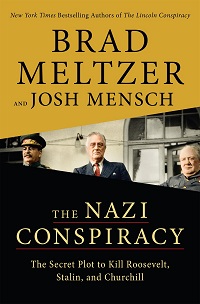 City. Atria. Feb. 2023. 384p. ISBN 9781982149291. $28.99. HISTORY
Leebaert, Derek. Unlikely Heroes: Franklin Roosevelt, His Four Lieutenants, and the World They Made. St. Martin's. Feb. 2023. 496p. ISBN 9781250274694. $32.50. HISTORY
Meltzer, Brad & Josh Mensch. The Nazi Conspiracy: The Secret Plot to Kill Roosevelt, Stalin, and Churchill. Flatiron: Macmillan. Jan. 2023. 400p. ISBN 9781250777263. $29.99. CD. HISTORY
Siegal, Nina. The Diary Keepers: World War II in the Netherlands, as Written by the People Who Lived Through It. Ecco. Feb. 2023. 304p. ISBN 9780063070653. $29.99. CD. HISTORY
From BBC's Beijing correspondent, Fragile Cargo chronicles efforts by the museum curators of the Forbidden City, home to China's emperor, to evacuate its many treasures as political tensions escalated within the newly formed Republic of China and the Japanese began bombing Shanghai. Truman Book Award winner Leebaert's Unlikely Heroes reexamines four key people—Harry Hopkins, Harold Ickes, Frances Perkins, and Henry Wallace, all seen as outsiders—who served in President Franklin Delano Roosevelt's administration from April 1933 until Roosevelt's death in April 1945 (30,000-copy first printing). The New York Times best-selling authors of The First Conspiracy and The Lincoln Conspiracy, top-notch thriller writer Meltzer and Mensch, a documentary television producer, chronicle The Nazi Conspiracy to assassinate Franklin Roosevelt, Joseph Stalin, and Winston Churchill at their 1943 meeting in Tehran (300,000-copy first printing). From U.S.-born, Netherlands–based Siegal, a novelist/journalist raised in a family of Holocaust survivors, The Diary Keepers blends writings from more than 2,000 diaries kept by Dutch citizens during World War II (125,000-copy first printing).
Click here for additional new Prepub Alert columns