The Booker T. Washington Papers Digital Edition gives access to multiple volumes of the innerworkings an instrumental Black educator and author. Researchers and historians will revel in the richness of this collection. Although, the platform is outdated and difficult to navigate at times, the significance of the information is likely unparalleled.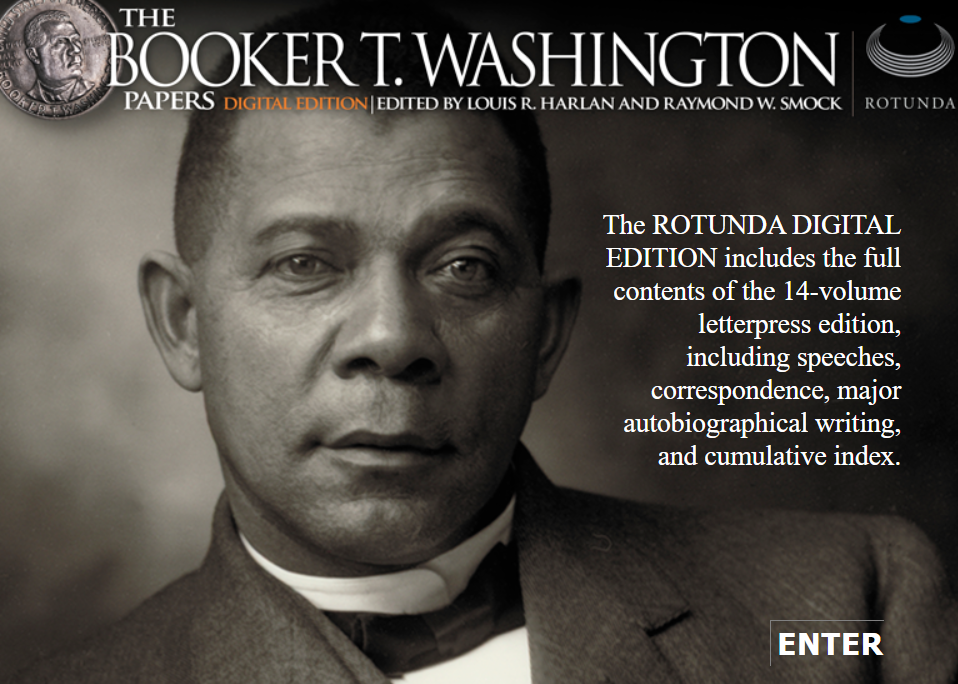 CONTENT
Launched in 2021, the Booker T. Washington Papers Digital Edition delivers enriched online access to a massive 14-volume edition of Washington's correspondence, speeches, and other papers (originally published between 1972 and 1989 by the University of Illinois Press). The Digital Edition is hosted on the University of Virginia Press's Rotunda platform, along with the papers of James Madison, Alexander Hamilton, George Washington, Ulysses S. Grant, and many other influential figures in early U.S. history. As one of the country's most influential Black leaders, Booker T. Washington (1856–1915) is overdue for representation in such a collection.
USABILITY
The Rotunda platform resembles Chadwick-Healey or other legacy platforms from 15 years ago. The pages fail to adjust automatically to the sizes of smartphones or tablets, and the navigation and content feel cramped. A compass tool enables researchers to click between pages, but this tool is superfluous and hard to use. Content is exclusively in HTML format and downloadable only as JPEG images—and only one page at a time. To offer a reading experience comparable to print, the publisher should allow researchers to download entire documents and volumes as PDFs. Pagination from the original print edition is embedded in the HTML text, enabling researchers to conveniently locate page numbers when citing materials. An "about" page provides guidance on navigating, searching, and customizing the site (including deactivating the compass feature). Structure and searchability are where this resource shines. The Digital Edition is uniquely interactive. It enables researchers to drill down easily to pinpoint documents by decade, year, month, and day and to search with precision across all 14 volumes of Washington's papers simultaneously—capabilities that put regular static ebooks to shame. The Digital Edition also features a complete subject index with hyperlinked references; clicking on a page number in the index takes researchers to the corresponding page in the text. Disappointingly, the Digital Edition doesn't include supplements (e.g., scholarly essays, biographies, photos, video lectures, teaching guides)—there is only the content that was published in the original print volumes. Researchers can browse "contents" (volume-level and chapter-level access that mirrors the layout of the print editions); interact with the "chronology" to search by date (decade, year, month, and day); or conduct keyword searches and limit results by content type (primary sources versus footnotes), persons' names (authors or recipients), date range, and other elements.
PRICING
The resource is available for one-time purchase, with costs ranging from $215 to $2,146, depending on the buying institution's Carnegie classification. Individuals can purchase access for $215. Pricing is transparent and posted openly online.
VERDICT
The Booker T. Washington Papers Digital Edition will appeal to historians and advanced researchers. For these patrons, the robust searchability and the completeness of Washington's papers might outweigh the outdated user interface and limited ability to download content. By investing in platform improvements, the publisher could make this resource a must-have.