Going virtual in a pandemic year, the National Book Awards reveals that writing matters more than ever.
In a year fraught with pandemic and political turmoil, the 71st National Book Awards ceremony went virtual, continuing its celebration of books in a well-conceived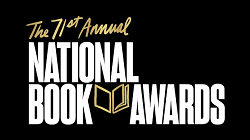 presentation hosted by Jason Reynolds. Bearing witness was the key theme. Said Fiction committee chair Roxanne Gay, "It's hard to write when the world is falling apart and even harder to write well. It is hard to believe writing matters as democracy threatens to shatter when, in fact, writing and all art matter more than ever."
The National Book Foundation (NBF) started by acknowledging past failures. Only three people of color won awards in the first three decades of the organization's history, and this year Walter Mosley was the first Black man to receive the foundation's Lifetime Achievement Award. In a video focusing on the importance of Black voices, LeVar Burton said in voiceover, "We acknowledge that inequities in culture and in books can do real material harm, and the power that this organization wields to shape literary tastes and trends means that we must bear this in mind always." The video included clips of writers from John Lewis and Nikki Finney to Jesmyn Ward and Ta-Nehisi Coates accepting their recent NBA awards.
The importance of inclusion continued with the winners' acceptance speeches. Yu Miri, an ethnic Korean in Japan like the ghostly protagonist of her Translated Literature Award winner, Tokyo Ueno Station (Riverhead), pointed out that translator Morgan Giles had a real challenge. The book is not written in standard Japanese but the dialect of the Fukushima exclusion zone where the author lives. A first-time translator, Giles returned the virtual high-five by thanking Yu Mira for letting her translate such a "beautiful" book.
South Korean–born poet/translator Don Mee Choi's Poetry winner, DMZ Colony (Wave), investigates postcolonial violence while negotiating the complex relationship between South Korea and the United States. Quoting Allen Ginsberg's observation in his 1974 National Book Award acceptance speech that "our military has practiced subversion of the popular will abroad and can do so here if challenged," Choi echoed Gay by saying, "It is more important than ever to engage in the nonpredatory idle labor of reading and writing poetry and translation and be on side of…those sat upon here and abroad."
In the spirit of honoring others, Tamara Payne spoke movingly of her late father, Les Payne, thanking him for bringing her on as "copilot of The Dead Are Arising: The Life of Malcolm X (Norton), a biography of "one of the most important figures in 20th-century America." Kacen Callender, whose King and the Dragonflies (Scholastic) won the Young People's Literature Award, said, "I'm not the only one to believe that these next generations are the ones that are going to change everything," adding "I am grateful to be impacted by the power of young people." Acknowledging how hard the year had been, Charles Yu, whose Interior Chinatown (Pantheon), was this year's fiction winner, commented, "To be here hearing about these books...is what keeps me going, and I hope that this community can sustain other people in the same way."
Longtime president and CEO of Simon & Schuster, Carolyn Reidy posthumously received the Literarian Award for Outstanding Service to the American Literary Community, with her husband, Stephen Reidy, accepting. Capturing the impetus driving the NBF, he spoke of her passionate belief in publishing as "promoter of author-reader magic" and her desire to expand the audience for books because they "don't just reflect our culture but help to create it."
Mosley, too, highlighted his love of writing, "its slippery slopes and foolish errands, silly puns and bone-rattling metaphors, its ability to offer over the millennia the deep well of human invention in defiance of despots, wars, poverty, and ever encroaching techno-values." For this reason, he sees writing as "political and democratic in the extreme. We are free in our minds to imagine, to conjure, anything at all."
Conjured throughout the night was the belief that as the literary community embraces all voices, writing can move the world forward. " This evening is one of 10,000 steps taken to recognize the potential of this nation we the people who are darker than blue built brick by brick," said Mosley. "We've been here from beginning and will be here at the end, our heads held high, when the promise of equality is achieved ."