At New York Public Library's Schomburg Center, artists and writers convened to discuss an iconic image in rap history and celebrate a recent book collecting images of hip-hop artists.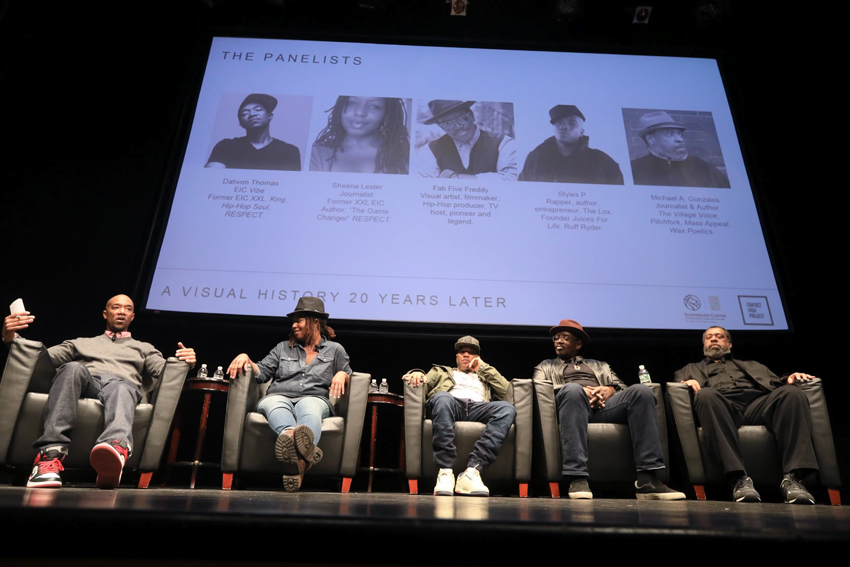 From l to r: Datwon Thomas, Sheena Lester, Styles P, Fab Five Freddy, Michael Gonzales
Photos by William Farrington for the Schomburg Center for Research in Black Culture

The adage "A picture is worth a thousand words" was proven right at an event held at New York Public Library's Schomburg Center for Research in Black Culture, where an iconic image in hip-hop culture sparked a spirited trip down memory lane.
On September 29, 1998, more than 200 hip-hop artists made their way to a brownstone in Harlem, where the pioneering filmmaker and photographer Gordon Parks photographed them for the cover of the hip-hop magazine XXL. Forty years earlier, at the same location, Art Kane had taken the landmark photo A Great Day in Harlem, which depicted 57 jazz greats.
Several of the people responsible for organizing Parks's photo, A Great Day in Hip-Hop, convened at Schomburg on November 7, just blocks away from the site of the shoot, to reminisce and also to celebrate the publication last month of Vikki Tobak's Contact High: A Visual History of Hip Hop (Clarkson Potter), a collection of more than 100 defining photographs in hip-hop history.
The evening kicked off with a short film, Great Day in Hip Hop, by Nelson George, who documented Parks's shoot and called his footage a "testament to not throwing anything away."
Tobak was on hand to sign her books and to introduce a panel of artists and writers who told the story of Parks's photo, including Sheena Lester, who was then editor-in-chief of XXL. When Lester joined the magazine's staff, the idea for a remake of A Great Day in Harlem was already being discussed, but many thought the project was too ambitious for the fledgling publication. However, Lester refused to think small. "It never occurred to me…that the cover couldn't happen."
Journalist Michael Gonzales, whose girlfriend Lesley Pitts worked on the shoot, suggested hiring Parks, who at the time was "just kind of in the air," from an HBO special on his work to an exhibit at the Museum for the City of New York.
"I knew that having Gordon would bring a different kind of prestige to the photograph, and press-wise, it would make mainstream publications pay attention," Gonzales said, adding, "I didn't think they would actually be able to get him."
Persuading Parks to sign on took some effort.
"The entire spiel was, we were re-creating this beautiful photo in the same place that the jazz artists he so revered had consecrated the space," Lester said. Referencing Parks's work documenting the civil rights movement and his founding of Essence magazine, she told him, "For every reason in the world that really matters, no other photographer should take this picture but you."
Though Parks has a storied past as a photographer, his work as a filmmaker resonated most with rapper and hip-hop pioneer Fab Five Freddy, who appears in the photo.
"Growing up in Bed-Stuy, I was one of those kids that went to see Shaft," he said, referring to the 1971 film that Parks directed. "This was the first time you had black heroes on screen that were cool."
Like Parks, Fab Five Freddy was very aware of A Great Day in Hip-Hop's roots. The rapper remembered his father lovingly poring over Kane's original photo, pointing out his favorite legends—"Man, that's Monk over there. That's Sonny Rollins." Fab Five Freddy's, and his father's, deep familiarity with A Great Day in Harlem made him especially appreciative of what Parks was attempting.
Lester and her staff knew they had a monumental task, but nothing prepared them for the surge of emotion that both they and the artists experienced. The subjects checked in at the nearby Metropolitan Community Methodist Church. However, most were so excited to meet fellow artists that they lingered at the church, laughing, talking, and swapping stories, before moving to the shoot site.
While the 1998 shoot brought together many big names, from Kool Herc to Queen Pen to Fat Joe to Russell Simmons, rapper Styles P noted that the vibe was affectionate and respectful.
"When you get a bunch of people with money in the room, or positions of power, you often feel some sort of tension," he said. "I think everybody was just a fan of everyone that day."
Editor-in-chief of Vibe magazine Datwon Thomas, then an editorial assistant at XXL, who moderated the panel, remembered that getting the shot before the shadow line reached above the subjects' chins was a challenge. He recalled people shouting, "We're losing Jermaine Dupri!" as the shadows threatened to cover the short-statured rapper and producer.
Though the sunny weather and block party atmosphere made for a festive day, more than that, the shoot was a testament to the power of hip-hop.
"As an artist, you're not really sure how big this thing of ours is," Styles P said. "I never really knew how big rap was until that day."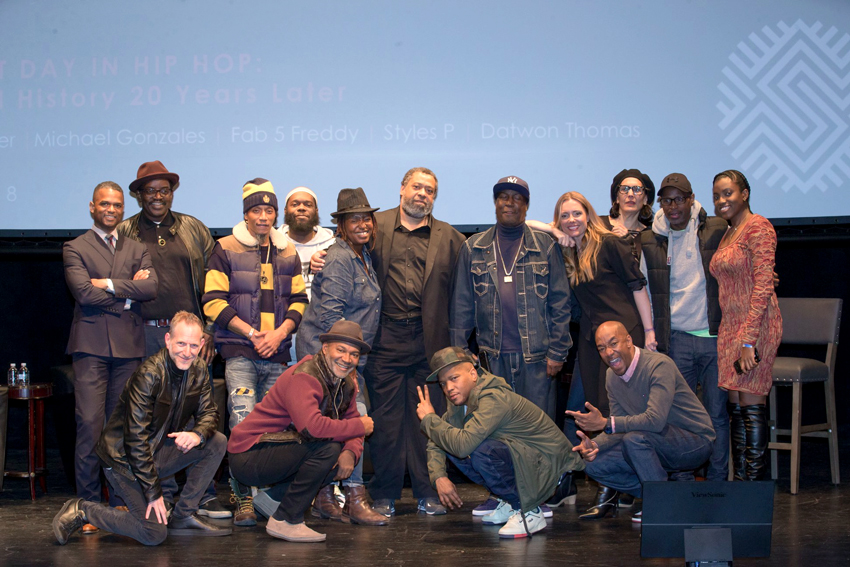 All the participants at the event involved in A Great Day in Hip-Hop gather for a group shot

For Fab Five Freddy, even the venue of the NYPL event drove home the significance of the shoot.
"Being here in the Schomburg, especially, the world's foremost place for research in African American culture and history, is just so appropriate," he said.
Many luminaries were in the audience at the Schomburg Center, such as rapper Kool Keith and photographer Barron Claiborne. Several joined the stage for the Q&A, including rapper Grandmaster Funk, also portrayed in the photo.
"We didn't know that this was going to turn out to be one of the biggest musical cultures on planet Earth," Grandmaster Funk said. "We are all responsible for making this thing the biggest thing on planet Earth. I'm the happiest person in this building right now."
The evening wrapped up with XXL cofounder Jonathan Rheingold showing off an image he snapped of Parks that day, which he presented to the Gordon Parks Foundation, and all the participants who had been involved with A Great Day in Hip-Hop posing for a photo.