Astronomy, life sciences, and nutrition.
Click here for additional new Prepub Alert columns
Brookshire, Bethany. Pests: How Humans Create Animal Villains. Ecco. Dec. 2022. 352p. ISBN 9780063097254. $28.99. CD. NATURE
From bats in the belfry to rats in the garden to rabbits, deer, pigeons, coyotes, and more, there are many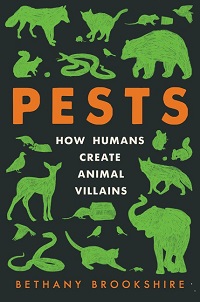 animals that humans have come to regard as pests. As award-winning science journalist Brookshire argues, this has nothing to do with the animals themselves and everything to do with the line we draw between what we see as ours and the wild other. With a 75,000-copy first printing.
Cox, Brian & Jeff Forshaw. Black Holes: The Key to Understanding the Universe. Mariner: HarperCollins. Dec. 2022. 352p. ISBN 9780062936691. $29.99. CD. ASTRONOMY
Known for his BBC Wonders series, BBC podcast "The Infinite Monkey Cage," and numerous Sunday Times best sellers, University of Manchester professor Cox joins with colleague Forshaw to explain those enticing black holes in outer space. With a 40,000-copy first printing.
Greger, Michael, M.D. How Not To Age: The Scientific Approach to Getting Healthier as You Get Older. Flatiron: Macmillan. Dec. 2022. 576p. ISBN 9781250796332. $34.99. CD. NUTRITION
Founder of NutritionFacts.org and author of the New York Times best-selling "How Not To Die" series, Greger argues that all the negatives of growing older can be countered by proper eating, e.g., quercetin-rich foods like onions, apples, and kale can wipe out the senescent (aka zombie) cells linked to infection and many age-related diseases. Lots of strategies here; with a 500,000-copy first printing.
Imbler, Sabrina. How Far the Light Reaches: A Life in Ten Sea Creatures. Little, Brown. Dec. 2022. 272p. ISBN 9780316540537. $27. Downloadable. SCIENCE
Revealing the glories of marine life through 10 distinctive creatures, like the mother octopus who starves herself while tending her eggs, science writer Imbler then reveals their own experiences as a queer, biracial author to connect these often endangered sea creatures to marginalized human communities.
Mainwaring, Richard. What the Ear Hears (and Doesn't): Inside the Extraordinary Everyday World of Frequency. Sourcebooks Landmark. Dec. 2022. 336p. ISBN 9781728259369. pap. $16.99. SCIENCE/ACOUSTICS
Musician/composer Mainwaring discusses the science of frequency, which involves a whole lot more than your favorite song. From buildings that shake when, say, a dance class tunes into its natural frequency, to the use of frequency in medicine and a source of religion's inspiration, to the famous "world's loneliest whale" with its unique call, frequency is of vital importance in everything.