From Sanderson and Roberts to an anthology of African and African diaspora sf/fantasy.
Click here for additional new Prepub Alert columns
Marske, Freya. A Restless Truth. Tordotcom. Nov. 2022. 400p. ISBN 9781250788917. $27.99. FANTASY/HISTORICAL
Hopping aboard an ocean liner as an older lady's companion to help her older brother crack a generations-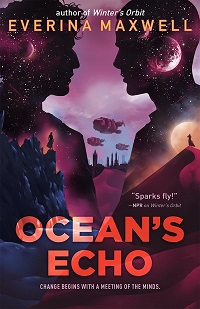 old magical conspiracy, Maud Blyth must deal with both the woman's death and a powerful attraction to scandalous passenger Violet Debenham, an actress and magician. Following up the multi-best-booked A Marvellous Light, winner of the Romantic Novel Award in Fantasy; a 100,000-copy first printing.
Maxwell, Everina. Ocean's Echo. Tor. Nov. 2022. 464p. ISBN 9781250758866. $27.99. SF/SPACE OPERA
In the universe of Maxwell's LJ-starred, Alex-winning Winter's Orbit, man-about-town Tennal is a neuromodified mind reader shadily conscripted into the military and assigned to Lt. Surit Yeni, who can influence minds. Too principled to obey illegal orders to control Tennal, Surit instead plots with him to fake a sync bond and help him escape. With a 100,000-copy first printing.
Polk, C.L. Even Though I Knew the End. Tor.com. Nov. 2022. 144p. ISBN 9781250849458. $19.99. FANTASY/HISTORICAL
In this latest from World Fantasy Award winner Polk, a magical detective who sold her soul to save her brother's life refuses a final assignment before being consigned to hell for eternity, then reconsiders when she's offered the chance to grow old with the woman she loves. Her task: find the White City Vampire, a vicious Chicago killer, in three days. With a 60,000-copy first printing.
Roberts, Nora. The Choice. St. Martin's. (Dragon Heart Legacy, Bk. 3). Nov. 2022. 448p. ISBN 9781250272720. $29.99. CD. FANTASY
In this conclusion to the trilogy begun with The Awakening and The Becoming, Breen Siobhan Kelly rests comfortably now that her evil-god grandfather's efforts to control her and her homeland of Talamh have been waylaid. Then treacherous witches appear in her dreams, threatening to destroy her and the innocents around her. With a one-million-copy first printing.
Sanderson, Brandon. The Lost Metal: A Mistborn Novel. Tor. Nov. 2022. 464p. ISBN 9780765391193. $29.99. FANTASY
In their final outing as part of the "Mistborn" series, Wax and Wayne–that is, Waxillium and Wayne, joined by Marasi—journey to the city of Bilming, in turmoil as it attempts to break away from the central government in Elendel. Actually, it's under the sway of the dangerous god Trell. With a 500,000-copy first printing.
Tan, Sue Lynn. Heart of the Sun Warrior. Harper Voyager. Nov. 2022. 448p. ISBN 9780063031364. $27.99. CD. FANTASY
In this sequel to the LJ-starred Daughter of the Moon Goddess, Xingyin has secured her mother's release from the Celestial Emperor, but disturbing magic on the moon and upheaval within the Celestial Kingdom as the emperor amasses power forces her to flee to the Immortal Realm. With a 75,000-copy first printing.
Thomas, Sheree Renée & others. Africa Risen: A New Era of Speculative Fiction. Tordotcom. Nov. 2022. 528p. ISBN 9781250833006. $27.99. SF/FANTASY
Locus and World Fantasy finalist Thomas, Nommo Award–winning speculative author Oghenechovwe Donald Ekpeki, and Zelda Knight, a USA Today best-selling author and British Fantasy Award–winning editor, join forces to present 32 original stories highlighting the power of fantasy and SF from Africa and the African diaspora. With a 50,000-copy first printing.