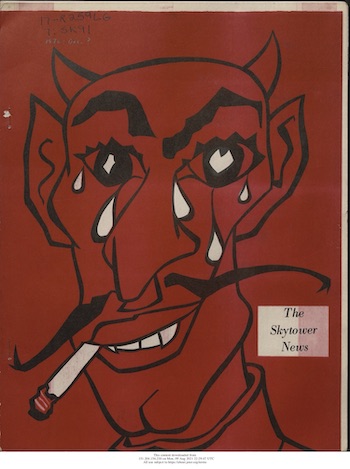 Cover of The Skytower News: Inmates of the Kentucky State Reformatory
Editor, James Manley; art contributed by Don E. Scott and James Stewart
Reveal Digital, part of Ithaka's not-for-profit digital arm JSTOR, has launched a new project, American Prison Newspapers 1800­–2020: Voices from the Inside. The initiative aims to digitize newspapers published in prisons from nearly every state in the United States and make them available on an open access (OA) basis—the first time these documents have been assembled in one place. Development of the collection began in July 2020, with new content added regularly.
Since 1800, incarcerated people have written for newsletters and newspapers created, edited, and produced within prisons. By 1936, almost half of U.S. prisons had an "inmate publication," but today only a handful remain, including The Angolite, a magazine edited and published by prisoners at Louisiana State Penitentiary, St. Francisville (called Angola after the plantation which previously occupied that land, which was in turn named after the African country of origin of many enslaved people who were brought to the state). Another remaining publication is San Quentin News, the prisoner-run newspaper of San Quentin State Prison, CA.
Reveal Digital's open access digital collection of newspapers produced by people who are or have been incarcerated will form an important corpus of research material for students, researchers, teachers, legislators, and the public, allowing them to learn about the experience of being imprisoned through firsthand voices—and Reveal Digital is working to ensure that the material will be available within prisons.
"These are people reporting on the outside world as well as their own experience inside," said Reveal Digital senior editor Anne Ray. "They chronicle the life of the prison, the populations, the interaction with the administration, and also with the outside world to the extent that they can."
The project, which plans to digitize at least 250,000 pages of prison newspapers—at a rough guess, said Ray, about 75 percent of the material they know to exist, with the caveat that "I discover a new title that I hadn't identified every week"—was made possible by Ithaka's support, a $500,000 grant from The Andrew W. Mellon Foundation, and additional funding from 63 libraries to date, including those that are part of Reveal Digital's Diversity & Dissent Fund.
ENSURING PRIVACY, ACCESS
The team behind the project has developed a rigorous process for tracking down the people who produced the publications whenever possible. They check mastheads, investigate to see whether the writers and artists are still incarcerated, and do their best to locate them—a task made harder by the fact that a number of authors wrote under pseudonyms. Ray has mostly met with enthusiasm when she asks for permission to digitize the papers. "We're really trying to respect the work of people and not just treat [the publications] like a random government document."
Ray requests permission in writing from the content creators, offering them choices of Creative Commons license types, and giving them the option to have the material taken down at any time. They are also provided with a digitized copy of the materials whenever possible, with no restrictions on how they use it. Reveal Digital does not currently have the funding to offer them monetary compensation. Newsletters published by Alcoholics Anonymous chapters are not included in the collection, nor are juvenile publications created after about 1940.
Two members of the project's advisory board were formerly incarcerated, and have helped guide Ray on how to respond to requests and—particularly important to the project's mission—provide access to the populations that created it. Working with Ithaka to develop an offline version of the American Prison Newspapers for use in prisons is critical, said Ray. "If people can't look at it, then they can't be a part of it," she said. "Making that possible to the real stakeholders is part of responsible access."
Reveal Digital's mission to provide access to America's Prison Libraries represents "the confluence of two major themes for Ithaka," said JSTOR Labs Associate Vice President and Director Alex Humphreys. "One is open access and the availability of primary source materials, which Reveal Digital has been a big part of, and the other is our work with prison education and making library resources available inside prisons."
JSTOR has been working on solutions for prison education since around 2007, Humphreys told LJ, when the Bard Prison Initiative wanted access to JSTOR inside an institution that did not have internet access. The answer, he said, was "a kind of chewing gum and duct tape solution"—a thumb drive holding a search index that was brought into the facility's computer lab. Students would access the thumb drive and do a search on JSTOR without being able to pull up content; instead, Humphreys said, "they would request what they wanted and faculty would go back to campus, print up the material, and bring it into the facility where students would get access a week or so later, once it had passed through the prison's media review process." Still, he added, it was better than the existing method of research by proxy in prisons, where students would tell a librarian or staff member what they wanted to research and the librarian would bring in five to 10 printed articles.
JSTOR, with the help of grants from Mellon and Ascendium, has been running pilot projects to improve and expand on access to its content inside prisons, including an improved version of the offline solution that offers actual content—and Ithaka is beginning a project to pilot a direct access solution where limited website access is permitted.
There are many variables within each institution, noted Glahn: "Do they have space to have computer equipment, where you could house that content? What are the censorship issues—that varies from prison to prison, state to state, on how much access they want people to have to various kinds of content? How much control? Technical issues—is there someone there to support having the computers?" But Ithaka's goal, said Humphreys, "and we're hoping to get there pretty quickly, is to make JSTOR freely available to every higher education in prison program in the U.S. and beyond."
Cover of Pea Pickers Picayune: Inmates of the Arkansas Department of Correction
Illustration by "Hughes"
FINDING PRISON PAPERS
Reveal Digital first became aware of the prison press from a longtime supporter, Whitman College, Walla Walla, WA, which holds an extensive collection of prison publications, many from Washington State Penitentiary. Whitman archivists approached Moyer about possibly digitizing them, sparking the idea of collecting and digitizing newspapers produced by incarcerated writers from across the country.
"We found that there's a huge history of these publications that is really untold," said Ray. Moyer and the Reveal Digital team began to track down any prison journalism they could find, eventually identifying close to 500 individual titles representing all 50 states.
Their task was not easy. Publications were dispersed throughout many kinds of institutions, from libraries and archives to the prisons themselves, and were catalogued inconsistently. Some were classified as government documents, others as state history. Years' worth of prison newspapers were often found sitting on the shelves of university archives or state libraries, where they had been sent along with financial and annual reports. Often library staff didn't know they existed until Ray and her team reached out to them.
On a typical search mission, Ray recalled, she located two Kentucky prison papers in the University of Kentucky library catalog. "Then the wonderful person who was scanning the newspapers on site went down to the shelf to look for them, and she found another one that I had never heard of that was not on our list, and was not in their catalog," she said. "It was just sitting there. If we weren't doing this, it would literally have stayed completely hidden. Those examples just keep happening. It's the most wonderful part of this project for me."
To help bring the collections to a popular audience, Reveal Digital created three webinars in fall 2020 featuring speakers with expertise on the subject: historian James McGrath Morris, author of Jailhouse Journalism: The Fourth Estate Behind Bars (Transaction, 2001); Kerry Myers, deputy director of the Louisiana Parole Project and former editor of The Angolite; and Yukari Iwatani Kane and Shaheen Pasha, cofounders and codirectors of the Prison Journalism Project, a national independent initiative that trains incarcerated writers in the tools of journalism and helps them reach an outside audience through their own publications and partnerships with mainstream media organizations. "We had such a good experience bringing in the community of people engaged with the history of prison journalism," said Ray. "We wanted to try to do more to get the public, and people who are in the media, connected with this…underseen type of journalism."
Another strategy to publicize American Prison Newspapers involves a partnership with JSTOR Daily online magazine. In addition to helping fund the creation of the collection, the Mellon Foundation grant will allow JSTOR Daily to hire a dedicated editor to cover topics around the justice system, including prison journalism and the intersection of the media and prisons. "We've seen that JSTOR Daily is a really powerful tool to get people connected to the scholarship that's in JSTOR," said Ray. "Doing something concentrated like this, with the intention to highlight the voices of the incarcerated and also cover the justice system and the experience of people who have gone through it, is going to be something kind of new for JSTOR Daily—but also is going to help people connect with the actual prison newspapers."
The grant will also fund an engagement and curriculum fellow to help develop journalism instruction programs for those who are incarcerated. This will include creating LibGuides, detailed information about the collection, and a suite of teaching materials, as well as conducting outreach to people who are teaching within the prison system. Not only will these instruction materials help bring the content to those who can use it, noted Ray, but "doing that work, as we're creating the collection, will help shape it with the deep input of people who we know will use it."
COLLABORATIVE FUNDING FOR UNDERREPRESENTED VOICES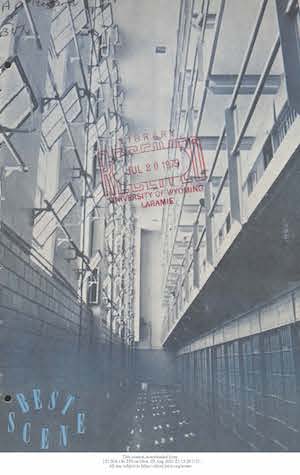 Cover of Best Scene: Inmates of the Wyoming State Penitentiary
Editor, Bob Jones; photography by Rick Nichols and Roy Scott.
Reveal Digital has been developing OA primary source collections from underrepresented 20th-century voices of dissent since its founding in 2010 by Jeff Moyer. Sourced from a range of libraries, museums, historical societies, and individual collectors, Reveal Digital's collections include Independent Voices—counterculture and alternative press publications from the 1930s through 1980s, Documenting White Supremacy and its Opponents in the 1920s, Student Activism on Campus in 20th-Century America, and now American Prison Newspapers 1800–2020: Voices from the Inside. "Our mission is to always do projects that are really capturing the radical, alternative, dissenting, often very difficult and challenging types of publishing out there in the world," said Ray. Collections are hosted on the JSTOR platform.
A unique financing structure brings libraries and archives in as Reveal Digital's funders. Using a crowd-publishing model, libraries pool funds—either through a one-time contribution or a multiyear commitment—to develop the collections and cover publishing costs that have been set in advance, and an editorial board made up of library leaders helps curate the content. Funding libraries are given early access to content as the collection is built, and receive usage reports, MARC records, and regular progress reports. When the cost recovery threshold is reached, the collection is then made fully OA; American Prison Newspapers reached its goal this year and the collection was opened to all in May. Funding libraries in the Diversity & Dissent Fund include members of the Big Ten Academic Alliance and the California Digital Library, among many others.
Moyer's model resonated for many users. "That idea of participating meaningfully in a project that was ultimately going to be open to everybody was super exciting to people," Reveal Digital Associate Director Peggy Glahn told LJ. While each collection has different needs, the overarching goal "is to be transparent, to make this material open as soon as possible, and to create content collections that are both meeting the goal of surfacing voices from communities and groups of people that aren't well represented, and also meeting actual research needs in libraries."
LISTENING TO VOICES INSIDE
Breaking down the barriers to Reveal Digital's content, noted Humphreys, goes both ways—providing access to content in penal institutions, and bringing voices out. "There are scholars on the inside who are worthy of being published on the outside," he said. "They're doing some really amazing work and some incredible research. We want to support them, and we want to help them find a way to be a be a deeper part of society."
In addition to scholars, students, and historians using the collection, Ray hopes to see journalists interacting with it. "This whole endeavor of journalism within prisons is disconnected from the journalism" that occurred outside them, she said. "In some cases, the narrative that was told in the public is very different than what the experience of the incarcerated was as they covered it." Some prison publications were state-sanctioned, with the warden's name on the masthead; others were censored, and still others produced underground and hidden from prison administration. Dan Berger, associate professor and director of the Washington Prison History Project at the University of Washington at Bothell, was instrumental in locating a number of the underground publications. Students of print history will also find it interesting, added Ray. Publications were often photocopied or mimeographed on old machines, and the older papers used handmade wood and vinyl cuts for illustrations, or images of handwriting. "There's this hidden print history that is just within prisons," she said.
In addition to the political, sociological, and ethical issues they highlight, Ray was also struck by the publications' beauty—"the community building and the hope, and the life that's documented in them. There are movie reviews and concert reviews. Some prisons have rodeos out west," she said. "[The collection] really captures the fierceness of the human spirit."