Representatives from Gale, EBSCO, Oxford University Press, and Bloomsbury discuss upcoming products, the need to address bias, and what makes an ideal reference resource.

Information needs continue to evolve, and reference publishers have stepped up, compiling and presenting information in efficient, clear, accessible, accurate, organized, intuitive, and often beautiful ways. Rather than hunker down and cling to "business as usual," reference publishers are taking a look at where changes are needed and they've shared their responses about the state of reference with LJ.
WHAT'S NEW ON THE HORIZON
Publishers have a variety of upcoming products. Sara Earley, senior vice president of research databases at EBSCO, notes that Academic Search, Business Source, and full-text versions of MEDLINE now include ahead-of-print or online-first articles, resulting in a more comprehensive and timely research experience. EBSCO is also increasing integration options to make products accessible within the users' workflows, whether that is in a school LMS or on the open web. EBSCO's new full-text Ethnic Diversity Source will cover culture, traditions, social treatment, lived experiences, and other aspects of underrepresented groups across North America with a curated collection of scholarly journals, ebooks, biographies, videos, and primary source documents.
Michelle Kelly, global marketing director at Bloomsbury Digital Resources, is excited about Drama Online, which features playtext content, streaming video, and audio plays. Drama Online debuted the National Theatre Collection 2 in September. Among the 20 films are recent productions of Hedda Gabler (Ruth Wilson, Rafe Spall), All My Sons (Sally Field, Bill Pullman), and Rockets and Blue Lights (a new play by Winsome Pinnock). Bloomsbury Collection, Bloomsbury's ebook library, is now home to more than 14,000 titles, and Bloomsbury Fashion Central is moving in December to a new digital hub to integrate access to the Bloomsbury Fashion Video Archive with the other resources in the Bloomsbury Fashion Central suite.

Gale's innovations, says Paul Gazzolo, senior vice president and general manager at Gale, part of Cengage Group, include Gale Primary Sources Learning Centers, an "all-in-one" instructional tool, built for the student researcher, to orient new users, spark inspiration for new research topics, and provide guidance and best practices for users and educators. Gale Digital Scholar Lab includes embedded how-to videos and sample projects for novice users. Gale Case Studies targets undergraduate faculty with online access to highly curated archives to explore contemporary social issues through the lens of history.
Ada Brunstein, head of reference editorial at Oxford University Press, is excited about the fall launch of Oxford Research Encyclopedias in Anthropology and in Planetary Science, which converge "not at the book level but at the discipline level." Brunstein is also thrilled about "the scale of our online reference publishing and about the size of the community we have built around our expansive digital modules." Oxford is leveraging hundreds of board members to curate its content to reflect foundational and emerging areas in their disciplines, and thousands of authors have written overview articles for its Oxford Research Encyclopedias, Oxford Handbooks, and Oxford Bibliographies.
TACKLING BIAS AND RACISM
Many organizations and institutions are undergoing a collective reckoning, working to identify, address, and correct for systemic racism on an ongoing basis. OUP examined content across multiple publications, commissioning editors to work with editorial board members and revisiting legacy content to correct historical biases and fill gaps in coverage in cases where marginalized groups contributed to a field but were written out of its history. Brunstein says, "We have also responded to insightful comments from librarians, reviewers, and authors who are reading our material carefully and rightly pointing out where we need to update our literature." She notes that there are some challenges when seeking to preserve the historical record and its biases while also doing the essential work of updating scholarship to reflect today's understanding.
Earley references examples of EBSCO's efforts to improve strategies and products to be more diverse and inclusive. These include "modifying EBSCO content curation strategies to be more inclusive; updating outdated terminology in subject headings; developing a strategy to systematically review people, organizations, media titles, locations and other topics in our taxonomy; and establishing a 'sensitive term review' that ensures we are equitably indexing."
"We're making a concerted effort on all products to ensure that they include voices across the spectrum, that they reflect the contributions of those who may have previously been overlooked or unrepresented, and finally, we're reconsidering what it means to be an 'authoritative voice'— who is speaking and to whom are they speaking? We are considering other forms of primary source content that is not traditional but that offers inroads to pertinent subjects and experiences." EBSCO's new full-text Ethnic Diversity Source database compiles ebooks, primary sources, letters, and other documents that chronicle the experiences of marginalized people in North America, including Black Americans, Asian Americans, and Indigenous people of the Americas.

NEW AND NOTEWORTHY

Gale's Indigenous Peoples of North America, Oxford Research Encyclopedias, and EBSCO's Academic Search are new, or newly updated, databases to be aware of
Kelly notes that Bloomsbury has long been committed to inclusivity. For the Berg Fashion Library (launched in 2010), a scholarly resource on a field dominated by women and dismissed by many, local scholars were commissioned worldwide so that contributions were not filtered through a Western lens. Bloomsbury Architecture Library has expanded on its historically Western approach. The new edition of Sir Banister Fletcher's A History of Architecture, which is central to Bloomsbury Architecture Library, now devotes "over 55 percent of its chapters to non-Western subjects," says Kelly. She adds, "This shift is vital in a discipline striving to embrace a wide range of different architectural strands and global cultural traditions."
Gazzolo says that "Gale is powered by people of diverse thoughts and backgrounds, and is actively pursuing inclusion and anti-racist programs in our organization, communities, and content." Gale introduced "additional measures to eliminate implicit racial bias within our publishing program. We have an end-to-end audit of the people and processes that bring our products to market, including ensuring diversity among our global network of scholarly advisers and a balanced representation of individuals and groups within our products."
Gale's publishing strategy "remains focused on providing historical perspectives that deepen our collective understanding of social justice issues like racism, sexual orientation, and gender identity, to shape a better future." Current strategies from Gale include audits to identify and correct for biased language, the use of nonbinary gender biographical and metadata within Gale Literature, and the addition of Haitian Creole, Swahili, and Nepalese to language translations. Gale is also updating marketing and sales campaigns, conducting employee training, and seeking to align its products, as appropriate, to the Teaching Tolerance Social Justice Standards and Anti-Defamation League's Anti-Bias Curriculum Guides.
REFERENCE EVOLUTION
Thirty years ago, "reference products" might call to mind a dictionary, an atlas, or an encyclopedia. Today's librarians and scholars know the category is deep and broad and that thinking about what makes "good" reference means untangling complicated questions of authority, access points, platforms, and more.
Gazzolo wants users to know how the ways in which users can access databases have evolved, from centralized access points (such as a universal homepage on a school or library desktop) to phones, iPads, and Chromebooks. Users may not register the design modifications, but because they can quickly orient themselves, they can spend "more time thinking critically about the content."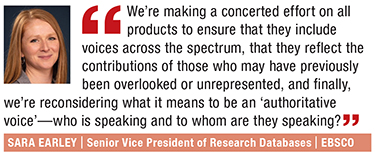 The UI experience is also top of mind at OUP; Brunstein wants people to know "how much careful thought and analysis goes into creating products, both editorially and in terms of making the content discoverable and easy to navigate. The academic and publishing communities work together in a unique way when it comes to online reference. We create products that grow with the academic disciplines."
EBSCO is "actively pursuing integrations that make our products easier to use," says Earley. EBSCO is moving to a new platform, and feedback from early-adopters has been positive. The company also introduced a concept map to visually represent related subjects and topics of interest.
Kelly wants to shed light on "how far digital resources have come in expanding the types of content and formats available." A biography online might include text and photos as well as time lines, videos, and music. "Those features aren't just bells and whistles that are nice to have; they're essential tools that have been specifically developed to enable the student or researcher to better connect the dots and enhance any research endeavor."
CREATING THE IDEAL REFERENCE WORK
When asked what reference work they would create if they were given free rein, publishers had a variety of answers. Bloomsbury would continue to forge pathways into underexplored areas in humanities, says Kelly. "If you think about it, how will society even stand a chance of overcoming its existential threats without proper grounding in thinking, writing, communicating, and an appreciation of the panoply of human thought, accumulated wisdom, and artistic achievement?"
Gale is "staying intentionally focused on social justice issues and advancing the research and teaching of topics which require connecting history to present day," says Gazzolo. Recent Gale releases include Political Extremism and Radicalism: Far-Right Groups in America, and upcoming new installments to the Women's Studies Archive, the Archives of Sexuality and Gender, and the Indigenous Peoples of North America archive series.
"Rather than create a work on a new topic," OUP's Brunstein says, "I would double down on our efforts to ensure our existing online publications cover the work of people who have been written out of history." Since the start of the pandemic, EBSCO has "focused intensively on customer interviews, surveys, usage analysis, and other types of feedback to ensure that we keep pace with evolving needs of libraries and their users," says Earley. As a result of those findings, Earley says, EBSCO will explore "the creation of interdisciplinary resource(s) that focus on the intersection of the applied and pure sciences, human ecology, and diversity."
BEST REFERENCE
Publishers also considered what distinguishes the books that make it to the year's "best" reference lists. "Best" reference is an elusive concept, as one reader may praise a visually striking history of buttons while another wants a map-intense guide to wine terroir. There is wide agreement that depth, breadth, and currency are important, and accuracy is a given. Brunstein stresses discoverability, so that a topic can be placed in the context of an entire subject area. Earley emphasizes the importance of a format that appeals to the intended audience, as well as "ancillary tools that assist the researcher throughout the research process." Kelly notes that it's crucial not to overlook the "enjoyment and satisfaction factor" that best reference solutions can provide, and Gazzolo believes in the importance of investing in strong technology solutions and platforms, so reference works can be found and accessed by those who want and need them.
---
Maggie Knapp is a librarian at Trinity Valley School., Fort Worth, TX.