Here are a few essential tools to facilitate social distancing and protect the health of staff and patrons during phased reopening

As libraries offer essential services during the COVID pandemic, they face the added challenge of protecting the health and safety of staff and patrons. Necessary adaptations include effective and affordable personal protective equipment (PPE) for library staff, sanitization stations for staff and patrons, touch-free checkouts, the replacement of meeting room locks with digital contactless entry devices, and revamped floor plans and public spaces.
---
Public spaces can be made safer by installing health shields, distancing seating and computer stations, and evaluating the area around the circulation desk. By providing online card registration and renewal, extending due dates, and eliminating fines, libraries can limit financial transactions, and they can safely and conveniently serve patrons by adding curbside pickup, home delivery services, and contact-free self-checkout options, including apps that patrons access on their own devices.
SOCIAL DISTANCING In addition to offering portable barriers, personal protective equipment, sanitization stations, and more, library distributors such as Demco now have sections of their websites dedicated to design tips for reopening. App developers including Capira, ConverSight.ai, Communico, and Unique Library have launched curbside delivery modules. (Image: Design ©Demco Inc.)
Vendors such as SirsiDynix are curating resources and producing webinars to help prepare for different phases of reopening, including specific advice regarding integrated library system (ILS) management during those phases. Articles geared toward library staff include tips for self-care during a crisis, discussions about why working from home is so exhausting, and advice about the risks of social isolation. Separately, the company hosts an online "basecamp" group for customers to discuss all aspects of COVID, from best reopening practices to curbside pickup.
The Library Corporation (TLC) also launched a series of weekly webinars with live Q&A sessions on topics ranging from adapting acquisitions workflows to using CARL.Connect for curbside delivery. Separately, the CARL customer relations team organized group video calls to facilitate discussions between peer institutions regarding specific strategies for reopening.
And Innovative Interfaces, which was recently acquired by ProQuest, published online "Supportal" guides for its Sierra, Polaris, and Virtua platforms, enabling libraries to quickly access advice on using their software to work remotely, system settings to consider when temporarily closing branches, temporarily blocking interlibrary loan requests, and more.
Whatever the reopening phase, libraries everywhere are developing COVID-conscious plans, and vendors are making those adjustments easier with innovative products and technology. This product spotlight focuses on apps that simplify curbside delivery and offer other COVID-relevant features, and distributors that offer PPE and furniture to facilitate social distancing inside branches.
APP-ENABLED
App-based technology can streamline contact-free services such as curbside pickup, materials renewal, and push notifications of important library information. Communico, Capira Technologies, ConverSight.ai, and Unique Library have developed modules that can be customized to fit each library's needs.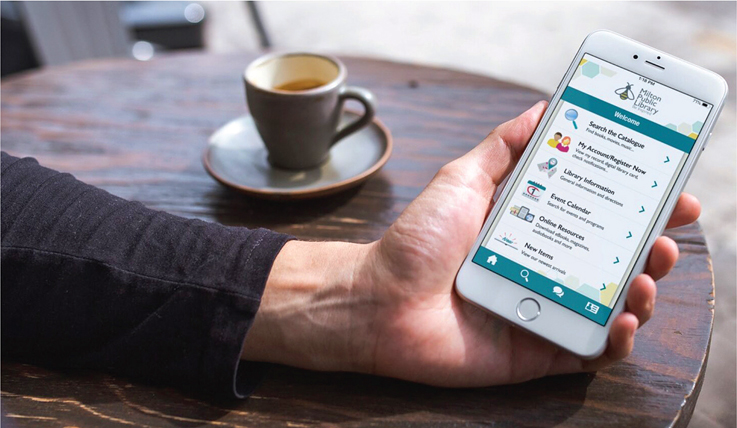 NEED-TO-KNOW BASIS Capira uses push notifications to alert users to branch closing status, due date extensions, available electronic resources, social services, and self-checkout information
Communico's suite of cloud-based applications are built specifically for libraries and work with a variety of integrated library systems and third-party platforms including Facebook, OverDrive, Goodreads, NoveList, Biblioteca, Recorded Books, and EBSCO. Communico's apps feature a patron self-checkout, an interactive digital signage creator, a calendar and event management system, and an app designed to make contact-free room booking and asset management a breeze.
Communico's patron app, Engage, offers touchless self-checkout and makes it easy to keep patrons updated on the latest information regarding library services, changes, and branch closures. The digital library card module lets patrons sign up for library cards from anywhere, giving instant access to digital content. The productivity app, Roam, frees staff from working at one physical location, reducing congestion at the circulation desk; using an IOS or Android device with a working camera and internet connection, staff can view patron accounts, search catalogs, and renew or check out items for patrons from any location, including curbside.
To simplify curbside pickups, Communico's Reserve platform gives patrons the option to reserve allocated time slots at specific library branches to collect materials or to schedule reference consultations. Using the app, staff can choose specific days for curbside availability, gather patron identification information, customize pickup duration, and assign an unlimited number of designated pickup spaces. For physical meetings, Communico offers economical, Wi-Fi enabled, battery-operated smart locks to give patrons interactionless access to meeting rooms and has integrated a set of cancellation tools for events and room bookings in the case of unexpected closures or other unforeseen events. Visit communico.us for more information.
Capira's self-checkout module gives patrons the ability to scan and check out their own items through the library's app using the camera on their internet-connected smartphone or tablet for a convenient touch-free self-checkout. Capira's curbside pickup feature guides patrons through prescheduling a pickup time and editing identifying information such as car details and license plate number, and then alerts staff when the patron arrives. With the mobile library card sign-up and renewal module, patrons can securely apply for or renew a library card from home using any smartphone or tablet with a camera; the app instantly creates and assigns new library card numbers.
Another useful Capira module uses push notifications to alert patrons to branch closing status, due date extensions during unexpected closings, available electronic resources, social services within the community, information about services such as device-based self-checkout, and how the library has implemented social distancing best practices. Find out more at capiratech.com/social-distancing-in-a-library-setting.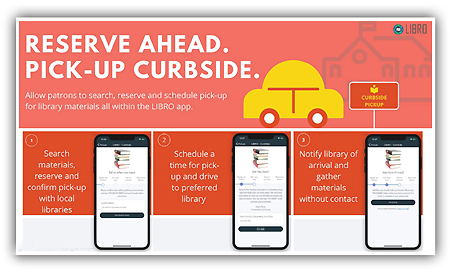 myLIBRO and other app developers have created new curbside pickup modules to help minimize staff and patron contact during reopening
A voice- and chat-enabled, full-service library app, myLIBRO, powered by ConverSight.ai, works with a library's ILS to allow patrons to search catalogs, place holds, reserve and renew materials, explore events and hours, reserve space, and more. A new feature gives patrons the option to place holds and schedule curbside pickup. The library receives a notification through a dashboard that tracks the order from receipt to collection and fulfillment. At the selected pickup time, the patron alerts the librarian of their arrival through the app, and their materials are delivered according to the library's policies. Equipped with conversational interaction capabilities, myLIBRO is VPAT-certified, and has full-voice capability that meets ADA compliance standards. Patrons can also call in orders while myLIBRO's dashboard logs those orders and tracks fulfillment progress. The app also walks patrons through scheduling additional services such as passports, library ID ordering, printing services, and more. Libraries can customize delivery options and hours of operation, specify location, and set parameters related to the handoff of the order, such as placing materials in the trunk of a patron's vehicle. Explore all of the options at mylibro.com/mylibro-curbside.
For libraries that want to provide curbside service without added hardware, Unique's Curbside Communicator might be the key. Library staff use a computer's web browser to communicate with patrons via text message to arrange curbside pickup. Using a local phone number provided by Unique, patrons text from their mobile device, and library staff receive and respond to the patron's messages through Unique's website to request identifying information and communicate with the patron that their materials will be delivered to a designated parking spot. This service requires no additional purchase of handheld devices; the tool is web-based and can be accessed from existing staff computers. Contact Unique for more information at uniquelibrary.com/patron-services/curbside-communicator.
INDOOR SAFETY
To prepare physical spaces and acquire PPE, vendors like Worthington Direct, The Library Store, Agati, Brodart, and Demco carry a wide variety of products to promote safe practices upon reopening.
Agati Furniture has adapted existing pieces to be more effective for distancing and created new solutions. The Pod, one of the company's most popular seating options, can be arranged to create more space between stations, with vinyl seats, backs, and divider screens to simplify sanitization and enable social distancing. The Manifest zigzag work table incorporates dividing panels that rise 24 inches above the work surface while the flexible GEE collection's modularity paired with divider screens make it easy to create safe and comfortable spaces. The Pinwheel configuration faces users in separate directions while covering backs and sides with partitions.
For mobile, modern partitions, the company's FrameWork series provides a simple and innovative approach to solving space issues. Their Movable Wall serves as an aesthetically clean partition, a writeable surface, and an efficient workstation all in one. Straight and curved FrameWork panels can separate study tables or be lined up to direct foot traffic, and since they glide on casters, they can be used to easily, quickly, and quietly adjust space as needed. Each piece includes lower-level acoustic panels to reduce noise levels, too. Learn more at agati.com.
Brodart's collection of COVID protective gear includes necessities like face masks, shields, and social distancing floor tape, plus freestanding shields, portable sinks, and non-contact infrared thermometers to monitor employee health. To keep germs at bay, Brodart carries a high-intensity portable sterilizer that uses UV-C light to kill 99.997 percent of bacteria and some viruses, including MRSA, salmonella, E. coli, and human Coronavirus. Lightweight and cordless, the hands-free device is designed for easy portability and can sanitize small items like library materials, phones, writing utensils, and toys, and larger items like desks, chairs, rugs, and upholstered furniture. Go to shopbrodart.com.
HOT SEATS Designed for privacy, the divider screens on Agati Furniture's Pod desks also serve as a protective barrier, enabling closer placement of seating for patrons
A web article on Demco Interiors' site outlines library design tips for social distancing, analyzing traffic flow, reclaiming underutilized areas, and rerouting patrons at the circulation desk. Its products help libraries move toward as many hands-free features as possible, and the company has designated a portion of its catalog to COVID-conscious products, including touch-free barcode scanners, foldable desk barriers, and everything necessary to implement a successful curbside pickup service and a safe materials quarantine workflow. You'll find reopening solutions at demco.com/products/covid-19.
Worthington Direct's website features a convenient COVID-19 collection with a variety of clear dividers and sneeze guards in many sizes, portable sink units, and study carrels to separate computer stations as well as bollards and barriers to maintain social distancing. Sanitizer dispensers, masks, and sanitizing wipe dispensers help keep hands and surfaces germ-free, and its sizable selection of antimicrobial seating includes antibacterial pieces that are easy to clean and stand up to bleach and other cleaning agents. Some seating even contains germicides and antimicrobial chemicals to reduce mold and bacteria buildup while others include an antimicrobial compound that has been blended directly into the plastic. Visit worthingtondirect.com/sanitation-and-safety-products.htm.
The Library Store's (TLS) website provides resources for COVID-conscious practices, such as an article on COVID-19 virus deactivation on materials and recommendations from the Regents Public Library Advisory Council for library services during the COVID-19 pandemic.
The company's curbside pickup category helps libraries prepare for curbside service with products from rover carts and browsing baskets to mobile signage and plastic library bags. A collection of book trucks, storage crates, and outdoor returns help ensure safe quarantining of returned materials before reshelving. TLS also offers floor markers and signage to encourage proper social distancing and a varied selection of hand sanitizing dispensers, including mobile, child-size sanitization stations. Check them out at thelibrarystore.com/category/covid-19_resources.
At press time, the United States had recently set a new daily record for confirmed cases of COVID-19, with totals surging above 75,000. Several state governments that had pushed for rapid reopening of businesses at the end of spring had slowed or reversed those plans. The Trump administration, however, was continuing to pressure state and local governments to reopen K–12 schools for in-person instruction this fall. The situation remains very much in flux, but by observing precautionary measures taken in other industries and by peer institutions within the field, libraries can reduce risks to their staff and patrons.
---
Denice Rovira Hazlett (denicehazlett.com; @charmgirl on Twitter) is a writer and photographer.