Chicago Public Library's Merlo Branch and Indianapolis PL's Martindale-Brightwood Branch have opened to the public, while work is proceeding—after some delays—on St. Louis County PL's Eureka Hills Branch, the new North Branch of Clinton-Macomb PL, and Carroll County PL's Exploration Commons.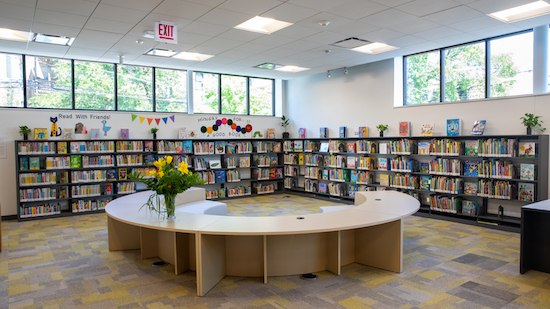 Interior of Chicago Public Library's new Merlo Branch
Courtesy of Chicago PL
Chicago Public Library's Merlo Branch, which closed last year to undergo a $6 million gut renovation, designed by Carol Ross Barney and managed by the Public Building Commission (PBC), reopened on July 1. The rehabbed two-story building features a large community space, a children's area with a new Maker Lab, an Early Learning Play Space, a large enclosed YOUmedia area for teens, and an adult area with computers and reading space. The library also features a new opening day collection, including a significant focus on LGBTQ+ materials. Community spaces will be available for use once public health guidance allows. The project also featured interior and exterior energy-efficient upgrades, refurbishments that expanded ADA accessibility throughout the building, and an updated façade.
The St. Louis County Public Library (SLCPL) broke ground on June 24 for its new 15,000 square foot Eureka Hills Branch. The library, located adjacent to a new housing development and elementary school, will feature an expanded collection of materials, a children's area, private study rooms, programming space, a quiet reading room, a community meeting room, a business center, and a teen space. It replaces the current 6,500 square foot Eureka Hills Branch, and is part of SLCPL's Your Library Renewed capital campaign. The preliminary budget is $6.5 million, and the library, designed by Arcturis, is expected to be completed in summer 2021.
Construction is underway for the new North Branch of the Clinton-Macomb Public Library (CMPL), MI. The official groundbreaking was held in May 2019, with plans to open in spring 2021. Construction stopped for about a month during the COVID-19 pandemic, but has resumed. The new $18.5 million, 28,485 square foot facility—twice the size of the current North Branch building—will feature six small and three large study rooms, a community common gathering spaces, and USB outlets at most seating locations. The 7.5 acre property was gifted to CMPL by the township in November 2018, and the project, designed by Quinn Evans Architects and built under the construction management firm McCarthy & Smith, is funded through 30-year bonds with 3 percent interest, paid out of library millage.
The new Martindale-Brightwood Branch of the Indianapolis Public Library opened its doors on June 20. The 15,000 square foot, $5.9 million building replaces the former storefront library in the shopping center across the street, and features expanded children's and teen spaces, new study and community meeting areas, enhanced technology, and designs for greater energy and resource conservation. It will partner with Martin University, nearby, to provide educational support to families with children through grade five.
Maryland's Carroll County Public Library will break ground this month on a project, known as Exploration Commons at 50 East, to renovate its Westminster branch. The revamp will turn the building's basement into a Makerspace with a professional teaching kitchen and other collaboration-focused workspaces and meeting rooms. A new two-story entrance into the nearly 14,000 square foot space will be created from the adjoining alleyway. Construction had originally been planned to start in fall 2019, with the space opening to the public sometime in 2020; that has been pushed back to 2021. The county contributed $600,000 in funding, with a County Library Capital Grant covering just under half of the $4.9 million cost and the system raising funds to make up the rest. Lewis Contractors of Owings Mills will oversee the job.