Historians Ibram X. Kendi and Keisha N. Blain discuss their latest work, Four Hundred Souls, and how they sought to bring together a community to reflect on, and make, history.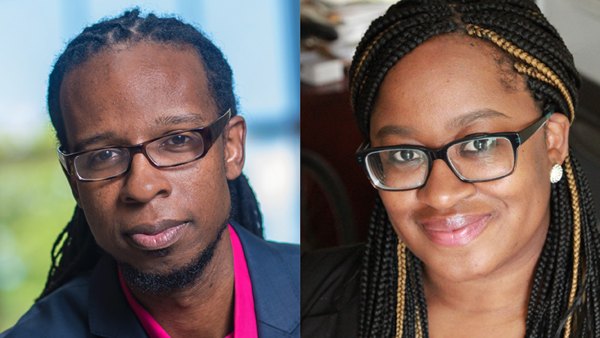 To officially launch the opening of American Library Association (ALA) virtual Midwinter meeting, Dr. Ibram X. Kendi, author of the National Book Award-winning Stamped from the Beginning and the bestseller How to Be an Antiracist, joined historian Keisha N. Blain, author of Set the World on Fire: Black Nationalist Women and the Global Struggle for Freedom, in conversation on Saturday, January 23. The authors described their collective work, Four Hundred Souls: A Community History of African America, 1619-2019 (One World; LJ Starred review), publishing February 2.
Drawing on their expertise as historians, Kendi, director of the Center for Antiracist Research at Boston University, and Blain, professor of history at the University of Pittsburgh, compiled an anthology detailing American history from 1619, when the first slave ship arrived in Virginia, to 2019, which commemorated 400 years of Black America. As Kendi explains, he and Blain both sought writers who would not only reflect on history, but would also make history in their own right. "Why not bring together a community to write this history of community?"
Contributors include prominent writers, such as Nikole Hannah-Jones and Michelle Duster, as well as award-winning historians, such as Annette Gordon Reed, Imani Perry, and Keeanga-Yamahtta Taylor, with each contributor focusing on a five-year period in history. According to Kendi and Blain, Four Hundred Souls is designed to show the individuality of Black America, and how Blackness isn't a monolith.
For Blain, this meant looking at the ways that Black people sought to obtain freedom. "Black people have never stopped dreaming, and they have never stopped fighting to make their dreams become reality," she added. Kendi echoed Blain's message, noting how Four Hundred Souls includes stories of what freedom has meant to various Black people throughout the years.
Featuring 80 writers and 10 poets, the collection is intended to be a landmark book for historical research on Black America for years to come. The editors likened the variety of contributors' ages and life experiences to a choir, with Blain noting that it was powerful to see how all of the voices collectively came together to capture history. Both editors illustrated how current movements for social justice relate to past historical events, and are becoming history in the making.
Blain concluded by directly addressing the over 1,000 attendees of the livestream by stating that librarians have profoundly helped her Kendi succeed both as historians and as professors. "We could not do what we do without librarians' skills and abilities."