Mysteries for starting off the new year.
Click here for additional new Prepub Alert columns
Amidon, Stephen. Locust Lane. Celadon: Macmillan. Jan. 2023. 320p. ISBN 9781250844231. $27. MYSTERY
Carlsson, Christoffer. Blaze Me a Sun: A Novel About a Crime. Hogarth: Random. Jan. 2023. 448p. tr.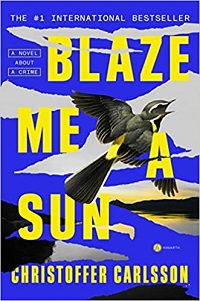 from Swedish by Rachel Willson-Broyles. ISBN 9780593449356. $28. MYSTERY
Cosimano, Elle. Finlay Donovan Jumps the Gun. Minotaur: St. Martin's. (Finlay Donovan, Bk. 3). Jan. 2023. 304p. ISBN 9781250846037. $26.99. CD. MYSTERY
Cotterill, Colin. The Motion Picture Teller. Soho Crime. Jan. 2023. 240p. ISBN 9781641294355. $27.95. MYSTERY
Harper, Jane. Exiles. Flatiron: Macmillan. Jan. 2023. 352p. ISBN 9781250235350. $27.99. CD. MYSTERY
Harper, Jordan. Everybody Knows. Mulholland: Little, Brown. Jan. 2023. 352p. ISBN 9780316457910. $28. MYSTERY
Rosenfield, Kat. You Must Remember This. Morrow. Jan. 2023. 320p. ISBN 9780063207394. $27.99. CD. MYSTERY
Tracy, P.J. The Devil You Know. Minotaur: St. Martin's. (Detective Margaret Nolan, Bk. 3). 320p. ISBN 9781250859945. $27.99. MYSTERY
In Amidon's Locust Lane, a young woman is found dead in the more fashionable section of a New England suburb, and the three teenagers who were with her that night are now suspects in her murder (100,000-copy first printing) From Carlsson, youngest winner of the Best Swedish Crime Novel of the Year, the internationally best-selling Blaze Me a Sun features a serial killer in a small Swedish town who commits his first murder the same night in 1986 when Prime Minister Olof Palme is assassinated. In this continuation of Cosimano's USA Today best-selling and Edgar–nominated series starring Finlay Donovan, readers will find that author and single mom Finlay Donovan Jumps the Gun; unexpectedly owing Russian mobsters a favor, she must help them identify a contract killer before the cops do, especially crucial because the killer might actually be a cop. In The Motion Picture Teller, a stand-alone from CWA Dagger winner Cotterill set in 1996 Bangkok, postman Supot and his best friend, video store owner Ali, discover a mysterious film titled Bangkok 2010 that no one seems to know anything about—and that might be cursed. In Jane Harper's Exiles, Australian federal investigator Aaron Falk—whom readers know from the New York Times best-selling Dry—senses fault lines among the close group of attendees at a party in South Australian wine country, owing to the disappearance of a friend whose baby was found abandoned at a busy festival. From the Edgar Award–winning Jordan Harper, Everybody Knows features publicist Mae Pruett, who makes sure that everybody doesn't know about the shady dealings of the lawyers and private security firms for which she works, trying to discover the secret her boss took to his death. In You Must Remember This, from Edgar-nominated YA author Rosenfield, Miriam Gardiner's fall through thin ice one Christmas Eve in the spot where decades ago she used to meet a lover might be an accident or suicide, but motives for murder emerge when daughter Delphine starts looking into the entire family. In theNew York Times best-selling Tracy's The Devil You Know, LAPD Detective Margaret Nolan faces a tough case with the suspicious death of popular actor Evan Hobbes in a Malibu rockslide just 24 hours after a fake video smashes up his career; the subsequent murder of his agent's brother-in-law suggests evil intent.