Click here for additional new Prepub Alert columns
Bowen, Rhys. Peril in Paris. Berkley. (Royal Spyness Mystery, Bk. 16). Nov. 2022. 384p. ISBN 9780593437858. $27. MYSTERY/HISTORICAL
No plot details yet on this latest in the 1930s-set series featuring Lady Georgiana Rannoch, aka Georgie,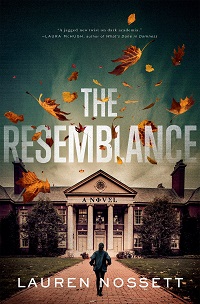 though from the title we can guess that she's carrying out her amateur sleuthing in the City of Light. From Agatha/Anthony award winner Bowen.
Brown, Rita Mae. Hiss and Tell. Bantam. (Mrs. Murphy, Bk. 31). Nov. 2022. 336p. ISBN 9780593357545. $28. MYSTERY/COZY
When there's murder in the Blue Ridge Mountains, you can bet that Mary Minor "Harry" Harristeen will be investigating, aided by her fabulous cats (just as the perenially best-selling Brown is aided by feline coauthor Sneaky Pie Brown).
Dovalpage, Teresa. Death Under the Perseids. Soho Crime. (Havana Mystery, Bk. 3). Nov. 2022. 336p. ISBN 9781641292160. $27.95; pap. ISBN 9781641294058. $16.95. lrg. prnt. MYSTERY/INTERNATIONAL
Though delighted, Cuban-born Mercedes Spivey is still uneasy when she and U.S. husband Nolan win a five-day cruise to Cuba, and she grows increasingly suspicious when acquaintances Selfa and Javier also show up with a free ride. Then disappearance and death start stalking the foursome. Cuban American Dovalpage's atmospheric series appeals not only to mystery fans.
Evanovich, Janet. Going Rogue. Atria. (Stephanie Plum, Bk. 29). Nov. 2022. 320p. ISBN 9781668003053. $28.99. CD. MYSTERY
Having launched a new series this spring with The Recovery Agent, the No. 1 New York Times best-selling Evanovich returns with the ever-popular Stephanie Plum, still dealing with trouble and her troublesome family.
Horowitz, Anthony. The Twist of a Knife. Harper. (Hawthorne and Horowitz, Bk. 4). Nov. 2022. 400p. ISBN 9780062938183. $29.99. lrg. prnt. CD. MYSTERY
Former detective inspector Daniel Hawthorne and his trusty sidekick, author Anthony Horowitz, have had enough successful adventures together to secure a 100,000-copy first printing for their next in the series from prolific, BAFTA-winning Horowitz.
Khan, Ausma Zehanat. Blackwater Falls. Minotaur: St. Martin's. (Blackwater Falls, Bk. 1). Nov. 2022. 368p. ISBN 9781250822383. $27.99. MYSTERY/POLICE PROCEDURAL
Though immigrant girls have long been disappearing in Blackwater Falls, CO, frantic calls to investigate are ignored until the bloodied body of star Syrian student Razan Elkader is found laid out ceremoniously at the mosque. Now Det. Inaya Rahman and Lt. Waqas Seif of the Denver Police are in charge, launching a new series from the author who gave us Det. Esa Khattak. With a 60,000-copy first printing.
Margolin, Phillip. Murder at Black Oaks. Minotaur: St. Martin's. (Robin Lockwood, Bk. 6). Nov. 2022. 304p. ISBN 9781250258465. $27.99. CD. MYSTERY
When retired district attorney Francis Hardy invites defense attorney Robin Lockwood to his Oregon mountains manor, which legend says is cursed, he asks her to help reverse a wrongful conviction from his past. Lockwood's efforts are successful, but Hardy is later stabbed to death with a knife linked to the curse, and Lockwood has a whole new assignment. With a 75,000-copy first printing.
Mathews, Francine. Death on a Winter Stroll. Soho Crime. (Merry Folger Nantucket Mystery, Bk. 7). Nov. 2022. 288p. ISBN 9781641292740. $27.95. MYSTERY
With Nantucket emerging from COVID's shadow, Police Chief Meredith Folger is eagerly anticipating the Christmas Stroll. But the island is overrun by a TV production team and the Secretary of State's entourage, which complicates Merry's work when several seemingly unconnected murders occur. Next in a praised series from the author who writes the "Being a Jane Austen Mystery" series as Stephanie Barron.
Nossett, Lauren. The Resemblance. Flatiron: Macmillan. Nov. 2022. 320p. ISBN 9781250843241. $28.99. MYSTERY
A fraternity brother at the University of Georgia is struck dead by a hit-and-run, and witnesses concur that the driver—who looked just like the victim—was cheerfully smiling as he swooped away. When Det. Marlitt Kaplan uncovers nasty secrets plaguing the fraternity system, the threats come fast and furious. A professor herself, Nossett racks up a 150,000-copy first printing for her debut.
Perry, Anne. A Christmas Deliverance. Ballantine. Nov. 2022. 320p. ISBN 9780593359105. $22. lrg. prnt. MYSTERY/HISTORICAL
Head of a free clinic in 1870s London, Dr. Crowe falls in love with a patient named Ellie and seeks to uncover the connection between her, her father, and the fiancé she's apparently being forced to marry. Meanwhile, as the holidays approach, the clinic is being run by Scuff, a former street urchin now studying with Crowe. Readers will remember Scuff from the New York Times best-selling Perry's "William Monk" series.
Priest, Cherie. Flight Risk. Atria. (Booking Agents, Bk. 2). Nov. 2022. 320p. ISBN 9781982168926. $27. MYSTERY
First introduced in 2021's Grave Reservations, psychic travel agent Leda Foley is here asked to locate a woman who decamped in a vintage orange car with a stack of her employer's cash and a simmering hatred for her cheating husband. Seattle PD detective Grady Merritt's dog has vanished, too, but turns up with a human leg in his jaws. Of course the cases intertwine.