Cozies and police procedurals, historicals and international mysteries for the dead of winter.
Click here for additional new Prepub Alert columns
Armstrong, Kelley. Murder at Haven's Rock. Minotaur: St. Martin's. (Casey Duncan, Bk. 8). Feb. 2023. ISBN 9781250865410. $27.99. MYSTERY/POLICE PROCEDURAL
Designed to keep the world out and its residents' secrets in, off-the-grid Rockton is now rotten with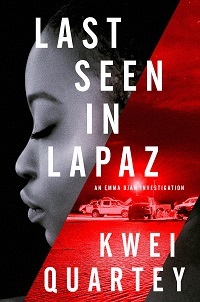 corruption. So Det. Casey Duncan and her boyfriend, Sheriff Eric Dalton, are building a new town even deeper in the Yukon. Already there's trouble: despite warnings, two crew members have ambled into the woods and are now missing. With a 50,000-copy first printing.
Beaton, M.C. with R.W. Green. Death of a Traitor. Grand Central. (Hamish Macbeth, Bk. 35). Feb. 2023. 256p. ISBN 9781538746769. $28. MYSTERY/COZY
Though Kate Hibbert has lived in little Lochdubh for only a year, she's made plenty of enemies with her busybody ways, so folks are glad to see her get on the bus with a heavy suitcase. Then her cousin arrives to announce that Kate is missing, and police constable Hamish Macbeth quickly realizes that Kate was not what she seemed. Green again takes the reins from the late, formidable Beaton; with a 60,000-copy first printing.
Crombie, Deborah. A Killing of Innocents. Morrow. (Duncan Kincaid & Gemma James Mystery, Bk. 19). Jan. 2023. 384p. ISBN 9780062993397. $27.99. lrg. prnt. MYSTERY/POLICE PROCEDURAL
A young Black medical student is stabbed to death as she walks through London's Russell Square, and Scotland Yard detective Duncan Kincaid is on the scene. Finding no motive, he calls in his detective wife, Gemma James, who's currently on a task force concerning knife crime, and together they find an uncomfortable connection to some Notting Hill friends. Originally scheduled for June 2022; with a 100,000-copy first printing.
Hastings, Anastasia. Of Manners and Murder. Minotaur: St. Martin's. (Dear Miss Hermione Mystery, Bk. 1). Feb. 2023. 304p. ISBN 9781250848567. $26.99. MYSTERY/HISTORICAL
In 1885 London, Aunt Adelia has run off with a lover, and her niece, Violet, must hastily take over Adelia's popular Agony Aunt column, filled with genteel moanings and groanings. But in the first letter she opens, Ivy Armstrong declares that someone is trying to kill her, and when Violet visits Ivy's village with her prissy sister Sephora, she learns that Ivy is already dead. A series launch from Hastings, who has published numerous books under numerous names in different genres.
Quartey, Kwei. Last Seen in Lapaz. Soho Crime. (Emma Djan Investigation, Bk. 3). Feb. 2023. 336p. ISBN 9781641293396. $27.95. MYSTERY/INTERNATIONAL
In this latest in a Shamus-winning, Edgar-nominated series, based in Accra, Ghana, PI Emma Djan is searching for the daughter of her boss's old friend. Ngozi was a brilliant law student on course for law school until she became all wrapped up with her new boyfriend, Femi, and vanishes from her parents' home in Nigeria, evidently headed for Accra. And what Ngozi discovers about Femi isn't good.
Robb, J.D. Encore in Death. St. Martin's. (Eve Dallas, Bk. 56). Feb. 2023. 384p. ISBN 9781250284082. $29.99. MYSTERY/POLICE PROCEDURAL
In a futuristic New York, celebrity couple Eliza Lane and Brant Fitzhugh are hosting a sumptuous gala event when Brant falls dead after offering a toast, done in by cyanide. Enter Det. Eve Dallas, who's taking a close look at a laid-off assistant, an angry rival, and an obsessed fan, aware that Brant's glass of champagne was originally intended for Eliza. With a 75,000-copy first printing.
Todd, Charles. The Cliff's Edge. Morrow. (Bess Crawford Mysteries, Bk. 13). Feb. 2023. 320p. ISBN 9780063039940. $27.99. MYSTERY/HISTORICAL
In her latest outing, Bess Crawford, a former World War I battlefield nurse, finds herself in remote Scarfdale, where a feud between two families finds one man dead and another terribly injured. Tensions run sky-high as the once-friendly families are compelled to stay in the same house until the inquest is completed. And then more trouble arrives. With a 75,000-copy first printing; from the mother-and-son team that includes Caroline Todd, who passed away in 2021.