The Patmos Library in Jamestown Township, MI, lost a critical millage renewal in early August as the result of a "Vote No" campaign orchestrated by a local conservative coalition. Members of the group, the Jamestown Conservatives, object to LGBTQIA+-themed material on the library's shelves, and have been vocal about their displeasure. As a result, two directors have resigned in the past few months.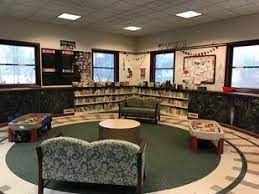 The Patmos Library in Jamestown Township, MI, lost a critical millage renewal in early August as the result of a "Vote No" campaign orchestrated by a local conservative coalition. Members of the group, the Jamestown Conservatives, object to LGBTQIA+-themed material on the library's shelves, and have been vocal about their displeasure. As a result, two directors have resigned in the past few months; the library is currently without a director and is conducting a search for a replacement.
Without the revenue produced by the millage the library may be forced to close in 2023. However, at the August 8 meeting, the board stated that it would put the millage measure up for vote again in the fall. And at press time a GoFundMe fundraiser organized by patron Jesse Dillman—and a second donation page created by patron Michelle Barrows—have raised more than $147,000.
A SUCCESSFUL VOTE NO EFFORT
Residents of Jamestown Township—a politically conservative western Michigan community with a population of just under 10,000—first took issue with Maia Kobabe's Gender Queer: A Memoir, which was shelved in the adult graphic novel section, in November 2021, and a formal complaint was made by a local parent. Close to 50 residents spoke up at library board meetings in March and April, many demanding that the title be pulled from the shelves. In response, the book was moved behind the counter, so that patrons would have to ask for it.
Other titles that drew complaints over the past nine months included Tillie Walden's graphic memoir Spinning and the graphic novel Kiss Number 8, by Colleen AF Venable. They have remained on the YA graphic novel shelves. Approximately 90 of the library's 67,000 books and videos have or "could be relative to," in Board President Larry Walton's words, LGBTQIA+ themes—a total of 0.001 percent of the collection.
The Jamestown Conservatives group formed in May, according to its Facebook page, "to help others of the community to be aware of the pushed agenda of explicit sexual content that is being infiltrated into our local libraries aiming toward our children." Its members stepped up their campaign in spring and early summer, passing out flyers at the town's Memorial Day parade objecting to Gender Queer, the library's Pride Month display, and then-director Amber McLain, who, they said, "promoted the LGBTQ ideology." The flyer also stated, "Pray that we can make changes and make the Patmos Library a safe and neutral place for our children."
McLain, who is gay, resigned in May after reportedly being harassed online and in person, both in the library and in town. She had to change the name on her Facebook account because of abusive messages, she told the Michigan Bridge, and in March a woman came to the library filming on her cellphone "looking for 'that pedophile librarian' and 'the freak with the pink hair,'" she said.
"No librarian should be at the other end of anyone calling them groomers and pedophiles," said Michigan Library Association (MLA) Executive Director Debbie Mikula. The Jamestown Conservatives group "pushed that in front of the community." Interim Director Matthew Lawrence resigned this summer to take a directorship at Herrick District Library in Holland, MI. The board is currently working to fill the position.
In the weeks prior to the August 2 millage vote, Jamestown Conservatives put up Vote No yard signs along the town's main street, including one directly across from the library and another on a board member's lawn. A typical sign read, "50 percent increase to GROOM our kids? Vote NO on Library!"
The ballot measure, which would have renewed and slightly increased the library's millage for 10 years—increasing taxes by about $24 annually for a home with a market value of $250,000—was defeated by a 25-point margin, 62–37 percent. Also on the township's ballot were millages for road improvements and the fire department, which both passed. Around 50 public library millages across the state went before voters on the same day, and all but five passed (the other four were defeated because of objections to property tax increases, rather than library content, Mikula told LJ). Patmos Library's previous millage, at a slightly lower rate, was voted in 10 years earlier and approved by 37 percentage points.
BACK TO THE VOTERS IN NOVEMBER
Patmos Library depends on revenue from property taxes collected through the millage for 84 percent of its $245,000 budget. The library will continue to receive funds through the former millage through the first quarter of 2023, but when that money, and the library's fund reserves—approximately $325,000—run out, it may need to close in fall 2023 if the second millage renewal attempt fails. While the library collects revenue from fines and community room rentals, and receives some grant money, those streams alone are not enough to keep it running.
At the August 8 board meeting, which was attended by more than 50 people, the board voted unanimously to pursue the millage again in this fall's general election, rather than wait until 2023. Public comments lasted over an hour, with more than two dozen residents speaking—a majority of them in support of the library.
Many who voted no on the measure stated that they had not realized that its defeat could force the library to close. One community member said he "voted no to send a message. Please keep the library open, but change the way that we're making decisions on books."
The number of residents who had not understood that rejecting the millage would threaten the library's existence is a clear indication that that Patmos Library will need to sharpen its information game before the fall election. While the library's Yes committee chair was experienced in running voter campaigns, noted Mikula, this one was different—"It was extremist rhetoric and opposition," she said.
This will be a different kind of campaign, she added—not only will it need to address the claims made by Jamestown Conservatives with unified and sophisticated messaging, but "it has to be an authentic campaign for this community, it has to be led by those in this community, it has to be neighbor to neighbor."
Voters don't always understand what a millage entails, noted Walton, so that explanation will be part of the library's "Vote Yes" work. "We wish to do even a better job of getting the word out and answering questions proactively, so before the vote everybody understands what this entails," he told LJ. At a special meeting, held August 12, the board confirmed that the millage will remain the same on the fall ballot. Efforts will also involve getting more residents to the polls—only about 35 percent of the township's eligible voters turned out in August.
GATHERING SUPPORT
Dillman, a local father of two, created the library's GoFundMe campaign on August 3. As of press time it had raised more than $141,000 of its $245,000 goal. While this infusion can't support the library in the long term, it will help with costs in the near future; Library PAC EveryLibrary has pledged to help administer those funds for the upcoming campaign. Barrows's page has raised more than $5,800.
Walton returns frequently to the Michigan Library Trustee Manual, he said—particularly Chapter Nine, which covers Intellectual Freedom. "Trustees need to know [about] the Constitution, the First Amendment, freedom of speech, and preventing censorship," he noted. "I periodically send a reminder out to the board to always keep this in mind during our meetings." The MLA-organized MI Right to Read coalition has provided resources as well, including webinars, tip sheets, action kits, and MLA's Intellectual Freedom Toolkit.
Having clear collection development and materials challenge policies in place has been invaluable, he said—particularly in a small community where the personal and the professional can overlap. "That governing communication helps tremendously," Walton told LJ. "It can be very easy to give in and compromise to try to keep village friends and individuals happy. That's the natural human reaction. But when it does not make sense, you need to stand strong as a group—and we've been very lucky that our group has been strong."
In the absence of an acting director, the six board members—all of whom have full-time jobs or are retired—have stepped up to help the library's staff of five with day-to-day library operations and planning the upcoming campaign. They have found valuable support from community members and associations across the state, including the 42-library Lakeland Library Cooperative, of which Patmos is a member. "We've got strong management there directing us and helping us," said Walton, and staff from neighboring libraries have been helping keep the doors open as well.
Given the harassment McLain experienced, he added, he is doing his best to make sure employee are safe as well. "They've expressed concerns with stepping outside the library—we're in a safe neighborhood, but they don't want to take any chances with confrontations," he said. "They don't want to get into any verbal debates—just want to be able to get in their car and go home."
Despite renewed efforts to let the community know what's at stake, said Walton, "We're not expecting this to stop at this point." The library has received an appeal of the decision to retain the books in question, and the appeal will be under consideration at board meetings this fall.
"This is the canary in the coalmine for libraries across the country," EveryLibrary political director Patrick Sweeney told LJ. "The impact of book banning on voter perceptions of libraries over the last four years has definitely turned more voters against libraries, and we are going to see more libraries lose funding unless we take what happened in Jamestown seriously."
Sweeney cited the "From Awareness to Funding" reports produced by OCLC, which show that libraries lost around 16 percent of voter support between 2008 and 2018, with 42 percent of their polled voters unlikely to vote for libraries. Partisan politics have also come to play an increasingly influential role in library funding; in March Idaho House Republicans cut $3.5 million in federal funding from the Idaho Commission for Libraries' budget based on their belief that libraries across the state made "obscene" and "harmful" books available to minors (another $307,000 for audio and ebooks for K–12 students was also cut separately).
"We need to do all we can to make sure that everyone recognizes that this is a constitutional issue—that everyone has the right and responsibility to make decisions for themselves or for their own families, but no one has that right to make decisions for what other people are reading, or make decisions for other families," said Mikula. "And we need to hold that strong."
"If the library closes down, it says to every queer child in Jamestown that we so violently do not want you to exist, we're willing to shut down this public institution to let you know that," Jamestown Township resident and current Wayne State University medical student Connor Cook told the Holland Sentinel. "As queer kids, we're taught the way to survive is to blend in. We do that under the understanding we can live our lives if we don't take up too much space. And what we're hearing today is that 0.001 percent [of the collection] is too much space. And that's horrifying."