From the Washington State Convention Center, at the corner of 7th and Pike, you can smell the salt air blowing up from Elliott Bay: crisp, clear, and full of hints about the city's cuisine. Fresh seafood is the star, alongside inspired coffees, local ingredients, and strong influences from immigrant communities. Here's where to find a bite of Seattle between sessions.


Breakfast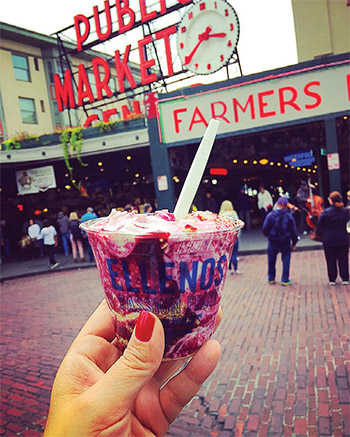 Ellenos Real Greek Yogurt
Ellenos serves up the best (and best-looking) yogurt in the city. Thicker and smoother than most commercial Greek yogurts, the nearly ice cream–like product features local milk and a slow culturing process. 1500 Pike Place, 206-535-7562; www.ellenos.com.
Crumble & Flake
Toby Matasar's sweet spins on classics and detailed re-creations of traditional French baked goods had locals lining up to taste the smoked paprika and cheddar croissant. These days, the line rarely backs out of the store, but the pink peppercorn cookies have only gotten better. 1500 E. Olive Way, 206-329-1804; www.crumbleandflake.com.


All Day
Café Presse
At this French bistro you can get such Parisian fare as pressed chicken with greens; a croque madame; mussels with French fries; pan-roasted quail with sautéed potatoes and apples; and cheese platters with slices of baguette. A quirky, low-key vibe pervades this beloved Capitol Hill haunt. Open from 7 a.m.–2 a.m. Reservations are only accepted for dinner. 1117 12th Ave., 206-709-7674; www.cafepresseseattle.com.


Happy Hour
Taylor Shellfish Oyster Bar
Oysters don't get any fresher than this. Simple preparations—raw, cooked, and chilled—are designed to show off the seafood best with light broths and sauces and a few accoutrements. 1521 Melrose Ave., 206-501-4321; taylorshellfishfarms.com.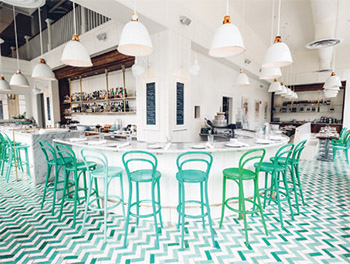 Bar Melusine
Inspiration from France's Atlantic coast is transformed into a cool, marble-topped ode to Northwest seafood, both raw and creatively cooked, like the fried fish skin, as well as meaty continental classics such as steak tartare and a burger. 1060 E. Union St., 206-900-8808; www.barmelusine.com.


Dinner
Matt's in the Market
One of the most beloved Pike Place Market restaurants for intimate dining, fresh ingredients, and superb service. You can perch at the bar for pints and signature deviled eggs or sit at a table for a seasonal menu that synthesizes the best picks from the restaurant's produce vendors and an excellent wine list. Dinner entrées always include at least one catch of the day—perhaps Alaskan halibut with pea vines. 94 Pike St., 206-467-7909; www.mattsinthemarket.com.

Stateside
Low lights, ceiling fans, and palm-patterned wallpaper combine with weathered gold fixtures to evoke a sense of Vietnam with nearly the same precision as the chef's bun cha Hanoi. Vietnamese coffee finds its way into Popsicles and tropical cocktails find their way into coconuts, but what's most impressive is the sheer amount of flavor—through technique, herbs, and spices packed into each dish. 300 E. Pike St., Suite 1200, 206-557-7273; www.statesideseattle.com.

Sitka & Spruce
This popular restaurant at Capitol Hill's Melrose Market is romantic, chic, friendly, and cutting-edge all at once. Diners choose from seasonally rotating offerings such as king Bolete mushrooms with blistered fava beans, whole baby turnips in tarragon with house-made yogurt and za'atar spice, and deliciously tender charcoal-grilled chicken served with rye berries grown in nearby Winthrop. 1531 Melrose Ave., 206-324-0662; www.sitkaandspruce.com.

Dahlia Lounge
Dahlia Lounge's valentine-red walls and deep booths have been working their magic on Seattle since 1989. Famous crab cakes, served as an appetizer or an entrée, lead a regionally oriented menu. Look for local foraged mushrooms, Alaskan halibut, and produce from the chef's own farm just outside the city. Desserts such as triple-coconut cream pie and fresh doughnuts have earned Seattle-classic status. Brunch is served on weekends. 2001 4th Ave., 206-682-4142; www.tomdouglas.com.—Fodor's Travel Guides